The 8th & I Reunion Association
An organization of Marines
who served at
Marine Barracks
8th & I Streets, S.E.,
Washington D.C.
Reunions!
For the more recent members of the Association, the name "The Marines of Building 58" is not significant. However, "The Marines of Building 58" was the predecessor organization to the "8th & I Reunion Association." Building 58, located in the Naval Gun Factory, was the home of CGC from 1958 until it moved into the new quarters on I Street in 1977. In August, 1988, Leatherneck Magazine ran a feature article on the group, which was saved by Joe Larkin, to whom we are thankful. To view the "The Marines of Building 58" click here.

(Note - In addition to our regularly scheduled reunions, we have also gotten together for reunions at Parris Island, S.C., where most of us went through "Boot Camp"). To see photos of these reunions, click here. In addition, Bob Neal submitted a letter to Leatherneck Magazine entitled "It Starts at Parris Island and Lasts Forever - - " with his reactions to our 2006 reunion visit there. The letter was published in the December 2006 Issue, and you can read it by clicking here.




The "Old Corps" Reunion of 1983

Dave Pullo and Merle Johnson have located a series of photos taken at the 1983 Reunion
of the "Marines of Building 58"(it was our first Reunion and the 25th Anniverary
of the move of CGC from the Barracks to Building 58 at the Naval gun Factory) —
To see the photos, click here.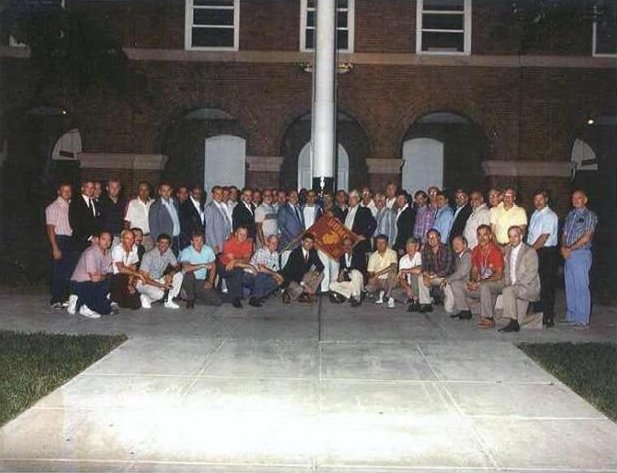 The 1987 Reunion
(submitted by Bob Neal)
Note:
Merle Johnson has located a number of photos of the 1987 Reunion
and the dedication of the Plaque to the Vietnam KIA's. To view them, click
here.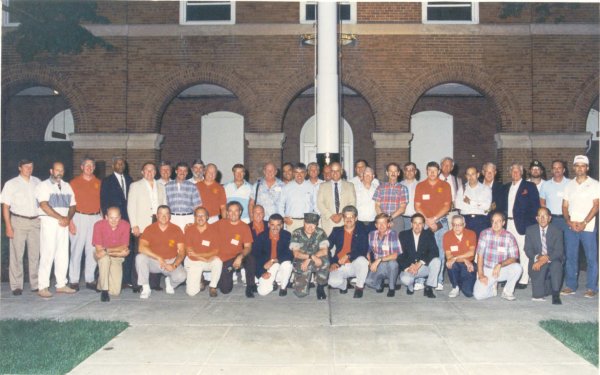 The 1990 Reunion
(submitted by Don Maurer)
2001 Reunion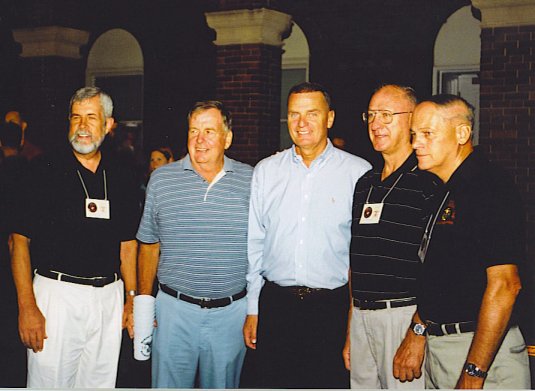 CGC 1st Platoon (1957) members Jerry Van Riper, P.J. Sloan,
John Wellman and Bob Flick with Commandant Jim Jones
at the 2001 Reunion celebrating the 200th Anniversary of the Barracks
(above items submitted by John Wellman)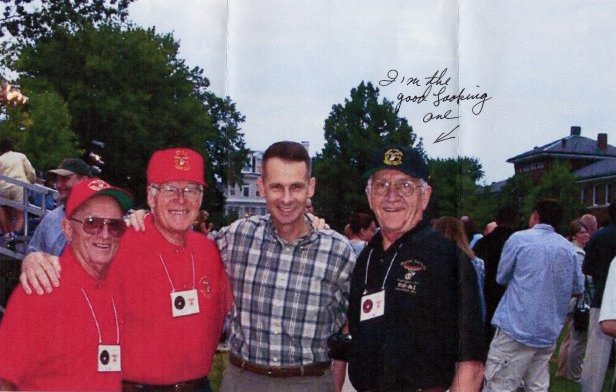 l - r: Richard Billig, Richard Doyle, General Peter Pace, and Joe Maglione
(Photo submitted by Joe Maglione)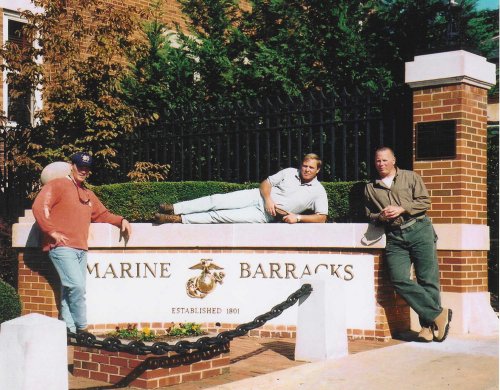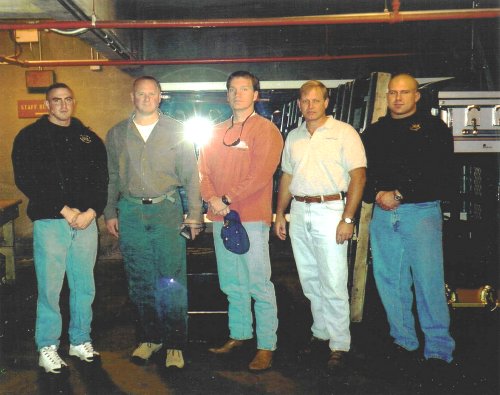 The Body Bearers get together

(Items submitted by David Wells)






2003 Reunion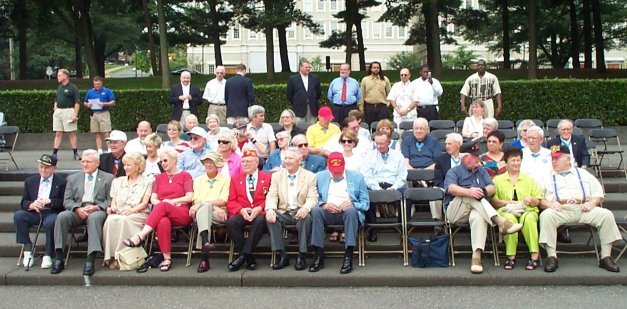 Marine Medal of Honor recipients with wives
at the Iwo Jima Memorial parade.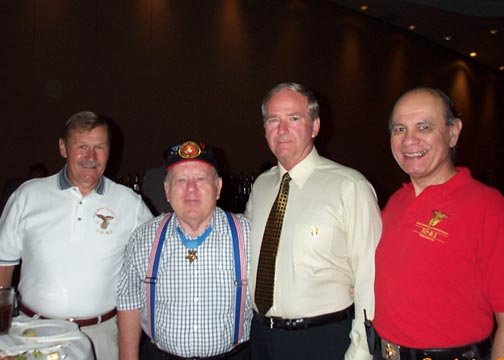 L. - R. Larry Hess, Drill Team (1958-61), Jacklyn H. Lucas, Medal of Honor recipient
(age 17 when he received the award for his actions on Iwo Jima),
John Reim, Drill Team (1958-61) and Charlie Huha, Drill Team (1958-61)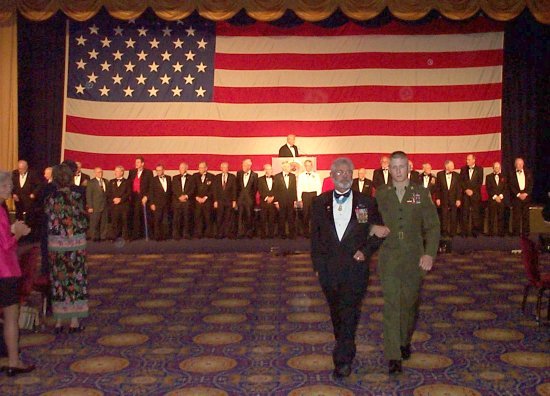 Marine Medal of Honor recipients being introduced
at the banquet.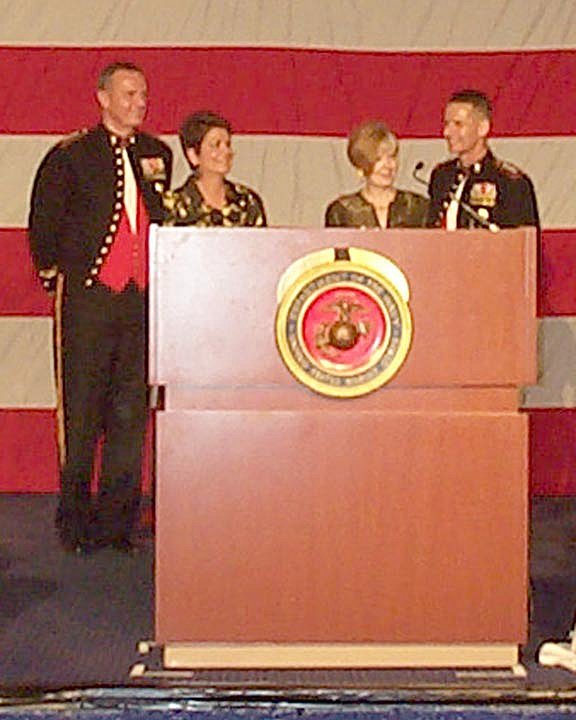 Former Commandant and Supreme Commander of NATO James L. Jones and General Peter Pace,
Deputy Chairman of the Joint Chiefs of Staff,
with their wives at the dinner in their honor.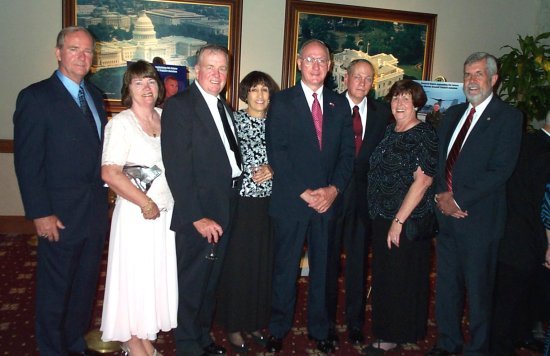 John Reim (1958-1961) and wife, Patrick Sloan (1957-1959) and wife
John Wellman (1957-1959), Robert Flick (1957-1960) and wife,
and Jerry VanRiper (1957-1959) at the dinner honoring Generals Jones and Pace.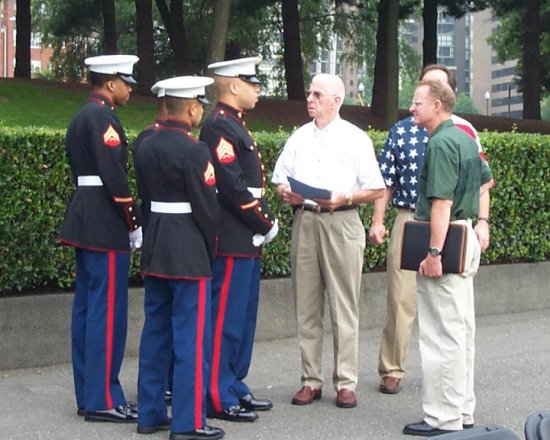 Joe Larkin (1956-1959) at the Iwo Jima Memorial parade
explaining how it was done in the "old Corps"




2004 Mini-Reunion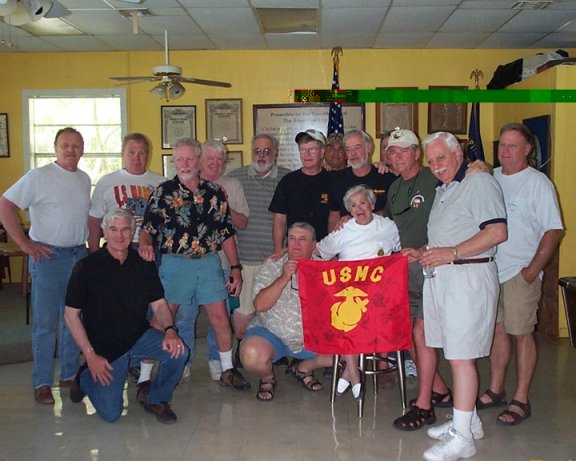 May 13-16, 2004, a 8th & I mini-reunion was held on Sanibel Island, FL,
by Ceremonial Guard Company Marines who served at 8th & I 1957-1962.
Front Row (l. to r.) Paul Towey, William Jones, George Hoag, Molly Schecter (Dobkins Bar, 1956-1966),
John Reim (hand on Molly's shoulder), and Vincent Amato (holding flag).
Back Row, (l. - r.) Edward Hartman, Michael Steingass, Jerry Wheeler, Joe Cirrincione, Frank Reilly, and Furnie Lambert (USMC, ret. - was not assigned to 8th & I), Mel Sligh, William Hanley, and Mason Scott.



2005 Mini-Reunions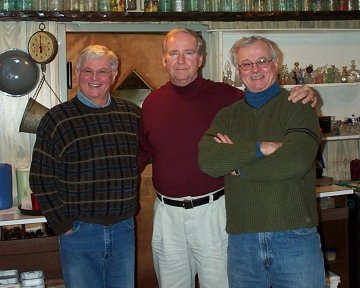 The Sottile twins, Jim on the left and Vince on the right (1956-57),
meet for breakfast with John Reim (1958-61) in New Jersey in February, 2005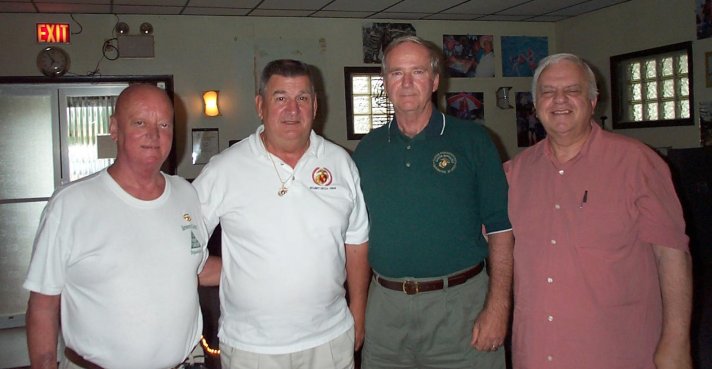 Howie Dickson (1958-61), Bob DiLossi (1961-63), John Reim (1958-61)
and Joe Laudisio (1958-61) meet for dinner on July 7, 2005 at the Villas Fishing Club, Villas, NJ

(Items submitted by John Reim)





2005 Reunion



To read Steve Holton's excellent re-cap of the 2005 Reunion, click here.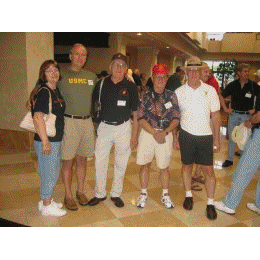 Snapshots taken by Richie Del Vecchio (1955-56)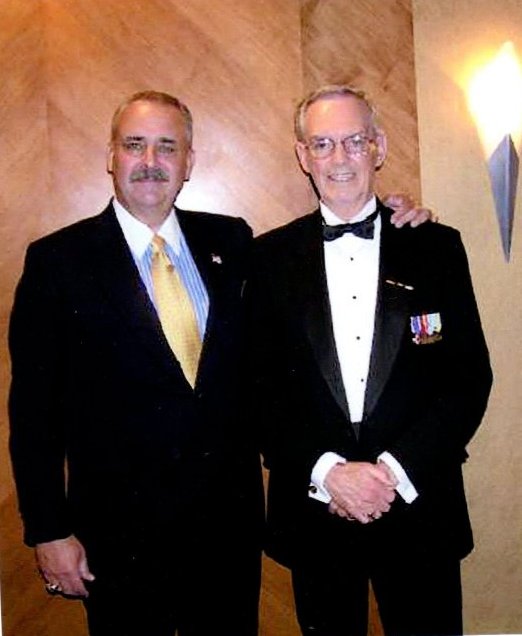 Photo of Bob Turner and Skip Quant taken at the 2005 8th & I Reunion. He was a great gentleman indeed! He will be missed...

Semper Fidelis, Skip Quant, 8th & I, 1968-1970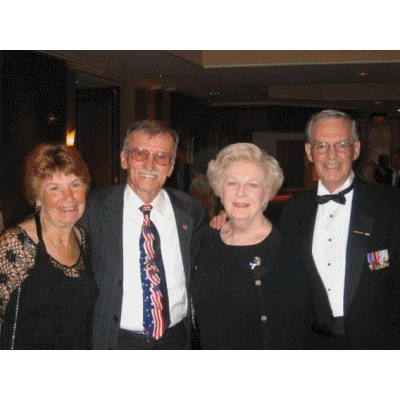 Snapshots submitted by Bob Turner (1953-54)
The Medal of Honor recipient shown in two of the photos is Col. Wesley Fox.
He is a true mustang (from Pvt to MSgt, and 2nd Lt to Colonel).
He received the Medal as a Captain for heroism in Vietnam.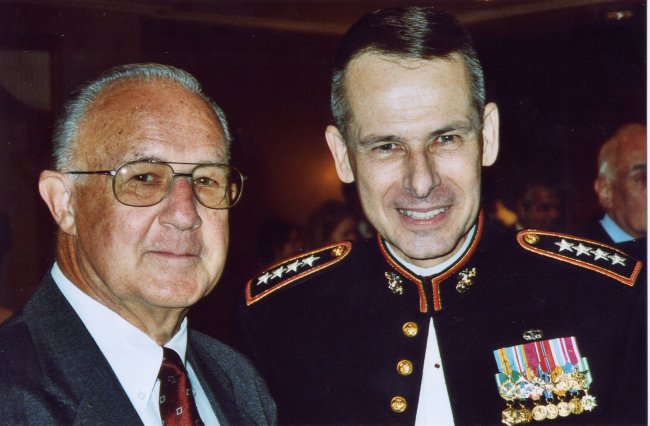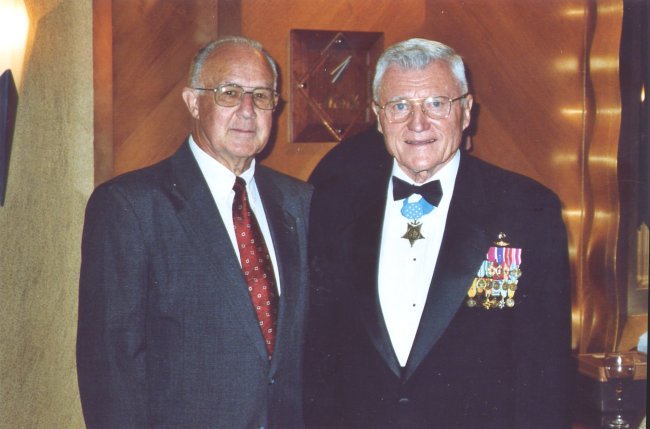 Joe Mryncza with General Peter Pace and Colonel Wesley Fox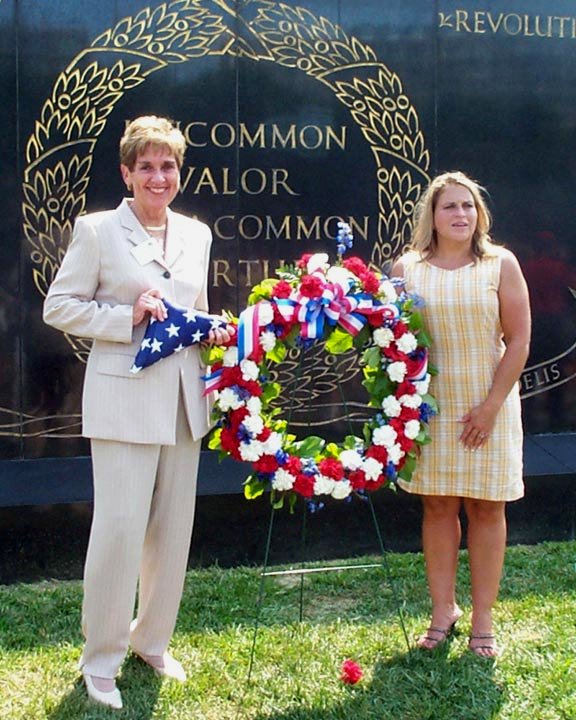 During the Association's 2005 reunion, we had a wreath-laying ceremony
in honor of Gerry Sulanowski (Drill Team 1958-61), who died in 1991.
Pictured here is the memorial wreath, together with a United States flag
which was presented to Josie and Robyn Sulanowski following the ceremony.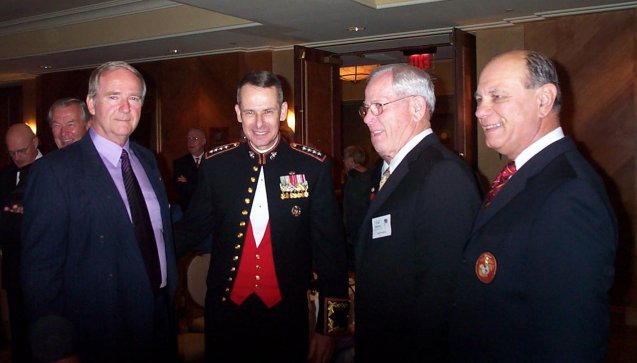 Shown here with General Peter Pace, USMC (Vice Chairman, Joint Chiefs of Staff)
are (l - r) John Reim, John Hershiser and Charlie Huha
all of whom served on the Drill Team (1958-61).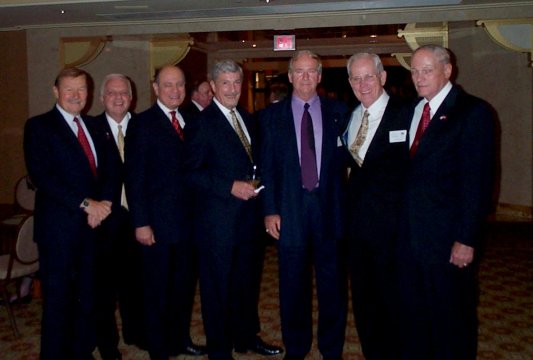 (l - r) are Larry Hess, Joe Laudisio, Charie Huha, Manuel Pinto,
John Reim (all 1958-61), and Robert Flick (1957-60).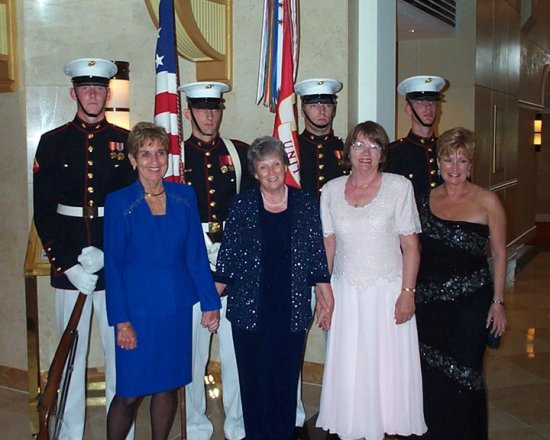 Josie Sulanowski, Martha Newby, Mary Lou Reim and Mary Laudisio
with Color Guard. Note: The minimum height requirement for the Color Guard is now 6'4".
The rifleman on the left in this picture is 6'8" and the others are only 6'6" and 6'7'!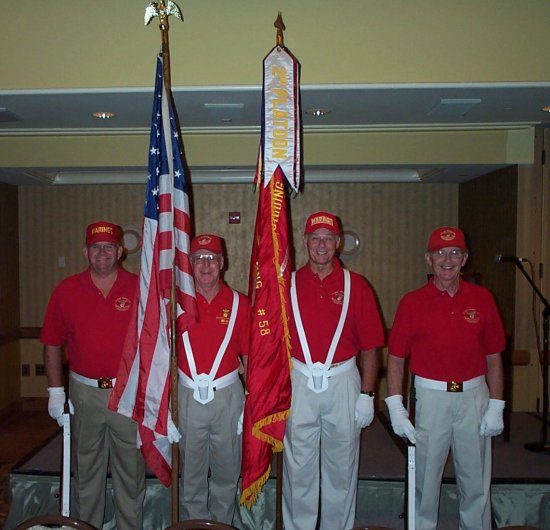 Our Color Guard, consisting of (from left to right) Bob Neal (1962-64),
Bob Griffin (1954-58), Al Wiecenski (1964-67) and Art Gannon (1952-54)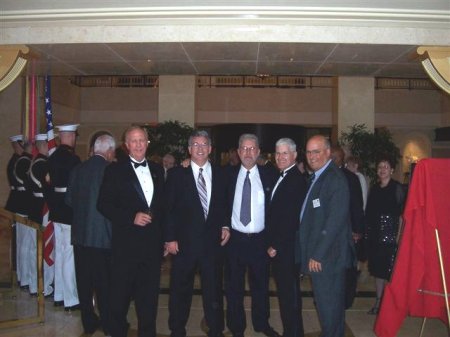 (l to r) Mike Hammer, Drill Team 1973-1975, Dennis Bosco, Body Bearers 1970-1973, Kent Snyder, 2nd Plt. 1973-1974, John Marley, Drill Team 1969-1973, and Jim Matthews, 1st Plt. 1972-1975.
(Item submitted by Jim Matthews)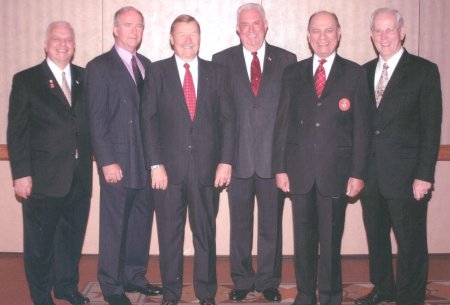 Joe Laudisio, John Reim, Larry Hess, Don Newby (1st Platoon),
Charlie Huha and John Hershiser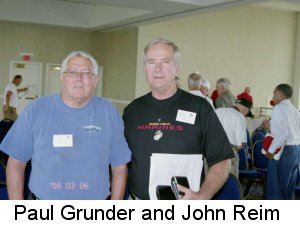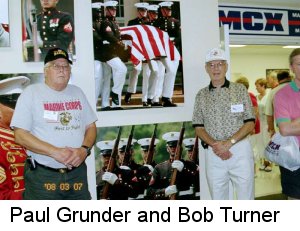 (Items submitted by Bob Turner)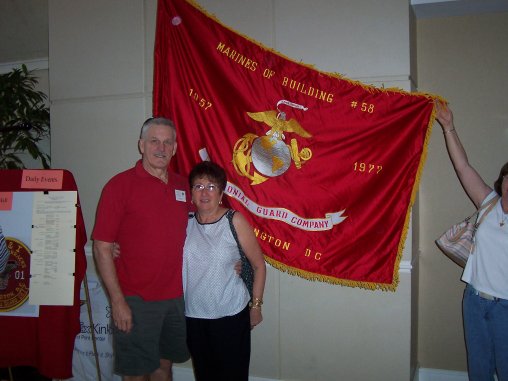 Paul Grobski ('60 - '62) and wife Lee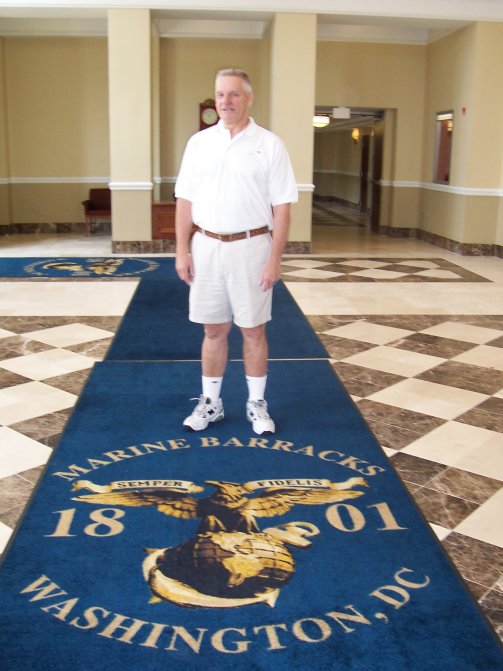 Paul Grobski at entrance of new enlisted quarters
2006 Mini - Reunions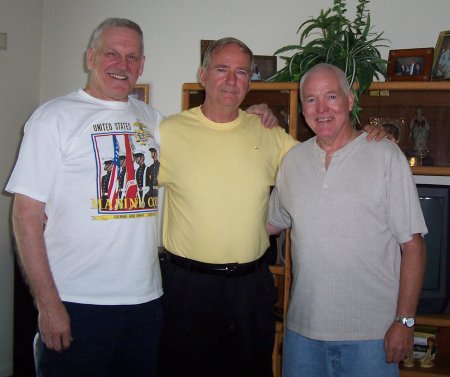 A delightful weekend during July in Massachusetts was shared by (from l - r) Paul Grobski, John Reim and Dave Pullo.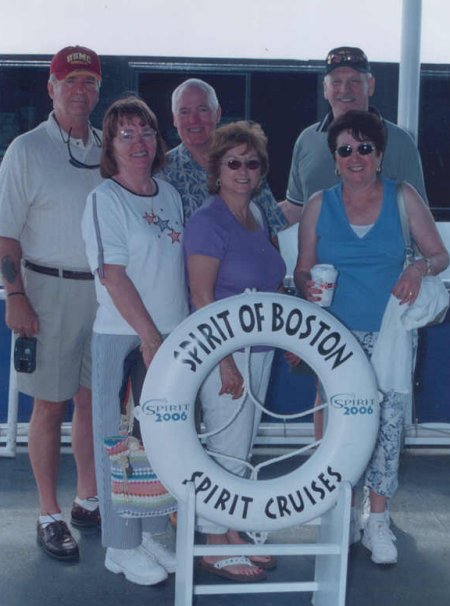 Pictured here are (from l - r) John and Mary Lou Reim, Dave and Jo Pullo, and Paul and Lee Grobski, pictured here in Boston Harbor going aboard the Spirit of Boston.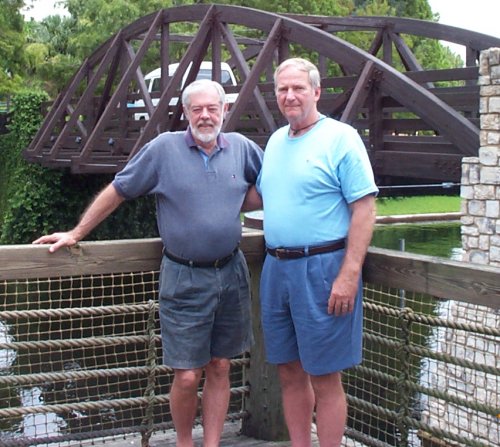 John Reim (1958-61), Mel Sligh (1960-62) and their families got together at the
Port Orleans Resort in DisneyWorld in Florida in July of 2006, and had a great time.




Opening of the Marine Corps Museum, Quantico, VA
Nov. 10, 2006!

Gerry Kane, Fred Kirven, Joe Mryncza and Joe Ruszkowski met for the grand opening
on the Marine Corps Birthday, and had a terrific time!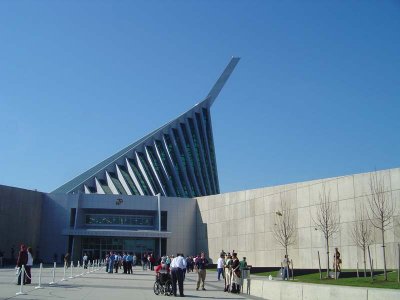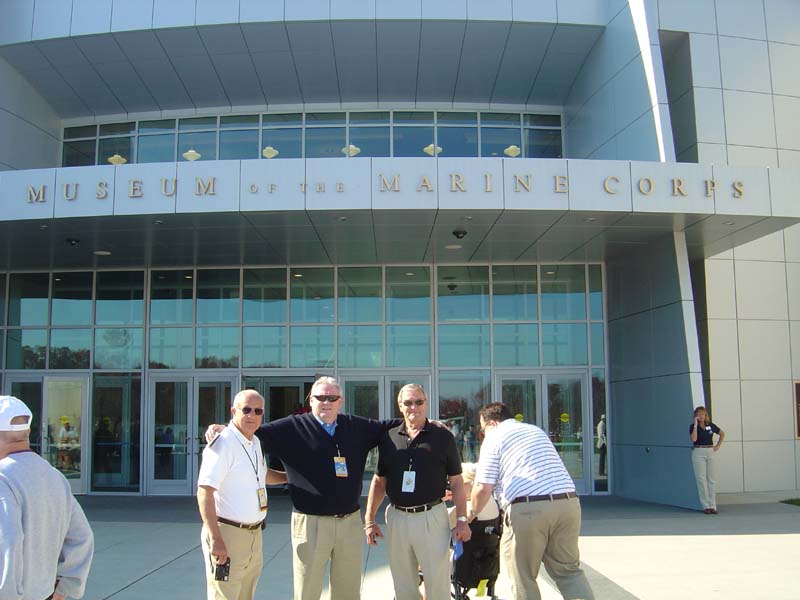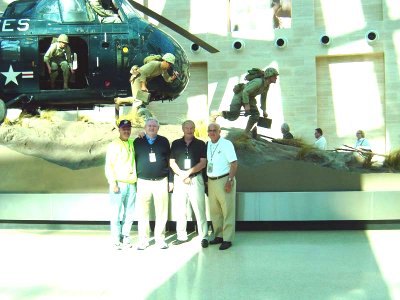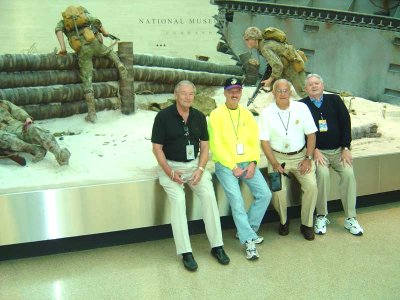 (Items submitted by Joe Ruszkowski)






Another Celebration of the USMC Birthday



At the VFW, Brigantine, NJ, on 10 November 2006. In the center is 8th & I Marine, Ike Rucker.



Also at the Brigantine, NJ VFW is (L to R): John Reim (1958-61), Ike Rucker (1949-51), Joe Laudisio (1959-61), and Dave Pullo (1959-61).



11 November 2006, at the New Jersey Korean War Memorial on the Boardwalk, Atlantic City, NJ. (L to R) : John Reim (1958-61), Dave Pullo (1959-61), and Joe Laudisio (1959-61).



11 November 2006, at the Tun Tavern, Atlantic City, NJ. (Clockwise): John Reim (1958-61), Mary Lou Reim, Dave Pullo (1959-61), and Joe Laudisio (1959-61).



Dave Pullo doing a few "reps" to strengthen his right arm.






2007 Mini-Reunions
Anniversary of the first Evening Parade



On July 5-7, more than 180 of our members and wives met in Washington DC to celebrate the 50th Anniversary of the first Evening Parade at the Barracks. We met for dinner with Col. Roy Batterton, CO of troops for the first parade at a nearby hotel on Thursday evening, rode the Barracks busses to the parade on Friday evening, and toured the new Marine Corps Museum at Quantico on Saturday.

Click here

to see photos of our members who attended this significant event.


2007 Mini-Reunion - Marine Security Company-Camp David






In May of 2007, The alumni of the Marine Security Company-Camp David held a Mini-Reunion, which was a fantastic success, drawing Marines from 1979 to 1985. To view the photos of this Mini-Reunion,

Click here.

2007 Mini-Reunion - Nashville, Tennessee




On September 19-22, 2007, more than 60 of our members and wives traveled to Nashville, Tennessee for a mini-reunion, at which a great time was enjoyed by all!

Click here

to see photos of our members who attended the Nashville mini-reunion.

Jim Matthews Joe Ruszkowski celebrating the USMC's 232nd birthday in Philadelphia, PA on 10 November 2007.

2008 Mini-Reunions


The 2008 Late-1980's SDT Mini-Reunion at Washington DC and Quantico, VA

A total of SDT 36 Marines from the late 1980's and their families, bolstered by Albert Meyer-Pflug from a Marching Platoon in A Comany, got together for a wonderful reunion in Wshington, DC and Quantico, VA. In attendance was an active Colonel and fomer SDT plt commander, a USA SF Sergeant Major and former SDT platoon guide, as well as a couple of retired E-8's and a bunch of 4-year-and-out-and-damn-proud-to-call-themselves-US Marines in attendance. To view a terrific collection of photos of the Mini-Reunion, as well as prior events,

click here.

The 2008 Mini-Reunion at San Diego, California

A wonderful Mini-Reunion of a number of us from the late 1950's - early 1960's got together in June of 2008 at San Diego.

Joe Larkin lecturing on Marine history and traditions at the MCRD Museum, San Diego. Joe is a docent there.

For numerous photos of this terrific and most interesting Mini-reunion,

click here. The 2008 Reunion of the 4th Platoon, CGC

Fifty-One Years Later! This Many Together Again!

(Photo submitted by Billy Belew)

On the Briny in May, 2008:

A formal moment aboard ship for the group! Shown (from l-r) are: John & Mary Lou Reim, Dave & Josephine "Jo" Pullo, Edwin "Eddie" Chandler (Marilyn's son and a wonderful, young man), and Marilyn & Merle Johnson.

Merle Johnson at the slot machine aboard ship moments after winning a $625 jackpot!

Same group as in the first photo above, enjoying a superb steak dinner at the Chops Grille aboard ship.

(Items submitted by John Reim)

Dave Pullo and Jack Cataneo get together in Boston

(Item submitted by John Reim)

(At John Reim's - New Jersey - October 2008)

John Reim, John's grandson Brandon and Dave Pullo

(l-r) Joe Laudisio, Dave Pullo, John Reim and Bob DiLossi

(l-r) Joe Laudisio, Dave Pullo, John Reim, Mary Lou Reim, Bob DiLossi and Kathleen "Katie" Moroney

(Items submitted by John Reim)

The 2008 50th Anniversary of CGC's Move to the Naval Gun Factory

1958 was a significant year for Ceremonial Guard Company, as it changed its quarters from the Barracks and marched down 8th Street to its new home at Building #58 in the Naval Gun Factory.

A 50th Reunion was planned to celebrate this anniversary at the Marine Corps Base at Quantico, Virginia, to include attending the Birthday Ball on the 233rd Anniversary of the Marine Corps. The coin shown above was presented to each 8th & I Marine attending the reunion.

To view the photos of this significant reunion,

Click here.

Christmas 2008 at Jim Sottile's Home

(L - R) William "Mac" McCarty, Maryann Sottile and Jim Sottile

(L - R) Maryann Sottile, "Mac" McCarty and Carlene McCarty

(Submitted by Jim Sottile)

In November of 2008, Jack Cataneo travelled to Boston with Peaches in his recently restored 1975 MGB to get togther with Dave and Jo Pullo. In this photo Dave is at the wheel of the MBG, while Jack and Peaches supervise. A great time was had by all.

Jack Cataneo visits with Francis X. Reilly of the '59 - '61 drill team in Long Island, NY, following Frank's hip surgery this summer.

(Photos by Jack Cataneo - submitted by Dave Pullo)

Dick and Pat Doyle at the Iwo Memorial at the February 21st, 2009 reunion

of Iwo veterans celebrating the 64th Anniversary of the Flag raising

on Mount Surbachi.

(Submitted by Dick Doyle)

2009 Mini-Reunions



• In April, 2009, members of the 1958-61 Silent Drill Team and their spouses got together to renew acquaintances, enjoy some warm sun, get in some beach time and have a lot of fun in Helena and Gulf Shores, Alabama. To view the wonderful photos of this mini-reunion, click here

August 5, 2009, the Silent Drill Platoon and Color Guard had a detail in Mentor, OH. Four of our former 8th & I Marines attended this detail(see above picture). They are, left to right: Don Maurer, 1967-1968, Canal Fulton, OH; Fred Kirven, 1956-1958, Boardman, OH; Howard Elgart, 1952-1953, Sandusky, OH; William Pigott, 1973-1975, Saginaw, MI

September 2009 reunion of Bldg 58 Marines in Newton, NJ.

Please click here to view these reunion photos:

Building 58 Marines Sept 2009 Reunion

December 4-6, 2009, members of the 1963 Ceremonial Guard Company (Silent Drill Platoon, Color Guard, and Body Bearers) had a reunion in Dallas, TX, to commemorate their participation in the funeral (escort, death watch, burial) of President John F. Kennedy. President Kennedy was assassinated in Dallas, TX, on 22 November 1963. This reunion was planned and organized by Ed McCloskey, Drill Team, 1962-1965. To view pictures that were taken during the reunion, please click here:

CGC Dec 2009 Reunion, Dallas TX

.

2010 Reunion



• July 21-24, 2010, members of the 8th & I Reunion Association and their guests, participated in a wonderful reunion at the Marriott - Washington Center Hotel, Gaithersburg, MD. To view the photos from the reunion, Please click here

During our July 21-24, 8th & I reunion, "The Barracks" held a special Battle Colors Ceremony (BCC) for our group, along with a large group of Boy Scouts. The BCC was held on Thursday evening, July 22, and was recorded by Jim Sottile. Please click here to view the video:

Battle Colors Ceremony

2011 Reunion



Five members of the 3rd Plt, CGC, 1958-1961 and our spouses got together for a week from Oct 1-Oct 8, 2011 at Emerald Island, NC. Those in attendance were: Bob Rowe, Al Dumas, Freddy Muller, Bill Ryan and Les Gillenwater. We spent one day touring Camp Lejeune and Camp Geiger. We had lunch with the troops at Camp Geiger.

(Submitted by Bob Rowe)

2012 Reunion



In mid July 7, 2012, members of the 3rd Plt, CGC, 1958-1961 and their spouses got together in Vermont for a mini-reunion. We stayed in a B&B owned by the son of one of our members. While there we were invited to an evening of good food and drinks hosted by Don & Verrall Keelan. It was an enjoyable 4-5 days and we look forward to next years 8th & I Reunion in Washington, D.C

(Submitted by Bob Rowe)

2013 Reunions



8th and I Reunion Association May 2013 Reunion in Arlington, VA

Click here to see video and photos of the reunion Dallas Reunion

8th & I Marines who participated in President JFK's funeral detail fifty years ago, had a mini-reunion in Allen, Texas

on November 22-23, 2013 during the 2013 Ceremony honoring JFK.

Click here to read articles and see the photos of this mini reunion April 2013 .... Reunion Of The 1969 "A Team" Color Guard

The weekend of 15-17 February 2013 was a fun-filled trip down memory lane. The 1969 "A Team" color guard from the famed Marine Barracks, 8th & I Streets, SE, Washington D.C., were here in Bonita Springs. To reminisce with these four great Marines was one of the happiest weekends this old man has spent in a long, long time. Two of them live on the Atlantic Coast of FL, one lives here on the Gulf Coast and one flew in from TX. Here they are passing in review during a Friday night parade in 1969.

1969 A Team

As described in the book, they all were combat veterans straight from Vietnam to the spit and polish of of 8th & I. They all served at the battle of Khe San in Northern I Corps near the DMZ. The Color Sergeant, Sgt Don Thorpe, is a recipient of the Bronze Star Medal with the Combat "V." And here they are forty-four years later; not as lean, not as mean, but still one hell of group of Marines.

Sgt Leland Upshaw, Sgt Don Thorpe, Sgt Richard Foster, and Sgt Dennis Sweigart

Although a cold spell swept in that weekend, it did not put a damper on a group of Marines enjoying much libation and brotherly love. Saturday night was filled with one wild "sea story" after another, many of which began with: "Sir, you probably didn't know about this, but one time we … " I will admit that there were some that I did not know about. Like the time they dangled a rubber spider out their squad bay window on a fishing line scaring the hell out of the young secretaries that walked by Bldg 58 (our barracks in the Washington Navy Yard) during their lunch hour. But much to their surprise, I knew about most of their shenanigans, but it didn't matter as I understood that Marines will always be Marines! Sunday morning came too fast and after breakfast we bid our farewells and promised not to make it another forty-four years before we get together again!

Sgt Leland Upshaw, Sgt Dennis Sweigart, Sgt Richard Foster, The Old Man (Col. Jim Bathurst), Sgt Don Thorpe

http://wellalldieasmarines.com/a-weekend-of-memories-2/ http://wellalldieasmarines.com

Submitted by 8th & I Marine Col. Jim "Mustang" Bathurst, 1967-69 / USMC 1958-93 / Hall of Valor / Girard, IL

2016 Reunion



8th and I Reunion Association July 2016 Reunion in Arlington, VA

Click here to see photos of the 2016 Reunion

11-10-16, the following Marines met for a USMC birthday lunch at Victor's Pub, Camden, NJ: L to R ... John T. Reim, 8th & I, Drill Team, 1958-61, Franklinville, NJ; Mary Lou Reim; Joe Ruszkowski, Barracks Detachment/Ceremonial Guard Company, 1956-58, Smyrna, DE; Al Pasquale, USMC 1954-62, Associate Member of the 8th & I Reunion Association, Norristown, PA

1990-91 Photo: Left to Right: Sgt Larry Doll, Tom Esslinger, Gen. Peter Pace, Skip Quant, and Col. Jim "Mustang" Bathurst

Submitted by 8th & I Marine Don Maurer, Ceremonial Guard Company, 1967-1968, Vietnam veteran, Canal Fulton, OH

Contact us at cgccontact(at) 8thandI.com

Return to top of page

Copyright - All Rights Reserved - © 8th & I Reunion Association
July 2016



Design and Layout by BT Productions