1987 half time Silent Drill at Boston college fotball game.
The 1988 Inspection team of the USMC Silent Drill Platoon.
Standing (L - R): Cpl. Beason, LCpl. Quatrino, Cpl. Williams, LCpl Carlen,
Cpl. Vivona, and LCpl. Beckett. Kneeling: rifle inspectors Cpl. Lloyd, Cpl. Sanders.
Iwo Jima Tuesday parade 1988 - Cpl. Thomas Sanders (inspector), Cpl.
John M. Vivona (double - mirror), and Cpl. Gordon Carlen (throwout)
Cpls. Sanders and Vivona. In the background is the Plt. Sgt, SSgt. Robert Leyard.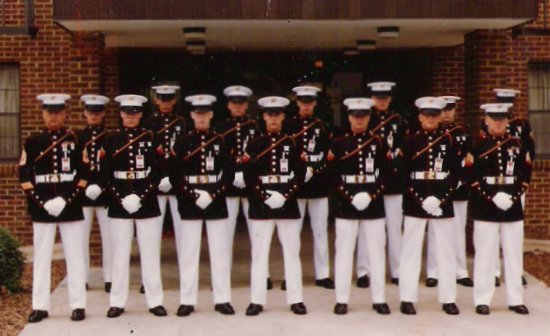 Detail for the 1983 G-7 World Economic Summit at Williamsburg, VA
(Submitted by Jerome Snowden)
A 1989 Parade passing 7th and Pennsylvania Avenue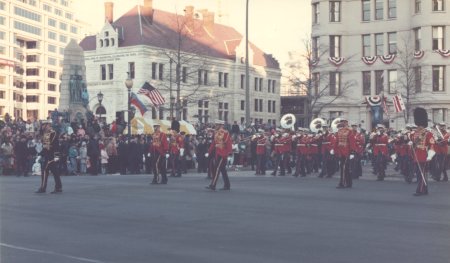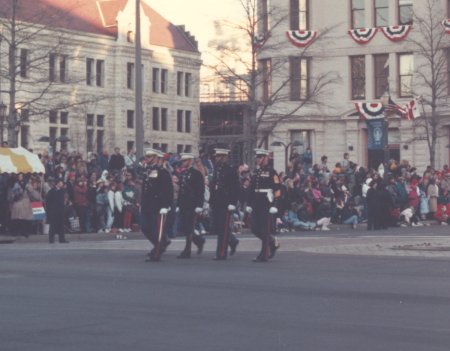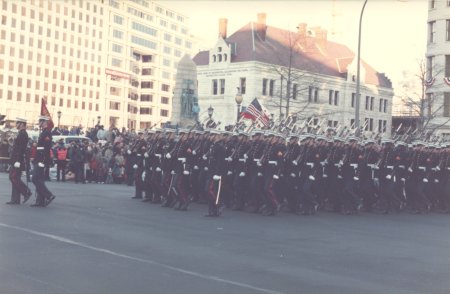 (Submitted by Albert Meyer-Pflug)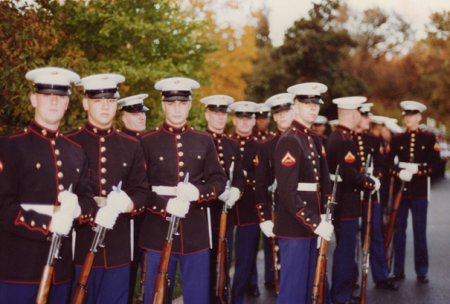 1st Plt. CGC at the Tomb of the Unknowns
Arlington Cemetery - 1989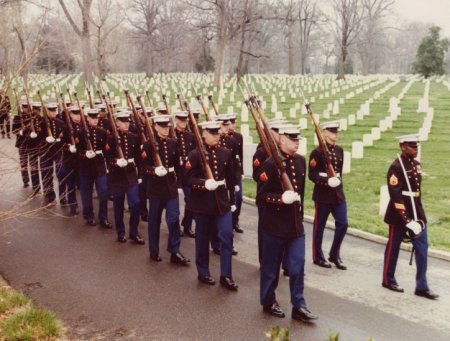 Mix of 1st and 2nd Plts. CGC marching in Arlington Cemetery - 1989
Ramberg is guide, SSgt Smith is Plt. Cmdr.,
2nd rank is (l-r) unknown, Todd Raspin and Deforest;
3rd rank (l-r) is Joel Berning, unknown and Courtney McGrath
4th rank is (l-r) is PFC Graves, Mark Nicol and unknown
last rank is (l-r) is Lcpl Goggins and Lcpl O. Guevara.
(submitted by Courtney McGrath)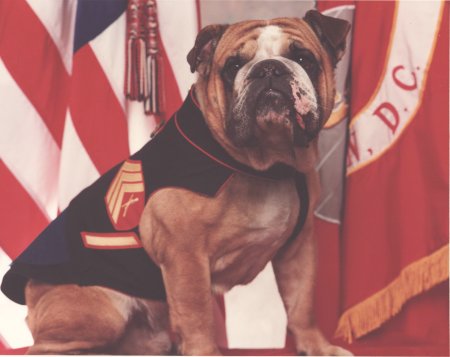 "Chesty VII" - 1984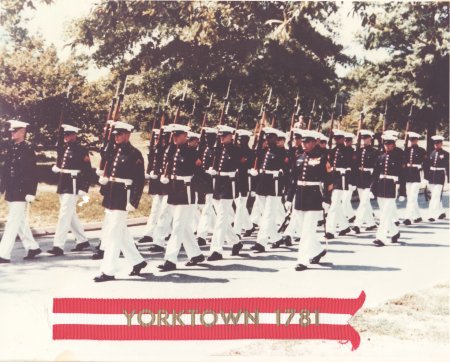 2nd Plt. B Co. celebrating 200th Anniversary of the Battle of Yorktown - 1981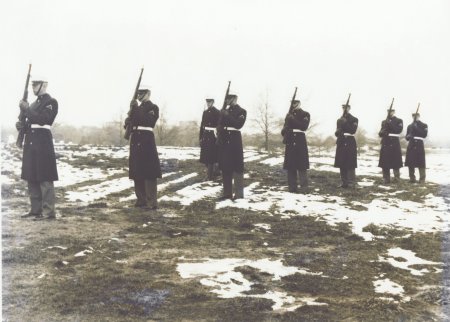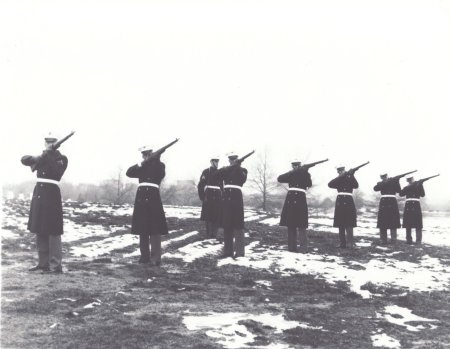 2nd Plt firing party at Arlington - minutes before Air Florida 90 crash into 14th St. Bridge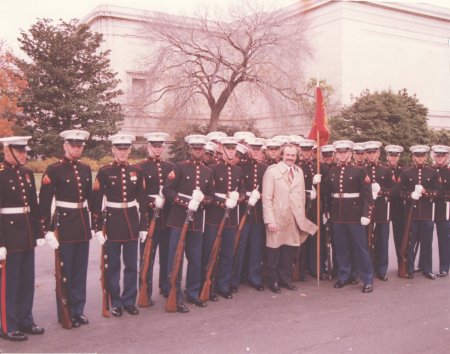 2nd Plt. B Co. at opening of Vietnam War Memorial
(Items submitted by Gary Taylor)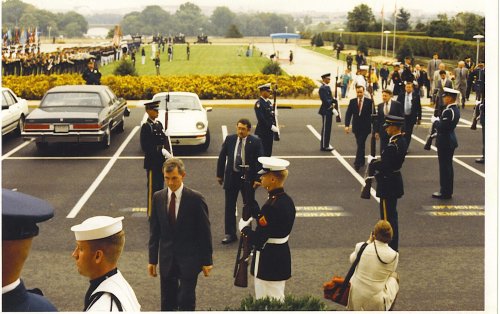 Arrival ceremony at the Pentagon for SecDef Caspar Weinberger in 1987
(Shane Wylie is shown in profile to the left of the first official)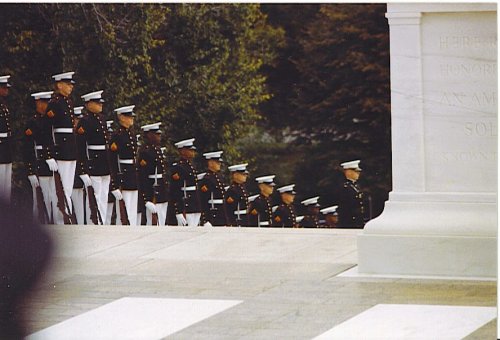 Ceremony at the Tomb of the Unknowns in 1987
(Items submitted by Shane Wylie)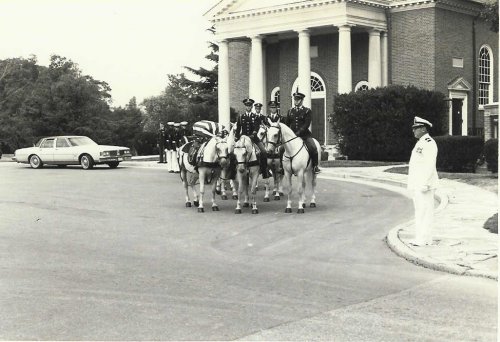 Heading for funeral at Arlington National Cemetery
follwing service at Fort Myer Chapel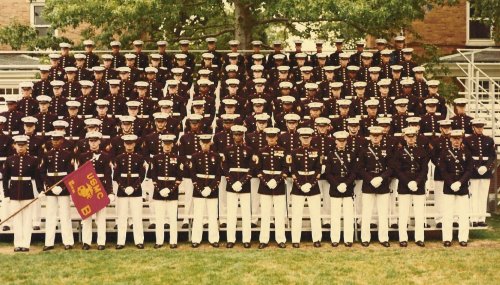 Company B - 1982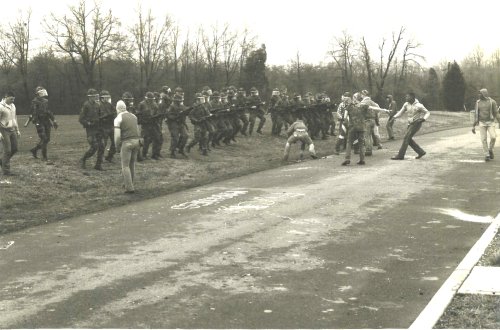 Practicing Riot Control (Body Bearers vs. Company B - 1982)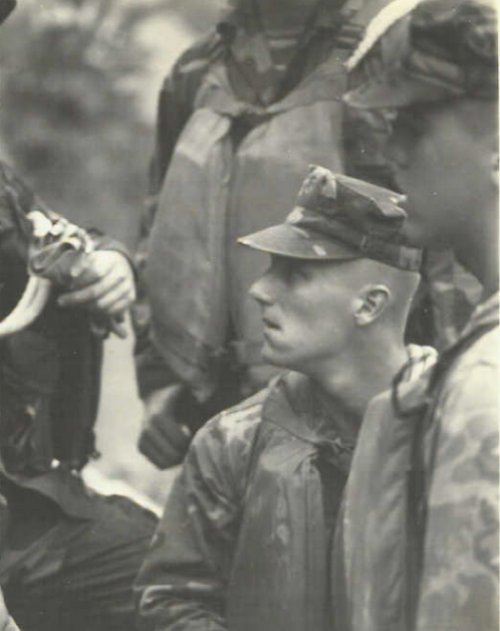 Hostage Rescue Training at Great Falls, Virginia - 1982
(Items submitted by David Wells)
1987, 8th & I pictures of B Co., 2nd Plt.
BarracksPhoto.pdf
BarracksPhotoII.pdf
Click above to see these pdf's
(Items submitted by 8th & I Marine James Baker, Esq., B Co., 2nd Plt., 1986-1988, Kingsley, MI)
This photo was taken on a snowy Vet Day at the Tomb of the Unknowns- Nov 1987.
B Company / 1st Platoon: From left to right: Al Ford, Ed Smith, John Albanese, Steve Witter.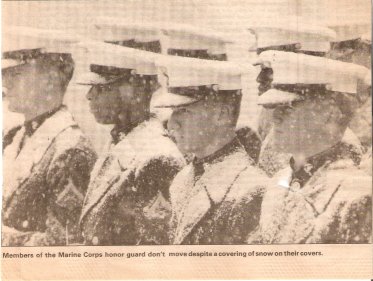 (Items submitted by 8th & I Marine JOHN ALBANESE, B Co., 1987-1988, Plantsville, CT)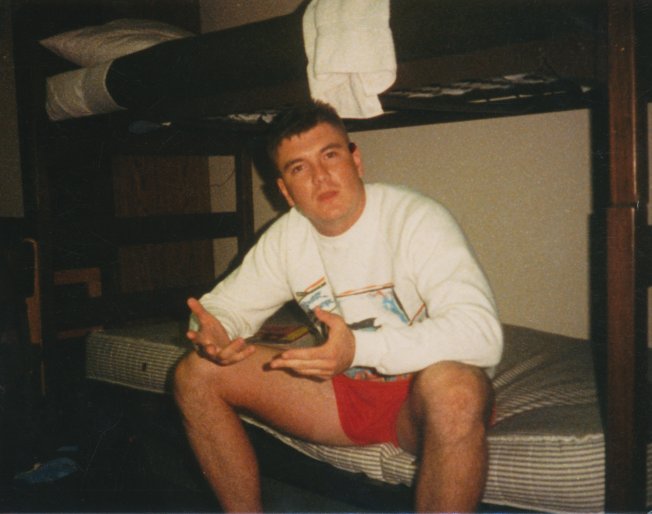 Steve Mangan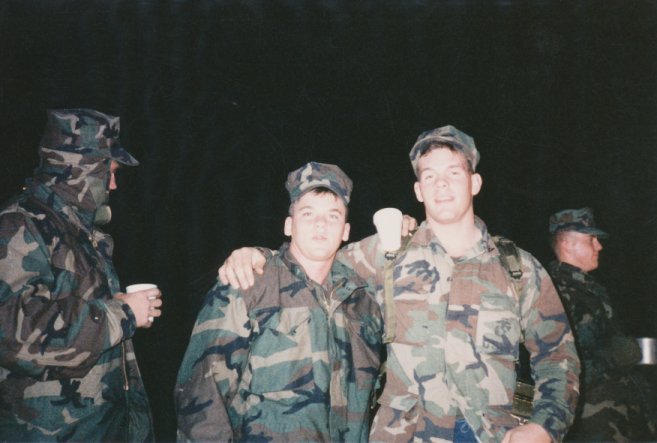 Mike Swain and Dave Knapp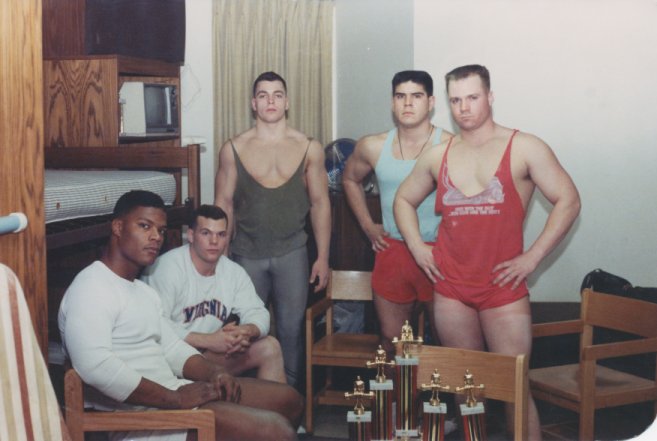 Rod Harris, Dave Knapp, Ben Vickers, Leonard Luna, Jeff McMillen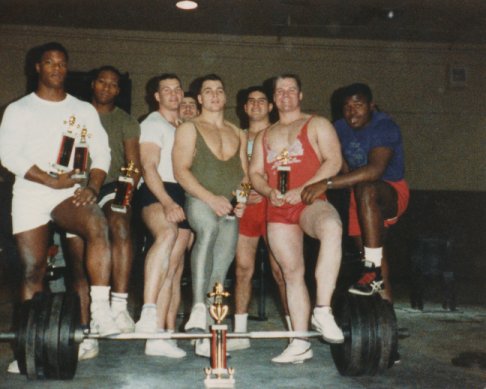 Rod Harris, Sean Thomas, Dave Knapp, Steve Borsch, Ben Vickers, Leonard Luna, Jeff McMillen, Torrence Manning
(Items submitted by Dave Knapp, Body Bearers 1986-88)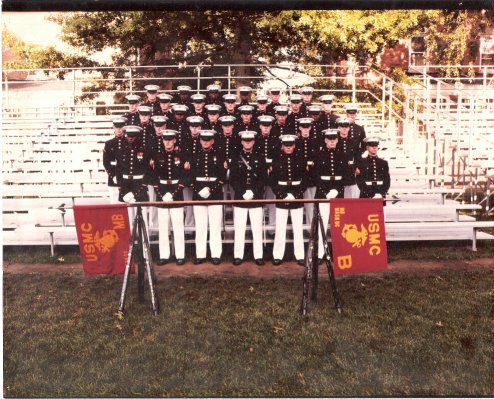 This is third platoon bravo, 1984. Joe Phifer is Right Front
Photo submitted by Joe Phifer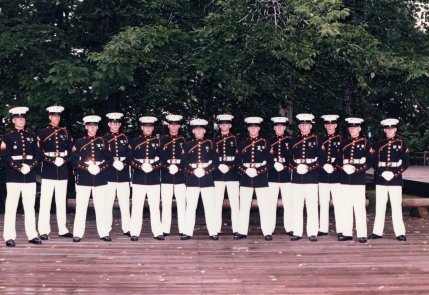 This photo is from the Barracks Guard detail to the 1984 Wye Plantation NATO Ministerial Conference.
Sgt.Sarant, Lcpl Becker and Lcpl Pearson, LCPL Reder, PFC Geerlings, PFC Neuhard, LCPL Coburn, LCPL Darby, LCPL Lykins, PFC Baird, LCPL Davidshofer, PFC Warffeli, LCPL Decola, and PFC Meyers. Not shown, but also attending was LCPL Givens.
Here's another one from the Wye plantation detail. Jerry Lykins, me, Christopher Neuhard, Jon Pearson, Joseph DeCola, and Aaron Davidshofer at the Tidewater Inn, ready to depart.
Submitted by Frank L. Reder III, CPL USMC, 1983-1987. (1983-84 @ 8th & I.)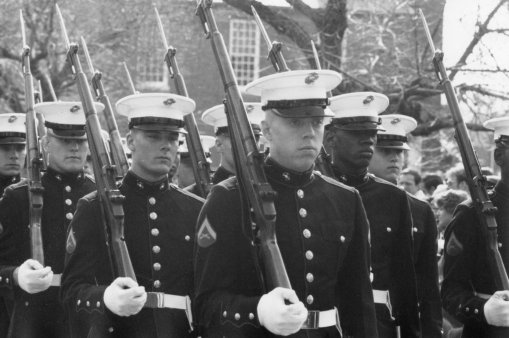 * I believe this is an MDW parade in D.C. probably early 1982. I'm the closest in the photo marching Guide.
I'm followed by John Weber and Stacey Tulley. Please forgive me for any misspelling of names.
As for the rest of the names, to many years have gone by, can't remember.
Submitted by Gary Taylor, Wrightwood, CA, 8th & I, 1981- 1984, "B" Co., 2nd Plt., & OEOB)
*This picture brings back memories. I remember everyone in this photo, but can only name one.
The third guy behind you is Sgt Cathy, David I think is his first name.
Submitted by Jeff Blackburn, B Co., 3rd Plt. & Hq. Plt., 1981-1984, Kingwood, TX
* I can help with some names to help Jeff Blackburn. Sanders, Vivona and Downing.
I was given the names by a fellow B company, 2nd platoon. James Baylor.
Submitted by Darrin Dottling. A Company, 1st Platoon 1983-1985.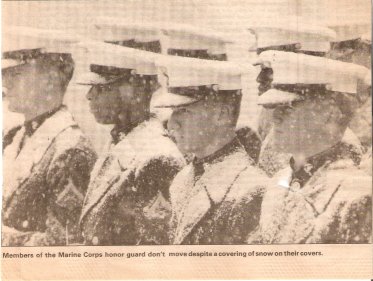 (Items submitted by 8th & I Marine JOHN ALBANESE, B Co., 1987-1988, Plantsville, CT)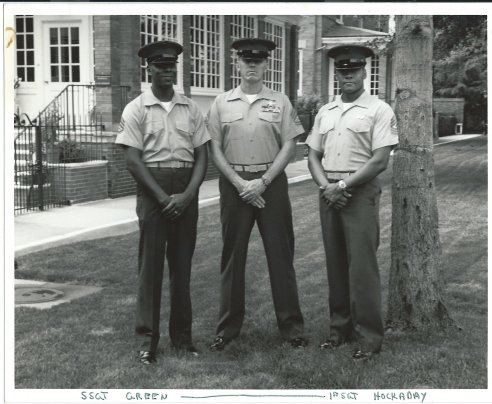 PHOTO WAS TAKEN IN 1980 AT CENTER WALK. FROM LEFT TO RIGHT:
SSGT GREEN (2ND PLT SGT), GYSGT SEAGRIFF (COMPANY GUNNY) AND
ST SERGEANT HOCADAY (CO IST SGT)-ALL FROM COMPANY "A" COMMANDED BY CAPTAIN TITUS.
(Items submitted by Pete Seagriff)
THESE PICTURES ARE OF THE 1987 PARADE STAFF OF WHICH I WAS THE JUNIOR STAFF MARCHER. ALONG WITH COMMANDANT GEN. KELLY INSPECTING MY FACILITY AT MCI COMPANY.
Two of the pics (1987) are with Maj Legget, SSgt Anderson Terry, SSgt Butterfield Dennis, SSgt Martin John.
I do not remember the other officers names. One pic (1986) is Maj Hartley, Capt. Gilroy, SSgt Anderson and
SSgt Butterfield. Do not remember the LT's name.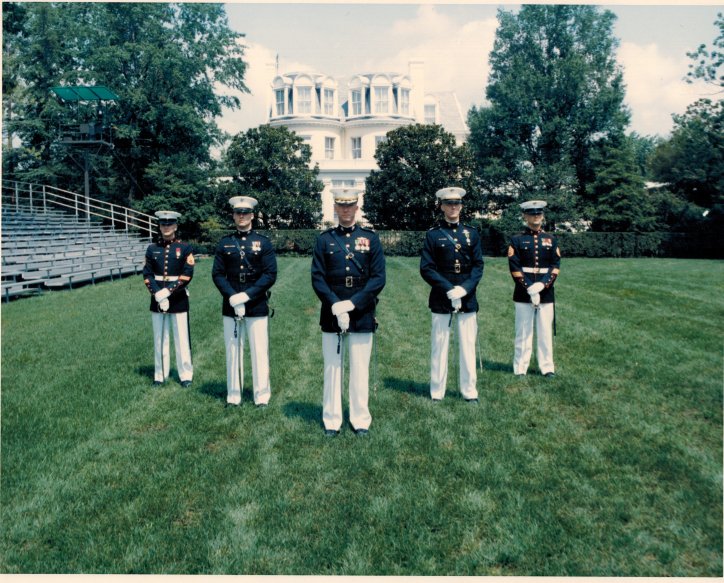 1986 Parade Staff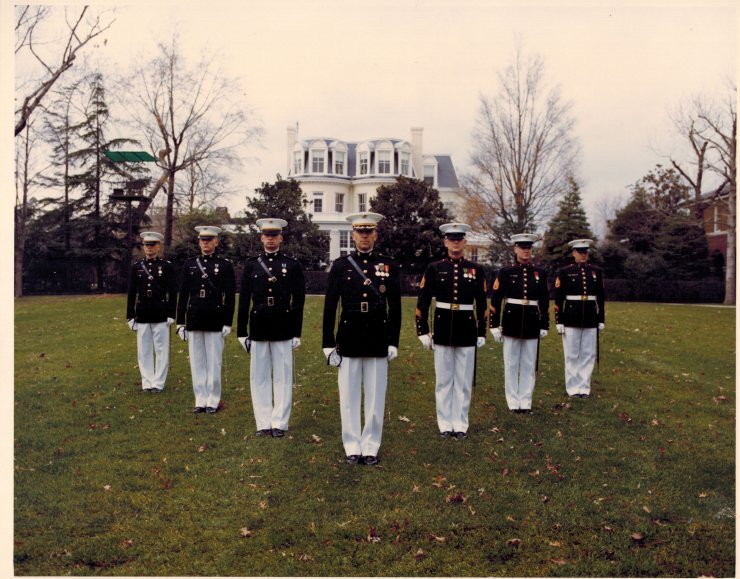 1987 Parade Staff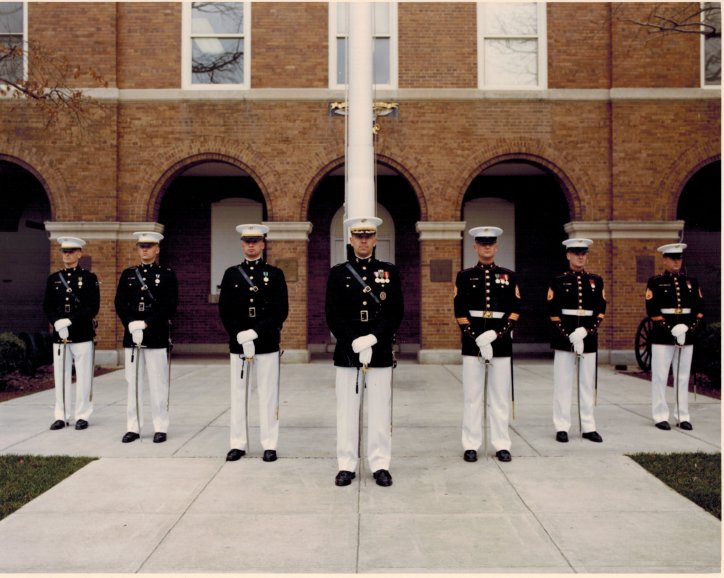 1987 Parade Staff
Submitted by DENNIS BUTTERFIELD,RET. GYSGT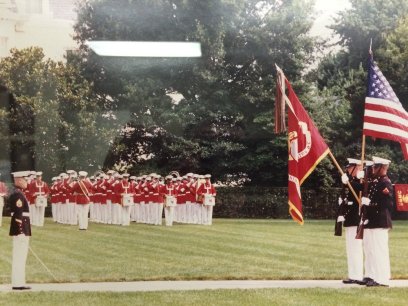 SSgt John Martin at as SNCO Adjutant 1989.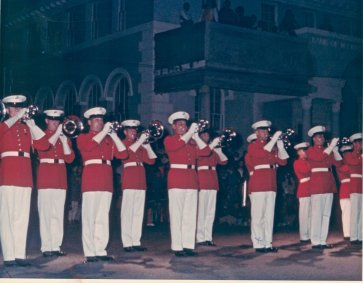 B Company - 1985
Submitted by David "DB" Wright, Drum & Bugle Corps and Band, 1965-74 / USMC 1959-74, Vietnam veteran, Las Vegas, NV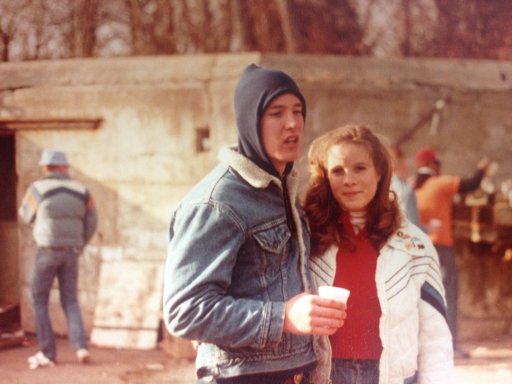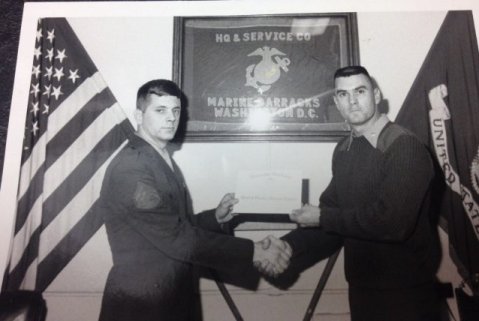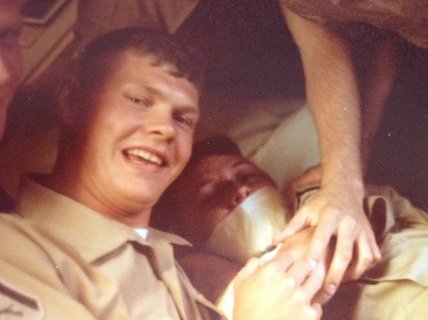 Photo 1: Billingsley photo Craig Billingsley A Co 2nd plt party fort Washington 1982
Photo 2: Discharge 1st time is Dan J. Fisher being Discharged. 1984
Photo 3: Virgil Durbin photo is the boys of A Co 2nd plt having fun with Shayne Jarosz. 1983
Submitted by Dan J. Fisher
For Billy J. Abbott's photos of the 1980's,
Click here.
For Col. Whitney's photos of the 1980's,
Click here.
For Photos collected since the 1980's,
click here.
Anyone having additional submissions for this page should send them to:
CGC Webmaster.
Contact us at: cgccontact@8thandI.com - 8th&I Reunion Association
Return to top of page
©Copyright - All Rights Reserved - August, 2015
8th & I Reunion Association



Design and Layout

by BT Productions