The 8th & I Reunion Association
An organization of Marines
who served at
Marine Barracks
8th & I Streets, S.E.,
Washington D.C.
Photos from the 1960's
Other significant events in the 1960's not shown below can be found in the wonderful collection of photos submitted by 1st Lt/Capt Bill Lee, which can be viewed by clicking here.
The Photo that Covers Two Decades!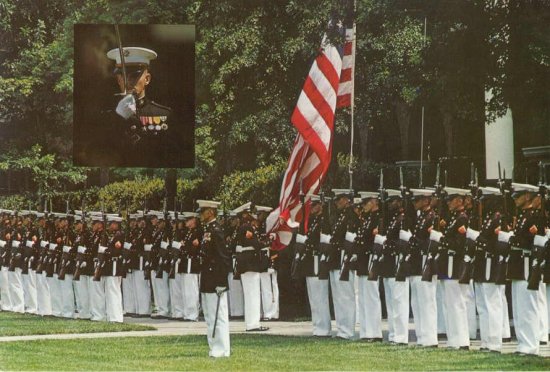 The platoon that is in the place where the 1st platoon of MCI would normally stand during a Friday parade is, in fact, the silent drill platoon of the 1968 Special Ceremonial Platoon. Standing in front of that platoon is 2nd Lt Jim Bathurst. The photo was not a parade rehearsal or anything of that nature, but rather a photo op staged for Div Info of HQMC. The Platoon Guide is Cpl David Severn, who was felt to be the sharpest Marine in the platoon, and was usually assigned as supernumerary for Friday nights because he knew nearly every man's position by heart.

This same photo is the center fold of a recruiting publication put out by HQMC entitled "Marine" in 1970 without the inset of the Lt executing "present sword." The officer in the inset for the photo is 1st Lt Sandy Alderson (later to become Executive Vice-President for Major League Baseball, and CEO of the San Diego Padres), who came to the Barracks from Vietnam in 1971. The inset was added to the photo by HQMC Div for additional publications.



(Photo submitted by Jim Bathurst, with ID of officer in the inset by Gen. Peter Pace)
Passing of the Colors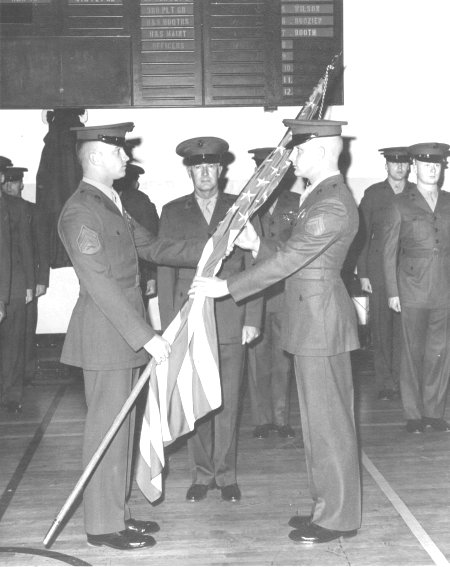 In a March '67 ceremony in the Band Hall marking the passing on of the Color
Sergeant's duties and the Colors, Col. Robert B. Carney watches as Mike Kane
receives the Colors. Bob Rowe is behind Sgt Kane in the frist rank.
(Photo submitted by Mike Kane)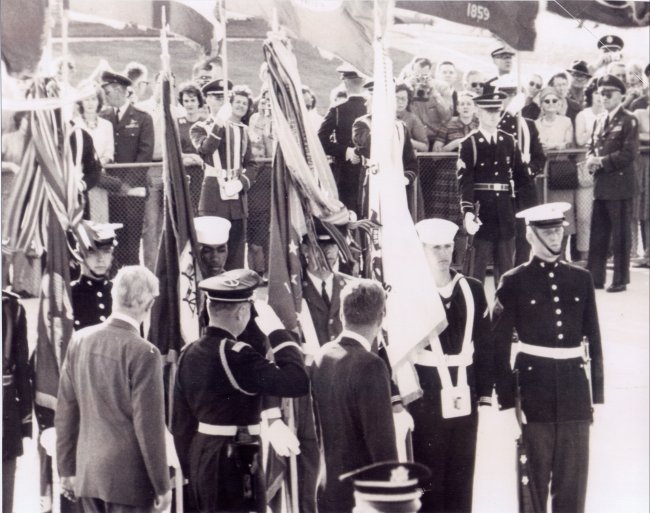 JFK and Prime Minister McMillan of England at Andrews AF Base
Tom Tumilowicz with USMC colors, and John Boes the rifleman
(Submitted by Tom Tumilowicz)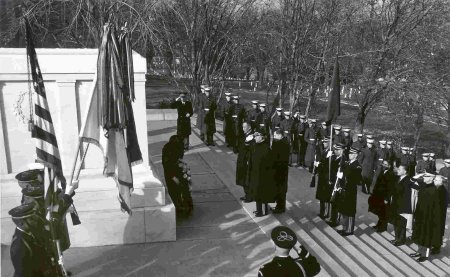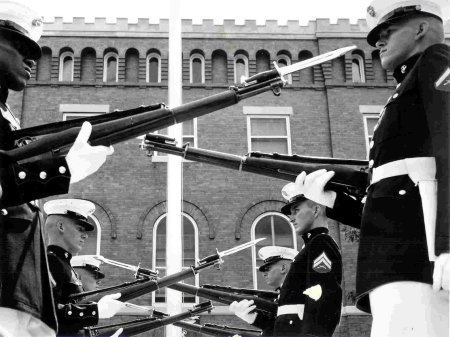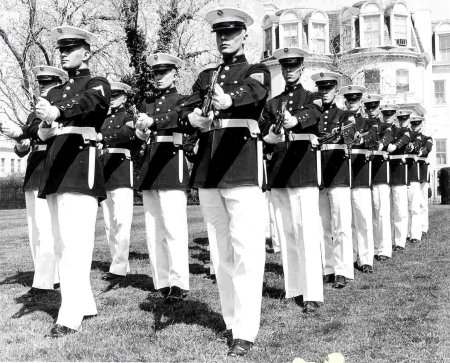 The 1963 Drill Team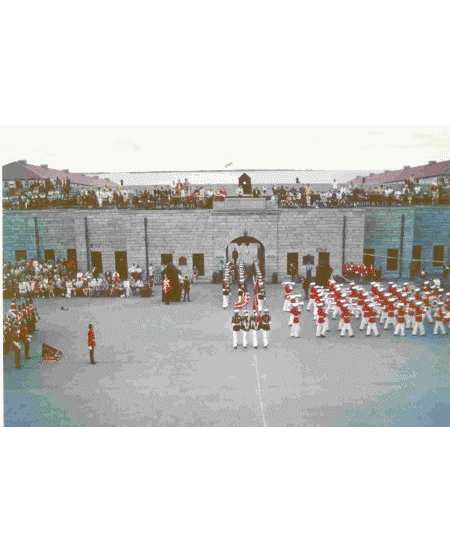 The 1969 Trip to Ft. Henry, Canada
(Submitted by Pete Heiss and Bill Coleman)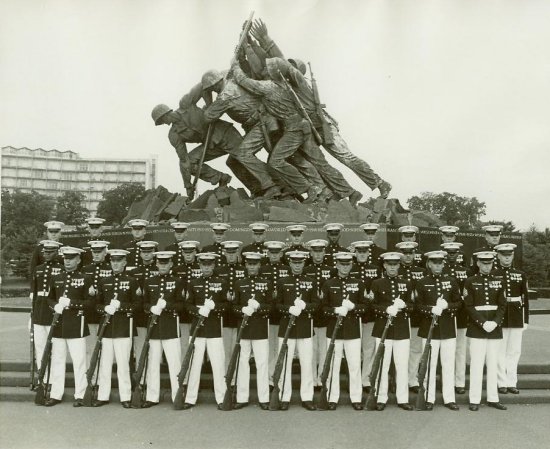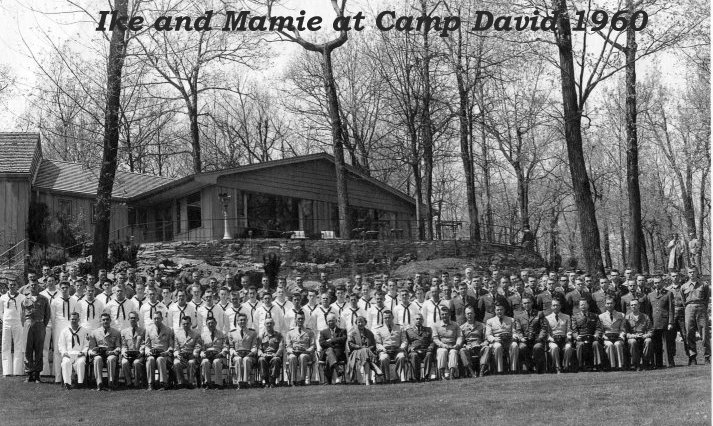 Ike, Mamie and Aspen Lodge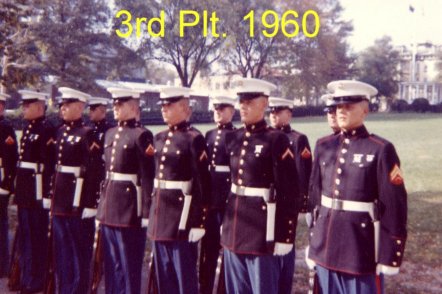 (above items submitted by Bob Rowe)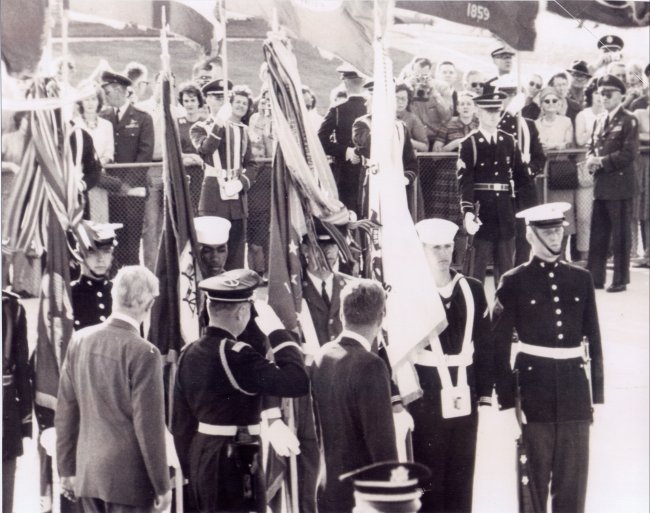 JFK and Prime Minister McMillan of England at Andrews AF Base
Tom Tumilowicz with USMC colors, and John Boes the rifleman
(Submitted by Tom Tumilowicz)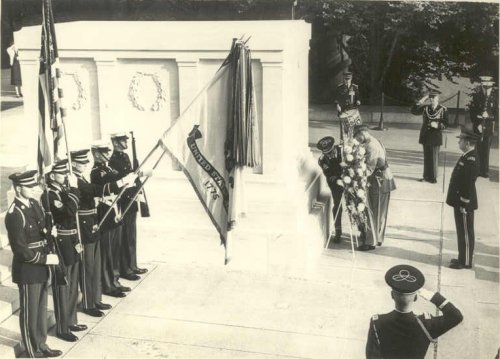 Crown Prince Harald of Norway at the Tomb of the Unknowns
Chuck Tatum (with Colors) and Herb Muller (rifleman)
(Item submitted by Chuck Tatum)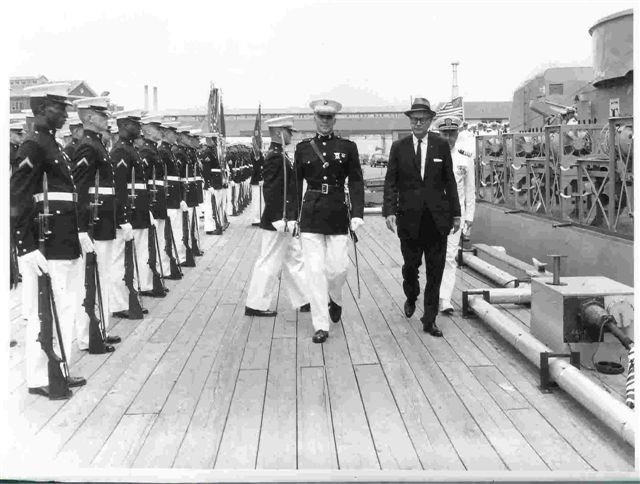 Honors for the Secretary of the Navy, Naval Gun Factory pier, Washington DC
Shown is the 2nd plt., CGC - 1962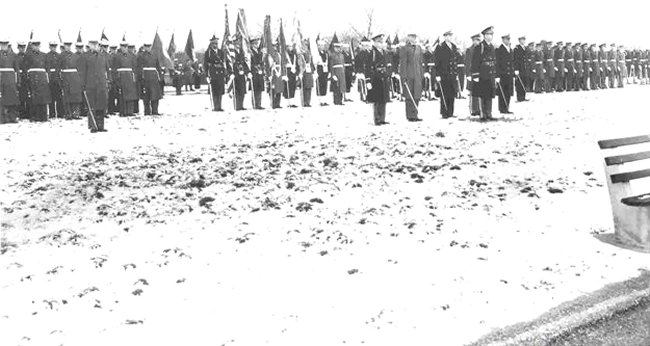 2nd platoon participates in a Department of Defense Honors ceremony at the Pentagon
President Kennedy watches as the 2nd Plt. pass in review at an Evening Parade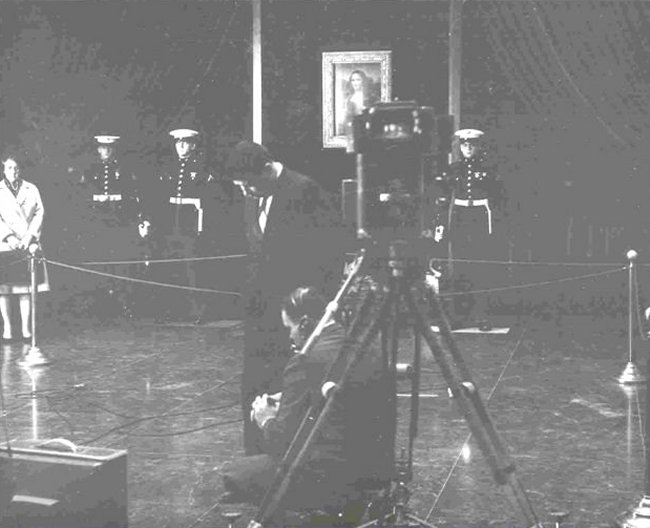 Members of the 2nd Plt. guarding the Mona Lisa in the Capitol Rotunda
L to R: Cpl Smith, first name unknown, plt unknown, Bob Neal, Color Guard and Frank Castoria, Drill Team. This picture was taken when the Gallery was about to open for the first time for viewing. Shortly thereafter the public was admitted.
(Above photos submitted by George Navadel)
THE COLOR GUARD: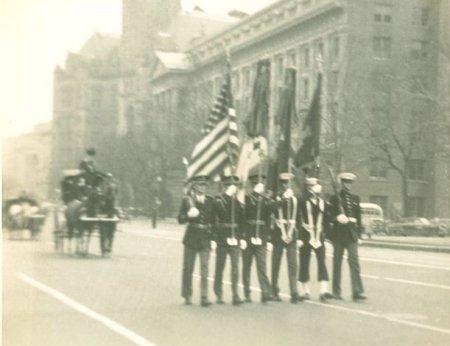 Re-enactment of President Abraham Lincoln's funeral
Herb Muller with USMC Colors, Carlson rifleman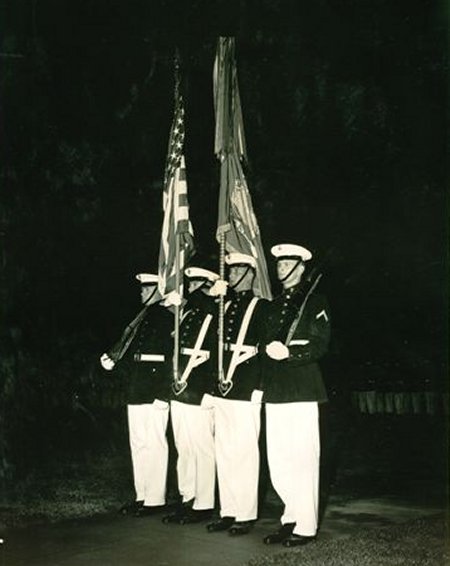 Moon Light (Evening) Parade
(l - r) Paul Pepka, Ed Finn, Herb Muller and Dick Davis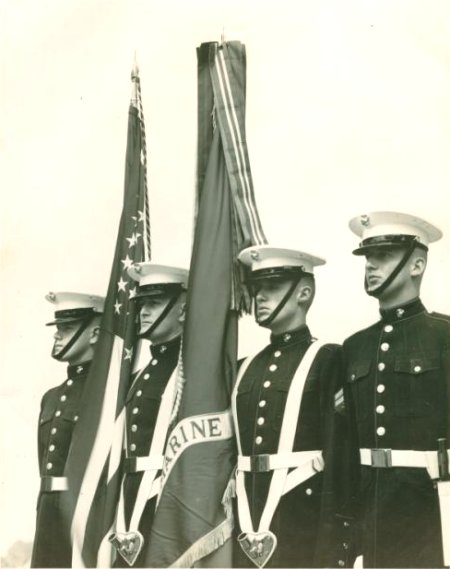 1960: For Marine Corps Manual
(l - r) Chuck Tatum, Robbie Robinson, Ed Finn and Herb Muller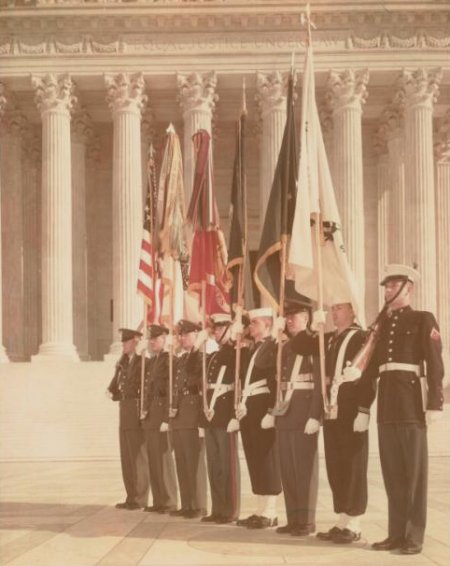 1960: For Sunday Supplement Magazine
John Malone with USMC Colors, Herb Muller, Rifleman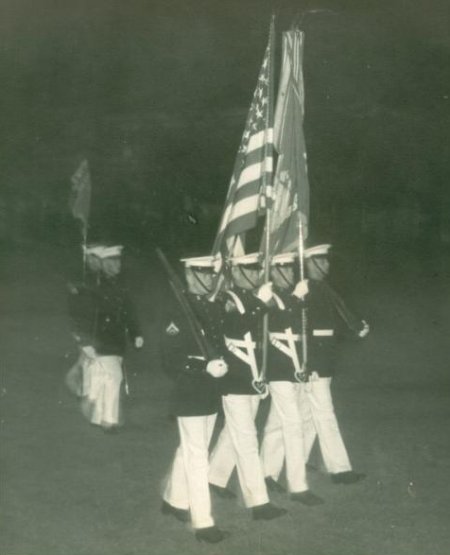 1960: Evening Parade
(l-r) Chuck Tatum, Robbie Robinson, Ed Finn and Herb Muller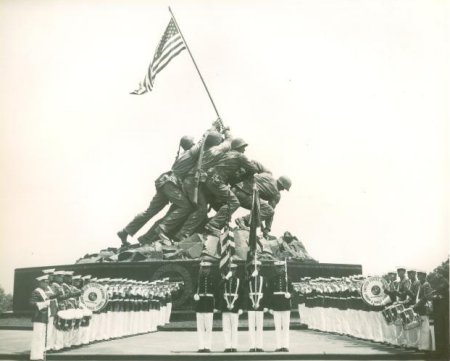 1961: Iwo War Memorial
(l - r) J. B. Vaughn, Ed Finn, Herb Muller and Dick Davis
(Items submitted by Herb Muller)
(following Photos submitted by John Reim)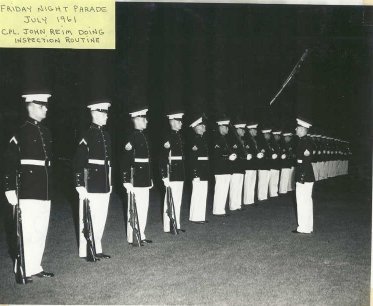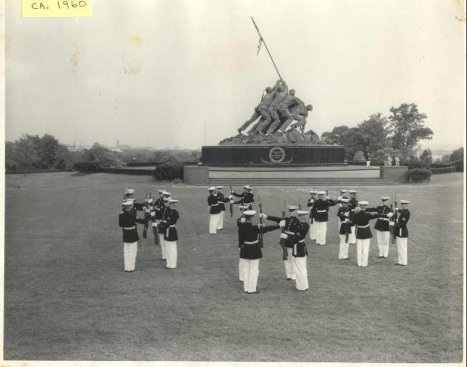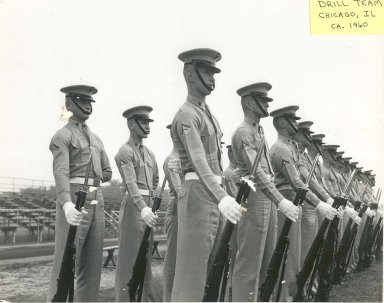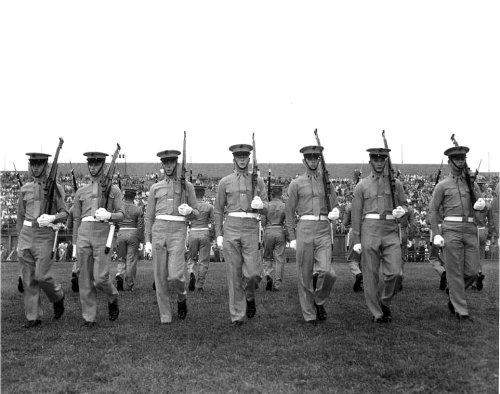 (L-R): Bob Gregory, Jerry Weiss, Dave Pullo, Dick Jacques (deceased),
Bill Whelan, Bob Molnar and Gerry Sulanowski (deceased)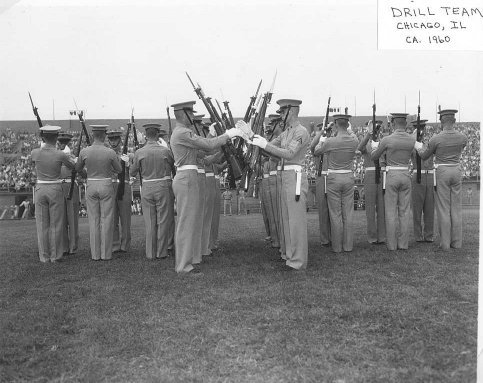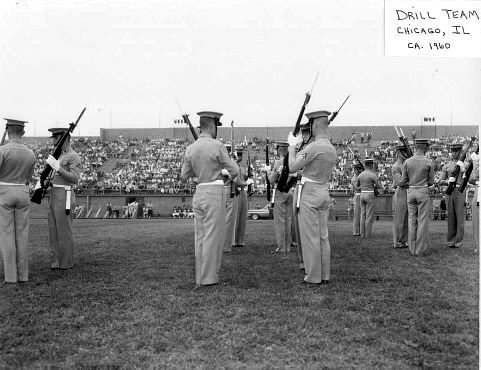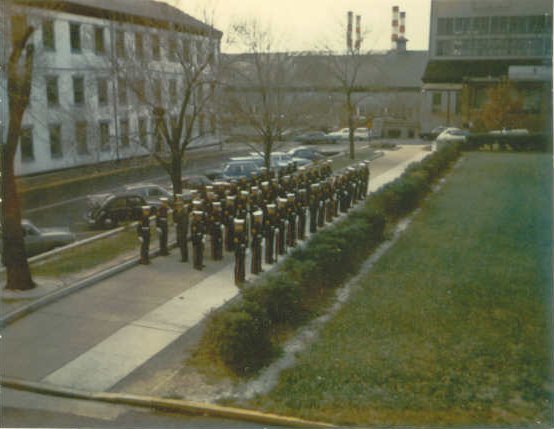 Parade deck as seen from CGC HQ window, Building #58
(submitted by Don Maurer)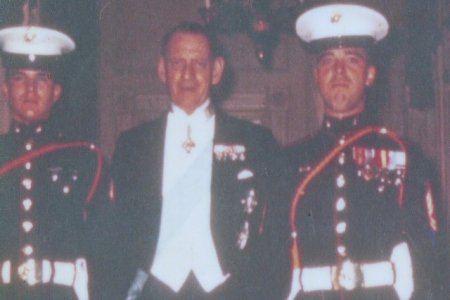 Paul Towey on the left, with Gy Sgt Benjamin Smith (now deceased)
accompany King Frederick of Denmark at the Blair House in 1960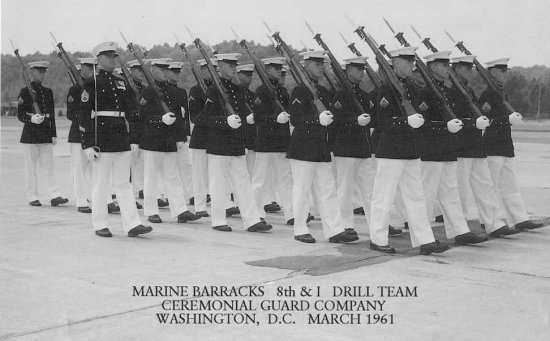 (above items submitted by Paul Towey)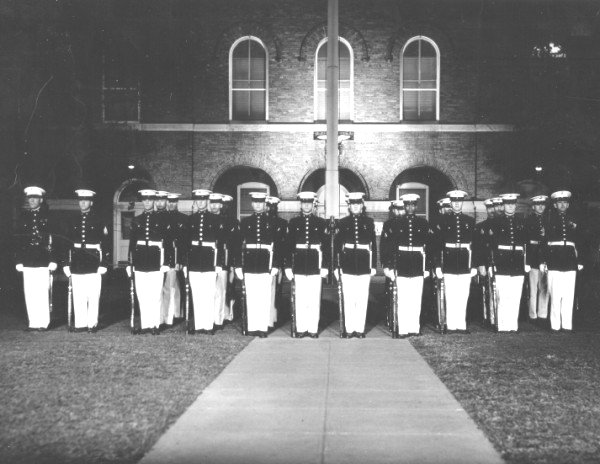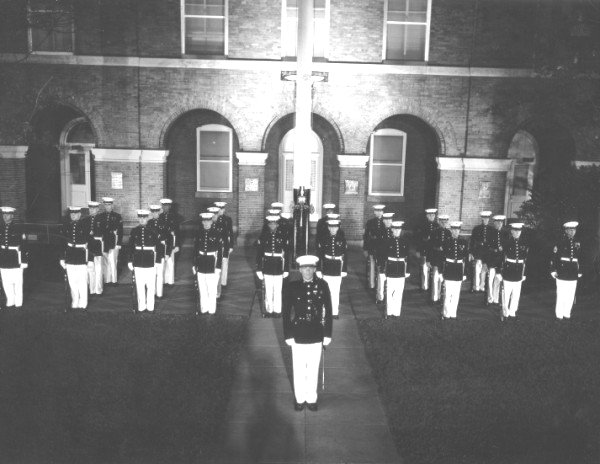 1st Platoon, CGC - taken 9 Sept. 1961
(Submitted by Barry Siegel)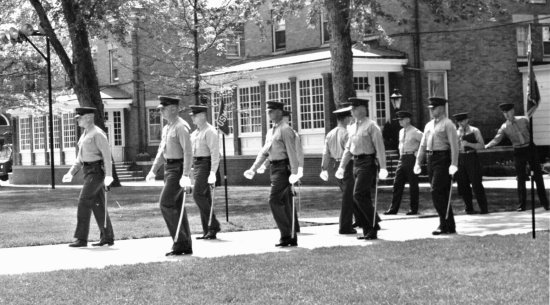 1969 - Officers practice march-on


(CGC officers in foreground l -r): Maj. Frank Breth, (CO); 1st Lts. Jim Bathurst, Pete Millchap???, and Tom Esinger.
At far left is Maj. Tom Campbell (CO, MCI Company).
The officer not in the formation, but standing in the background with his hands on his hips is the Barracks CO, Col Paul G. Graham. The officer with the clipboard in his left hand and his right hand to his mouth is the S-3 Officer, Major Larry Gaboury.




The 1969 Drill Team, Body Bearers and Color Guard


1968/69 Body Bearers


1969 Drill Team at the beginning of its performance



1969 rifle exchange between Steve Yardley and Tom Hall

1969 General Officer's funeral at Arlington National Cemetery

(Items submitted by Tom Hall)

Taken at Newport, 1960. That is me (Sgt) on the right.

8 th & I 1957 – 1960, 2nd platoon SF Tom Henderson

Clarence Billingsley, 2nd plt 1963 was in the 2nd Plt Ceremonial Guard Company with me. We might have had a few beers in the slopchute together.

Ahem,... the Mona lisa is what he is guarding and it was display at the National art gallery from January 8-February 3, 1963.

Submitted by 8th & I Marine JAMES BENSON, Ceremonial Guard Company, 1961-1963, Maumee, OH

Col. Robert B. Carney, JR.,C.O., Marine Barracks, 8th & I, 1964-1968, cutting the Birthday cake in 1965. That's me with my back to the camera

Col. Carney cutting the Birthday cake in 1966.

Col. Carney handing the first slice to Cpl. Charles W. Sanders in 1966.

NOTE: Robert B. Carney, Jr., served in the USMC 1942-1972 and retired at the rank of brigadier general. He passed away on 9 March 1983.

These photos were submitted by 8th & I Marine William McCrudden, MCI Co., 3rd Plt., 1965-1967, Little Egg Harbor, NJ

Photo is of my promotion to Sgt and Colonel Carney is presenting me with my promotion.

Submitted by 8th & I Marine DAVID "DB" WRIGHT, Drum & Bugle Corps and U.S. Marine Band, 1965-1974, Alpharetta, GA

The photo is from an Evening Parade in 1967 when Jack was Guard Company CO and Mel Long was MCI Company CO. Behind Jack is Barry Beck, Silent Platoon Commander. Behind Mel is yours truly.

Submitted by 8th & I Marine GENE "HUD" HUDDLESTON, MCI Co., 1966-1968, Maitland, FL

I'm on the far left, Rich Porter is on the far right. I believe we were on assignment at the War College-late 1968 or early 1969. I'm trying to identify Marines in the middle.

Submitted by 8th & I Marine John Moser, Ceremonial Guard Company, 2nd Platoon, 1968-1969, Oro Valley, AZ.

This photo in dress blues was taken between 1962-65 while at 8th & I with one of those cheap cameras with film. Note, no crossed rifle on the chevrons. I was old (at 30) while stationed at the Barracks. I hope you are doing well John and keeping active, ya never know you may get called back to active duty. The "Brass" may want to think of using us old "Duffers" instead of the younger kids who have a whole life ahead, where ours is behind us.

(Submitted by Gene Hauet 1st Plt, 1st Sqd MCI Co. 1962-65)

Top photo is of the 2nd Platoon CGC Marine Barracks 8th and Eye winners of the 1968 Annual Friday Evening Parade Competition for best performing Platoon for that years Parade season. Platoon Commander at left is Captain Hopgood and Platoon Sgt John Rzewnicki at the right.

Bottom photo depicts the promotion of John Rzewnicki 2nd Platoon Sgt. CGC (left) and Color Sgt Joseph Coco (right) to the rank of Staff Sgt.in the summer of 1966. Col. Robert Carney presented the promotion warrants.

(Submitted by John Rzewnicki)





I thought this was cool. I had just got back from Nam and I was assigned to Ceremonial Guard Company, Building #58, at the Navy Yard in DC when all the hippies were partying !

S/F Bob Deluca, 8th&I, 1968-69, Wareham, MA, 3rd Recon Bat 67-68



This picture was sent by 8th & I Marine Don Maurer, Ceremonial Guard Company, 1967-1968, Canal Fulton, OH.
It was taken at the Capitol Building in DC, during the riots of 1968 and includes, left to right: Unknown, Don Maurer, Cpl. Robert Frazier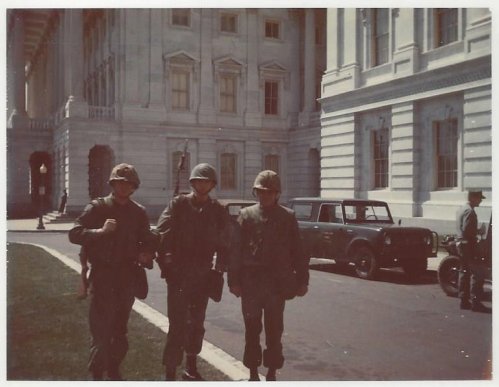 Capitol Building Duty
8th & I Marines Of The 1960's
Can you provide more information about this picture?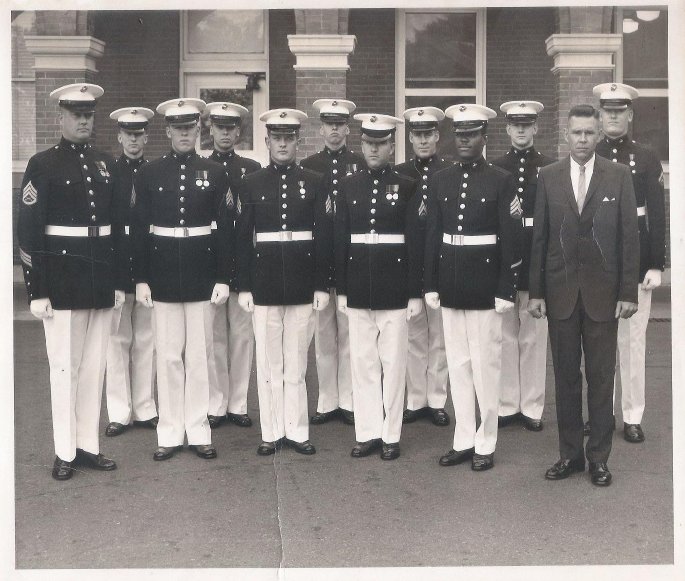 This is the parking detail for the Evening Parade Marine Barracks, 8th and I 1966-67. I am trying to ID other members. I am located in the back row, 2nd from right, Sgt William McClements. i was manager of the Tavern E Club Bldg 58. The Marine in civies was NCOIC SSGT Deimer. Other members can email as to their name and place on the picture at mrbill36@live.com.
Submitted by Bill McClements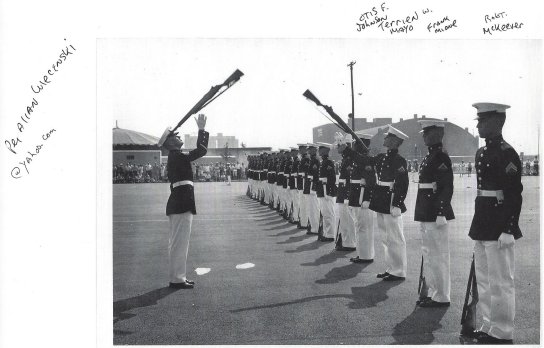 In this photo in the line from left to right is: Otis Johnson, Terrien Mayo, Frank Mione, Robert McKeever on the far right. If anyone knows of the others in the photo let me know.
Photo credits include Allan Wiecenski and "Iron" Mike McGowan, who gave great praise for Terrien Mayo. Rest in piece my lunchmate, miss ya much.
Semper Fi, Don Maurer, Chief Clerk, CGC, 67-68.
For the record on the photo..........your looking at "the end of the line"..........3rd Squad, from right to left: Willie Spears, Jack Mock, Terry, Otis Johnson and the inspector is Wallace Andrejewski. I can't ID who is beside Otis.
Mike Kane
Mike Kane has responded with correct identifications for all. Right to left: Spears, Moch, Mayo & Johnson. However, Willie Spears was not the end of line, two more Marines were to his left & not shown in the photo. The Marine to Otis's right is, I believe, Tommy Thompson who is followed by, I believe, (can't remember first name) Ganong. Bob McKeever is the 7th Marine into the photo (1st position for the 2nd squad in this lineup), followed by Wiecenski.
Bob McKeever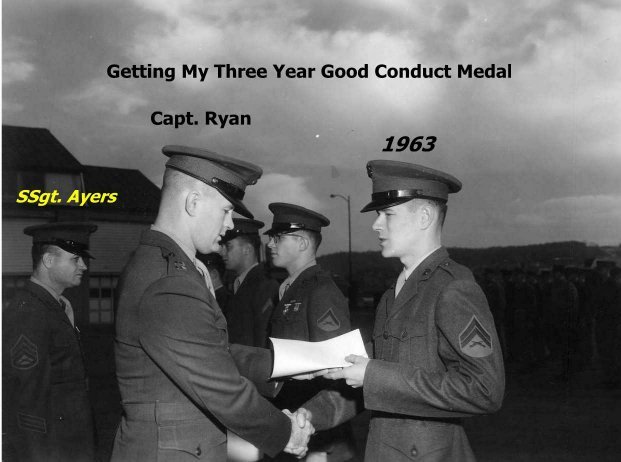 Getting my first Good Conduct Medal.
Submitted by Pete McCusker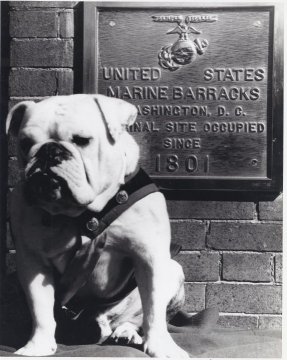 Chesty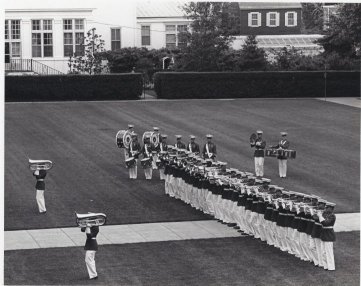 D and B 1969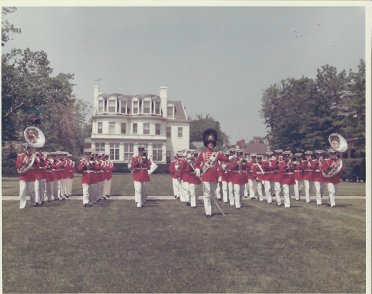 Marine Band
Submitted by Tom Lewis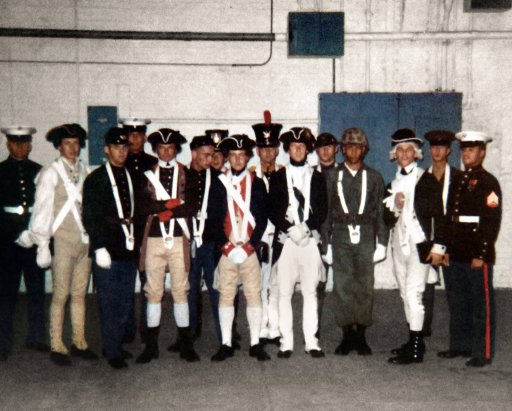 Guard Company 4th Platoon Historical Flag Ceremony 1967
This is Guard Company Fourth Platoon in 1967 getting ready for a Marine Corps Historical Flag Ceremony.
Each member wears a uniform and carries the American flag for the era. I am 4th from the right wearing green utilities,
representing the Korean War era. This ceremony was performed mainly at schools with a narrator and the Drum & Bugle Corps playing era music.
Denham Johnson, 8th & I, Ceremonial Guard Company, 4th Platoon, 1967-1969, Vietnam veteran, Hall of Valor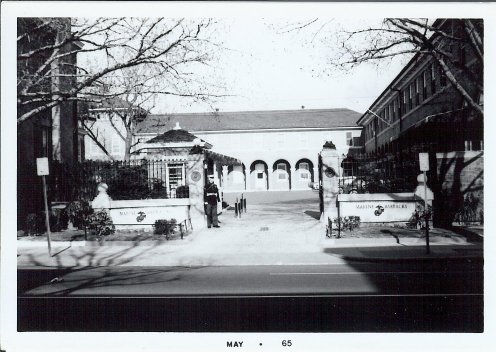 Note: If you can identify the Marine in this picture, please let us know. Thank you!
Submitted by 8th & I Marine David "DB" Wright, Drum & Bugle Corps and Band, 1965-74 / USMC 1959-74, Vietnam veteran, Las Vegas, NV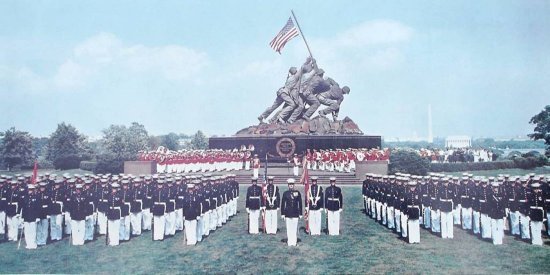 July 1962
Submitted by 8th & I Marine Pete McCusker, MCI Company, 1962-1964, Southbury, CT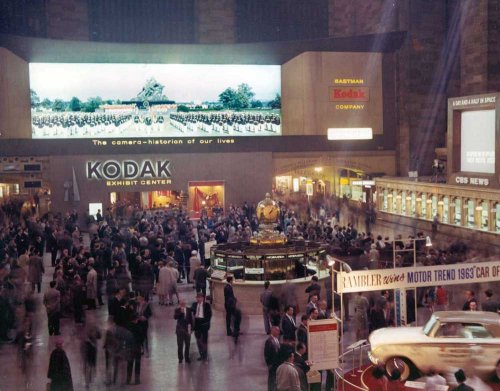 A Lively Commons, 1963 New York Transit Museum, Photograph by Frank Frattali <<<<<<<<<<
In this 1963 photo, the diverse interests of a vibrant nation all find a home at Grand Central: the Kodak Colorama and Exhibit Center
(left); live CBS News coverage of the Mercury astronaut Gordon Cooper's Earth orbit (far right); and Motor Trend's Car of the Year-a Rambler.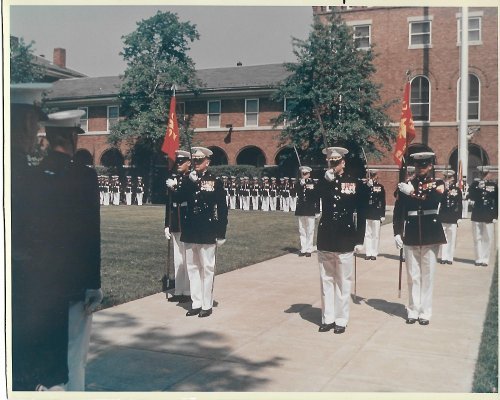 The parade Staff at present arms during the evening parade -Jun 1969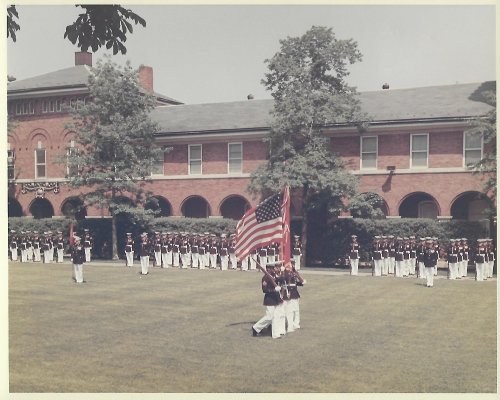 Presentation of colors at the evening parade - Jun 1969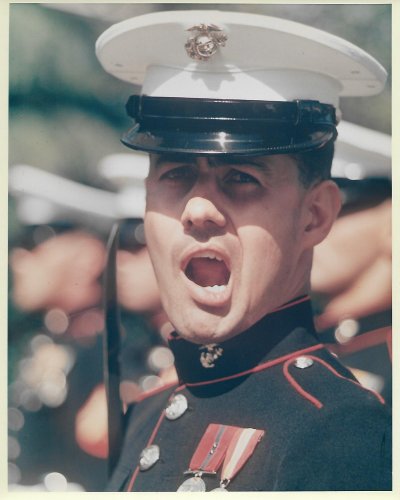 Platoon leader giving a command-Jun 1969, "Name unknown" ( I believe he was MCI SSgt)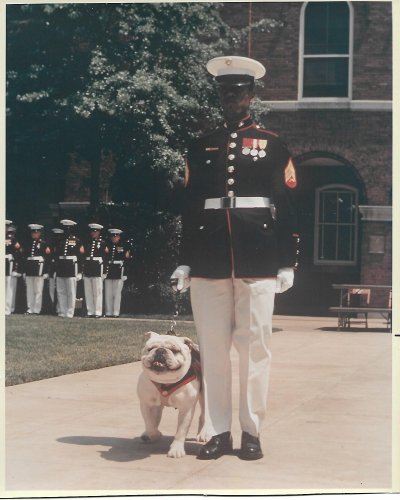 Sgt Kenneth J. Allen, Jr. with Chesty III - Jun 1969
Submitted by Tom Lewis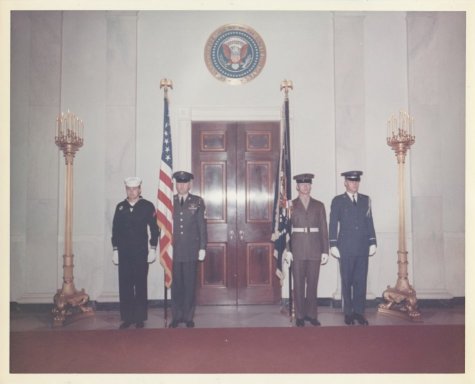 Color Guard at the White House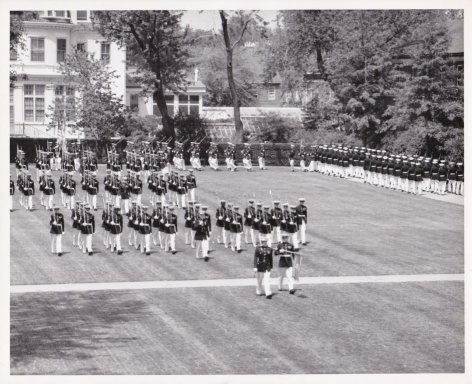 Final Parade Practice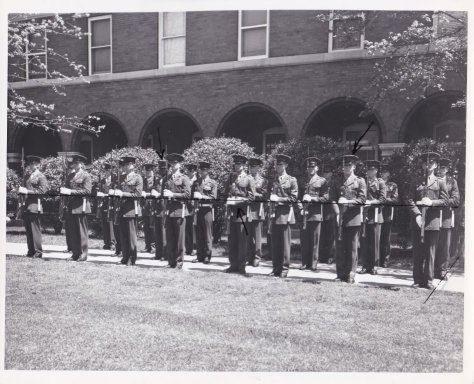 Parade Practice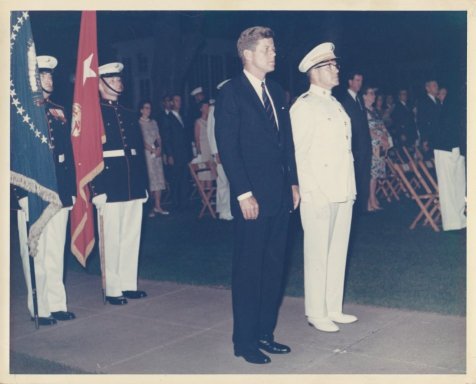 Kennedy Parade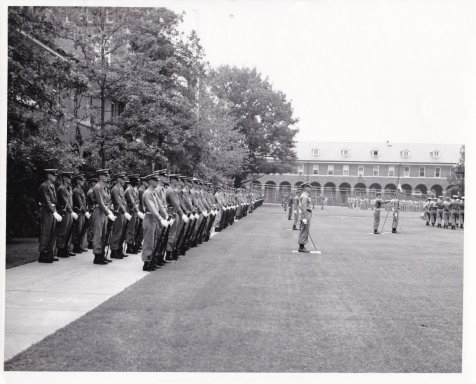 Early Parade Practice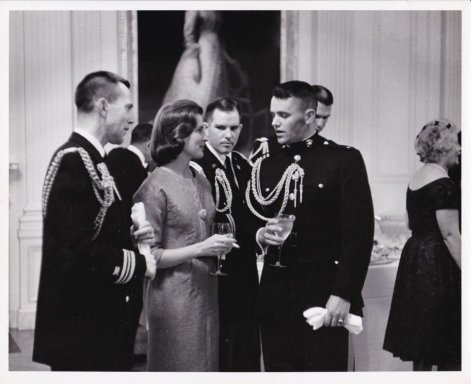 CA. 1962 WHITE HOUSE PHOTO ... L TO R: UNKNOWN, PAMELA TOURNEUR (SP) / JACKIE KENNEDY'S PRESS SECRETARY, UNKNOWN, THEN-LIEUTENANT GEORGE NAVADEL
The Marine with the Presidential Colors may be Cpl. Givens. He was a 2d Platoon Marine before I nominated him for the Color Guard. The Marine Color Sergeant (GySgt.) was 6' so height requirement shifted from 1st to 2d Platoon. The three parade practice shots go from initial in utilities (Note - I still had herringbones.) to Alphas (Note - the S-3 lines w/discrepancies.) to final in White-Blue-White.
Submitted by Col. George Navadel, Ceremonial Guard Company, 2nd Platoon, 1960-1963 / Served 30 Years In The Corps, Vietnam Veteran / Silver Star Recipient, Vista, CA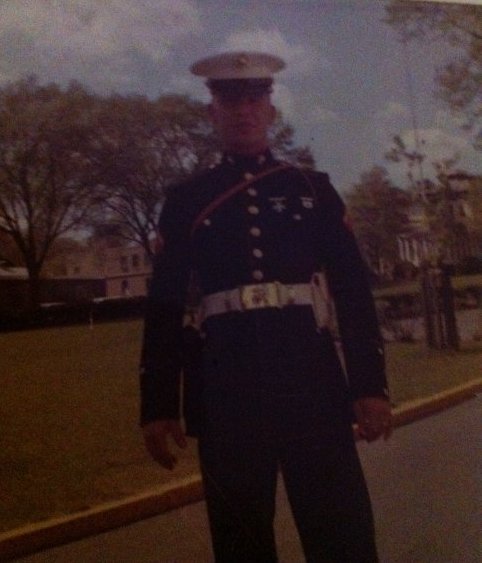 1961 ... Julian Trosper, Ceremonial Guard Company, 1st Platoon & Headquarters Section, 1959-1961, London, KY, is about to depart for duty at the Blair House.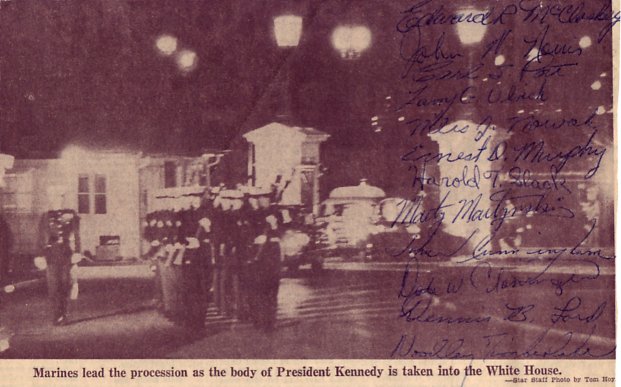 KennedyDetail November, 1963 White House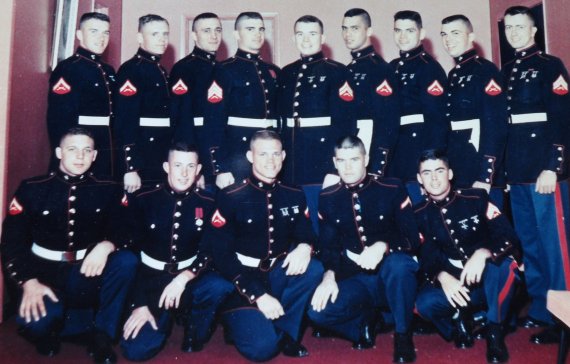 One of Tom Griffin's wedding pictures with the Drill Team member attendees on October 10, 1964 Bronx NY.
Tom Griffin, Ceremonial Guard Company, Silent Drill Platoon, 1962-1964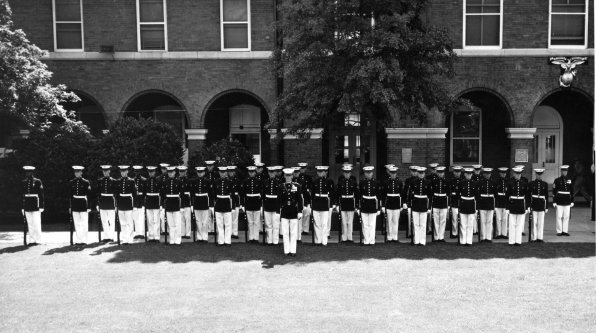 1963 Drill Team April 1963 Marine Barracks, Wash. DC
Submitted by 8th & I Marine Ed "Mac" McCloskey, Ceremonial Guard Company, Silent Drill Platoon, 1962-1965, Scaly Mountain, NC
Peter McCusker's 1959 memories of Yemassee and Parris Island SC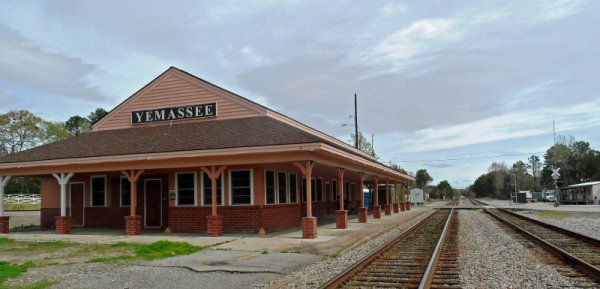 Yemassee, SC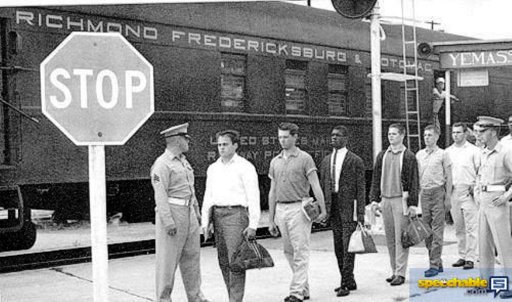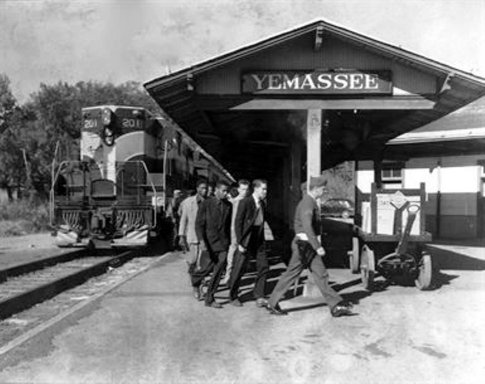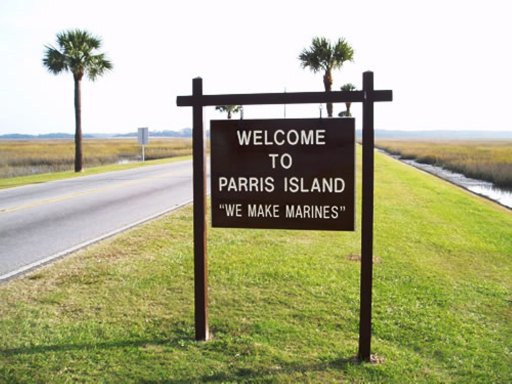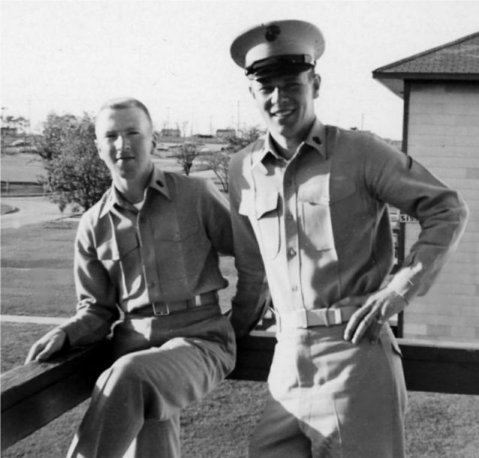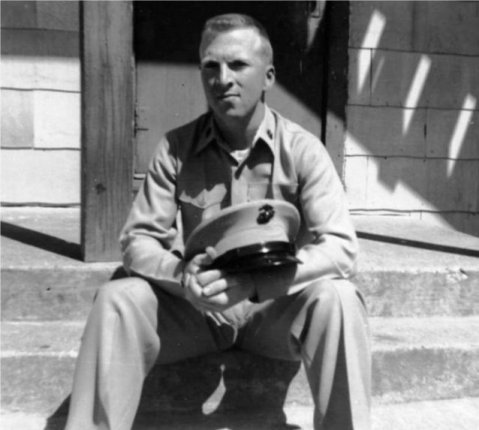 Pete and Pat at Memphis Helicopter School
Until 1964, the Marine Corps used the Yemassee depot as a gateway to Parris Island. More than 500,000 recruits passed through the train station. On December 27, 1959, two days after Christmas, I was one of those recruits. I was 18 years old, a nice kid from the Bronx.
To me Yemassee is a bad memory! It generates instant SHOCK and fear! Yemassee should be erased from this earth! It is a black hole that should be filled with burning lava.
I boarded the train in NYC with my official Marine corps orders. I had a small bag of snacks and a jar of "One-a-Day" vitamins my mom gave me. I had no idea recruits with the same orders would be boarding the train along the way. Around Washington, it was becoming obvious the train was filling with new recruits.
I met Pat McCarthy and we became instant friends. Pat was supporting his mom in Ireland. He joined the Corps to hasten his citizenship. Talking with Pat eased our anxiety until the train neared Yemassee. We noticed all civilians got off at earlier stops and just marine recruits were left. The anxiety spiked! It was dark and the train would arrive at Yemassee at 3am. The fear of the unknown factor got worse every minute. I started to think I made a BIG mistake. Too late now.
The train stopped and six big muscular marine Drill Instructor sergeants boarded yelling, screaming cursing: "GET OFF THE F'ing TRAIN MAGGOTS!" "GET OFF THE F'ing TRAIN YOU SHITBIRDS! "MOVE, MOVE, MOVE, NOW!" We did what we were told fast. We eyed them closely. They were built like brick shit houses. I had to pee from the sudden shock and heightened fear. My mouth became dry.
About 50 wide-eyed and fearful recruits were lined up parallel to the train tracks. We were constantly insulted, called SISSIES! Everybody was a SHITBIRD or a MAGGOT! We were cold and shaking. We stood at attention for a long time while each recruit was lambasted and insulted with vile language. Then two busses arrived. We had to sit motionless at attention for the 30 mile trip to Parris Island. The yelling and screaming on the bus got louder and the insults worse. I kept saying to myself: DUMB ASS!
We were herded off the bus into a big squad bay area at some building in Parris Island. It was now about 4:30am. Other Drill Instructors met us and wanted to inspect our bags. The DI that inspected my stuff noticed the small jar of One-a-Day vitamins. He went berserk! He shouted in my ear so loud I thought I would go deaf. He questioned me unmercifully about my vitamins. I knew enough not to mention my mom gave them to me. He opened the jar and emptied the vitamins on the floor screaming insults that the Marine Corps will give you all the vitamins you need and I insulted the Corps.
Next, he ordered all the new recruits to pickup the vitamins that should add up to 100 according to the label on the jar. This did not ingratiate me with the recruits and even Pat McCarthy said jokingly: "Nice going Mac!" The dirty vitamins were put back in the jar and returned to me. We got no sleep that day. Next, was chow, head-shaving, boots and utilities and platoon 290 barracks assignment.
In conclusion: There was NOTHING good about Yemassee for me! Glad recruits don't go through there anymore!
On my way to Florida each year I see the signs to Yemassee and I need to pee. Pat McCarthy and I went through boot camp together, helicopter school in Memphis and two years in New River air facility. I was transferred to Marine Barracks in 1962 and Pat to Okinawa. Pat died in Cambodia during the Vietnam conflict.
Cheers,
Pete McCusker (MOS 6481)
Submitted by 8th & I Marine Peter McCusker, MCI Company, 1962-1964, Southbury, CT
For Bob Neal's photos of the 1960's,
Click here.
For Willie Blankenship's photos of the 1960's,
Click here.
For Jon Peterson's photos of the 1960's,
Click here.
For Bob Rowe's photos of the 1960's,
Click here.
For Ron Hawkins' photos of the 1960's,
Click here.
For David Wright's photos of the 1960's,
Click here.
For John Reim's photos of 1960,
Click here.
For John Reim's photos of 1961,
Click here.
For the 1961 Barracks Yearbook,
Click here.
For Joe Budzinski's photos of the 1960's,
Click here.
Anyone having additional submissions for this page should send them to:
CGC Webmaster.
Contact us at:
8th&I Reunion Association
Return to top of page
©Copyright - All Rights Reserved - June 2019
8th & I Reunion Association



Design and Layout

by BT Productions