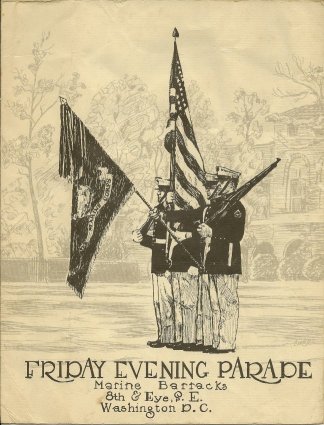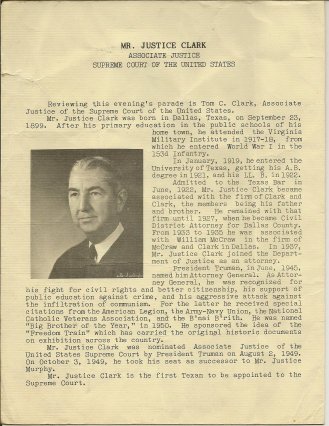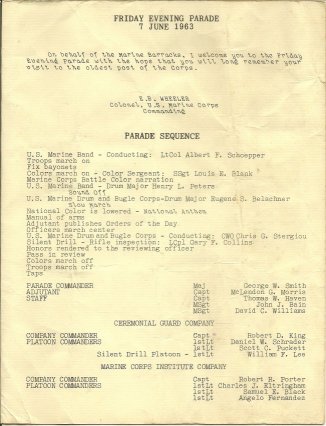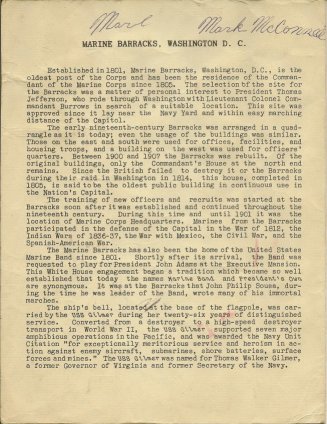 8th and "Eye" parade book for 7 June 1963
Submitted by Theresa Orashen
9-22-11 ... TO: 8th & I Marine William F. "Mustang" Lee, 1962-1965 / USMC 1951-1971, Fairview, TX. Tracks, great memories. I remember Feb./Mar 1964 several Team members were marking time at the Barracks waiting for PCS transfers. We hung around our squad bay (buffed several times a day when Co. Sgt. saw us hanging around) We would take turns going on coffee runs to the cafeteria in back of the barracks (Building 58). JJ Cunningham had just made Corporal. The rest of us were still E -3's. When it came time for JJ's turn for the "Run", he mentioned his NCO status and I reminded him that personal servitude was forbidden by UCMJ.

He went. On the way back he ran into you on the quarterdeck!!!!!!!! To bad for him. You chewed on him and reminded him NCOS DON'T MAKE COFFEE RUNS FOR L/CPLS AND PFCS!! (you were always so subtle) He came back in and chewed us out for getting him in trouble. You threatened his stripes. And 2 or 3 days later we all went our separate ways.

Next time I saw JJ was in Dallas. I did online searches for years looking for him. We were and are friends. The reunion put us in touch again. Emails/Internet keep us in touch.

I don't know if you knew, but, a bunch of us from 8th&I all worked together at the 2DMarDiv., Div. Pers. Office and other Hdqrs Co. G sections. Terry Poole checked me in and I ended up running the TAD schools section. Others I remember, Tim Cheek, Jerry Diamond, Jim Dick, Harry Moffit(G2), Bob Dilossi. And several others I can't name.

Side note: Except for Boot Camp and ITR, Tim Cheek and I served our entire four years together. We started in the Barracks Guard Section. Went down to Bldg. 58 about the same time and ended up sharing the Squad Bay divided by Wall Lockers and then to Div. Pers. Office. Another lifelong friend.

Hope this finds you well. You were a hard task master , but I am proud to have served with the '63-'64 Team and still haven't seen one better. You were responsible for that.

Semper Fi,

Terry Slack, Ceremonial Guard Company, Silent Drill Platoon, 1962-1964, Hyannis, MA.
Hello John,

Thanks for the many emails from our 8th & I comrades, which relate great stories from our past duties at the barracks. I remember a funny story that I would like to share, that actually happened, in my duty at the barrack in 1961. Maybe there are other comrades out there who were with us during this assignment. The assignment was a ceremonial and security detail during President Kennedy's dinner back in 1961, with the Shah of Iran and Empress Farrah at George Washington's Mt. Vernon Estate. The President and his party traveled to Mt. Vernon via the Presidential Yacht from Washington to Mt. Vernon. Our barracks detail (don't remember which companies were involved, but I think it was H&S Company and the Ceremonial Guard Company), was to line the path from the boat dock at Mt. Vernon to George Washington's home (about 200 yards), where the dinner was to be held.

The uniform of the day was dress whites, and our barracks detail arrived at Mt. Vernon around 1700, as scheduled. The President and his party were scheduled to arrive at the dock at 2100, whereby they would travel by the Presidential limousine from the dock area to the mansion for dinner with the Shah. Well, anyway the President, and his party, had not arrived by 2215 (or so), so our Marines (who had been at brisk attention since 2100) were a bit restless – as you can probably remember. So, some clown (we never discovered who) passed the word to sling arms. Well, as you know, sling arms is not a proper command when your uniform of the day is dress whites. Our column of Marines, of course, obeyed the command (without thinking it was an incorrect order) and went thru the maneuver of going from "present arms" to "sling arms".

Well, according to Murphy's law, President Kennedy and his entourage, landed at the dock around 2230 and promptly boarded the limo and started their trip to the mansion for dinner. When the Presidential limo drove up the path to the mansion with their headlights illuminating the column of sharply dressed US Marines, they saw our Marines in a state of frenzy and confusion going from "sling arms" back to "present arms" – a big blur. When the President's party arrived at the dock, and the officers saw what was happening with our column of Marines going from "sling arms" back to "present arms" (and out of sync), they also panicked and ran up and down our column of Marines screaming no, no, no – get back to present arms. I'm sure President Kennedy had some laughs and maybe some explaining to do to the "Shah" about the efficiency of our US Marines. It was a great moment, at the time, but a very serious situation that we heard about for a long time thereafter. Hope someone else can remember this experience.

Semper Fi'

Jim Campbell, H & S Co., 1960-1962
The following MEMORIES were written by Ann Spangler, widow of 8th & I Marine Bill Spangler, MCI Company (machine gun instructor)
and Ceremonial Guard Company, Body Bearers Section, 1967-1969, Manchester, MI. Bill was also a Vietnam veteran.
Sadly, he passed away on 5 August 2012.

...................

9-13-12 ... Hi,
This is from Bill Spangler's wife, Ann.
Somehow, I managed to speak at Bill's funeral. He was the love of my life and I'm so grateful for the 33 years I shared with him.
This what I said at his farewell ceremony:

Saying Farewell

I remember the first time I saw Bill. In 1979, he walked into the nurse's lounge on my unit. I was speechless.
That evening, he was not my patient, but he kept calling me over to his side of the hall asking for things he probably didn't need
. He even asked me to order a pizza for him. Until a few years ago, he thought I ate the other half of that pizza.
Instead, I was down the hall feeding it to my quadriplegic patient.

One month later he saw his nurse at a ski club meeting and he asked about me. He called me on my 24th birthday and our first date was that night.
I was quiet. He was not. He drew me out and made me talk. He won my heart.

I was so proud of him for being a Vietnam Vet. After Vietnam he became a member of the Presidential Honor Guard.
One of his duties was to guard Camp David. One day while checking all the doors to see that they were locked, he found one that was not.
Instead of going through the proper channels, he opened it and walked right in. He was soon escorted out by many secret service men.
He was also a Body Bearer in the Presidential Honor Guard. If he hadn't hurt his knee while playing football in the Marines, he would have
carried President Eisenhower's casket.

I gave this Flag (pointing to the large Flag at the back of the Legion) to Bill for his birthday.
It flew over the Iwo Jima Memorial during the month of September 2009.

We always talked about our top 10 dates.
From the BeeGees in 1979 to Paul McCartney in 2011, getting lost on the subway in Washington, D.C., our first Red Wings game……
Don't worry, I'm not going to list all top 10. One month ago, we went to Frankenmuth for two days.
On the way home, Bill said, "I think that was our best date ever." I agreed.
Our Best Date was our Last Date.



Bill was passionate about his many hobbies over the years. He bred and trained Bouviers. His favorite dogs were Ajax and Meesha.

He had freshwater fish that got so big that we fed them cat food. Later in years he had many saltwater aquariums.

He was a Ham Radio Operator. His license plate had his call letters on it: W8WLS. One time he talked me in to climbing up his Radio Tower.
I think there was a purpose. I was afraid of heights so I didn't get very far. When I got to the ground, I stepped in a bed of bees and then tried to put
my shoes on swarming with bees. I got stung many times. At Bill's estimated time of death I got stung by a bee.

Bill was a long distance runner. In college he was 4th in the state for the 2 mile run. In later years he loved to run with his sons.

He loved to garden, but he didn't have a green thumb.

My favorite hobby of his was when he collected Gemstones. He still has many presents to give to us in the future.

He loved his kid's sporting events including T-ball, flag football, softball, volleyball and soccer. When Kat broke her collarbone, he was the first one on the field.

He loved to cook. His favorite dish was Cholesterol Surprise. Need I say more. He also made something that I called Starter Stew.
He started with a small pot, then to a bigger pot and then to an even bigger pot.
Then days later he would still be adding things.

He raised Chickens, Turkeys and Ducks.

About 7 years ago I got a virus that affected my thyroid. My throat swelled so much that all I could eat was ice cream.
Every day he brought me home ice cream. One day he brought home a cookie with the ice cream. I ate it.
He said, "I see you can eat again." He tricked me.

One day I saw him getting something out of the freezer. It looked like chocolate. I asked if I could have some.
I saw the hesitation in his eyes. He handed it to me. I bit in to it………..It was fish food.

One month later, he came home and tossed two little pastel things to me. They looked like marsh mellows.
I remembered the previous fish food incident, so I didn't eat them. They were the ear plugs from his MRI.

Bill always said that he had the best gravel driveway in Manchester. He had more gravel delivered the day before he died.
I think this time it was too much. His sister Becky got stuck in it and Manchester Towing had to pull her car out. Bill, you got us again.

I have loved being married to Bill. I have no regrets.
He gave me this wonderful extended family and the best gifts of my life: Kevin, Kathryn and Noah.

This is a poem that my daughter gave me to read:

We little knew that morning,
God was to call your name.
In life we loved you dearly,
In death we do the same.
It broke our hearts to lose you,
You did not go alone.
For part of us went with you,
The day God called you home.
You left us beautiful memories,
Your love is still our guide,
And though we cannot see you,
You are always at our side.
Our family chain is broken,
And nothing seems the same,
But as God calls us one by one,
The chain will link again.

I love you Bill.
THE FORT HENRY GUARD, MARINE BARRACKS JOINT CEREMONIAL Program,
24 AUGUST 1964, MARINE BARRACKS, WASHINGTON, DC, was submitted
by 8th & I Marine Gene Hauet, MCI Company, 1st Squad, 1962-1965
FORT HENRY GUARD, MARINE BARRACKS JOINT CEREMONIAL PROGRAM
Absolutely a great ceremony at the Barracks....... In 1964 the Fort Henry Guard came to the Barracks to repay the an extremely popular and successful we had there, at Fort Henry, Ontario, Canada overlooking the lake. The 1963 Drill Team led by then 1stLt William Lee ; the '63 D&B led by then GySgt Belschner; and the a '63 Color Guard led by the Color Sergeant of the Marine Corps, then GySgt Louis Blank participated in an over 4-hour Tattoo Ceremony with the FH Guard and Drums and Fife Corps and the remainder of their contingent. Also joining were Canadian military bands. We conducted our then beautiful Battle Color Ceremony on the lights of the Fort. `15,000 people crammed inside; over 6,000 outside just watching units enter, and listening to the music and crowd response.
We (DT, DB, CG) participated in a Formal Changing of the Guard ceremony where we took over the Guard of the Day at FH. The ceremony ended with all units on the parade deck; the playing of taps; and then the firing of cannon(s) from the walls/parapets out over Lake Ontario...mortars; small cannonades, and Armstrong 16 pounders belching flame...helleva show. The '63 DT also maintained the guard for a day inside the Fort during our visit. Great, great show. They (the FH Guard and Drum and Fifes and Artillery) performed their famous Battle Ceremony; retreating by lines by firing, then forming a square...front rank knelling with musket and bayonets pointed to repel cavalry charge; second rank standing with muskets leveled in firing position and Armstrong 16 pounders (I think) along side. Impressive. Then in 1964 the FH came to the Barracks and during a special Friday night parade, done slightly differently obviously, the FH performed their battle drill and their musical units performed.
Fond memories.......I'm sure all of the 1963 DT, D&B and CG can tell you what it felt like to march over the lowered draw bridge at FH and into the darkened parade deck inside the fort...all three units on parade and then "Bang"...the lights came on and their we were with our national colors....the crowd (which were mostly visiting US citizens/tourists) went "nuts".....and that night just went on and on......thanks guys.
William F. "Tracks / Mustang" Lee, 8th & I, Ceremonial Guard Company, 1962-1965 / USMC 1951-1971, Fairview, TX
10-19-12 ... Hey John:
I sure appreciate receiving your emails regarding our Marines who served at the barracks back in the old days. One thing I have noticed though - you don't receive many email messages from former H&S Company Marines relating their memories of the old days at the barracks. As a member of the H&S Company (Special Services) during 1960 - 1962, I know we had quite a lot of things happening in H&S Company. I'm wondering if you might encourage some of our ole' H&S Company Marines from the past to step forward and share some of their stories about their life at the barracks from yesteryear. I served in H&S Company as the accountant for the Staff NCO Club and the recreation fund, but I also participated in the Tuesday "Iwo" parades and the Friday Evening Parades. I remember many personal stories during these events, such as encounters with the general public when I served on the parking detail for the Friday Evening Parades, and also as sentry in front of the Commandants House while receiving visiting guests and reviewing officers of the parade. As you know, the H&S Company Marines did most of the work in setting up and tearing down the facilities for all of the parades (bleachers, lights, etc.), along with furnishing a platoon of H&S Marines for participation in the respective parades, so I know we have a lot of behind-the-scenes stories about these events. Thought you might like to ask these H&S Company Marines for some of their input.
Semper Fi and "Gung-ho", James "Jim" Campbell, H & S Company, 1960-1962, Columbia, SC
.........................
10-20-12 ... Hello 8th & I Marine Tom Leonard, MCI Company, 1st Platoon, 1963-1965, Silver Spring, MD:
It was great hearing from an old 8th and "I" Marine from the days of yesteryear. I guess I missed you by a few months, as I served from September 1960 thru June 1962 in H&S Company at the barracks. As I stated in my earlier email to John Reim, I was attached to Special Services as an accountant for the Staff NCO Club and also the Recreation Fund. Those duties were somewhat secondary, as you probably remember, because I also spent a lot of time involved with special assignments for President Kennedy's various parades and other special presidential assignments. We (H&S Company Marines) were the utility Marines at the barracks back then. Lots of work, but in looking back, those were very prideful moments. I certainly remember you MCI Marines, as you guys stood tall, and did a "hell of a lot of work" at the barracks too. The viewing public does not realize the "behind the scenes" work that goes into the weekly parades at the barracks and at "Iwo". I guess I need to write a book with some memories of the old days at the barracks. My God, there are so many things that happened at the barracks, that it's really difficult to remember all of them. The time I was almost shot by an intoxicated gentleman who resented me directing cars to park in front of his house on 9th street, as per barracks orders. Thank God the DC cops arrived in time to arrest him, as he was coming out his front door with a loaded pistol, while I was standing by in the protection mode of this visitors car. Or the time, during one of President Kennedy's parades from the capitol during a visitation of a head of state, I failed to salute President Kennedy, and he looked over his shoulder several times, directly at me, to see if this lowly Marine would ever salute him. My story was that I was a reserve Marine that day and was standing by for duty when this young lovely blonde approached me and was asking questions about the occasion, so I was in the process of answering her questions when the Presidential motorcade rolled by, and "low-and-behold", I forgot to salute. I have many stories that I remember from my days at Marine Barracks, and I'm sure you do too. If you are ever in the Columbia SC area, please give me a call, and maybe we can get together and share some of our glorious memories. Incidentally, I don't think I remember Tom Redding.
Semper Fi, James "Jim" Campbell, H & S Company, 1960-1962, Columbia, SC
TOM LEONARD'S MARINE CORPS INSTITUTE MEMORIES
10-20-12 ... Hello 8th & I Marine Jim Campbell, H & S Co., 1960-1962, Columbia, SC
I was in MCI Co. and stationed there at the barracks from May 1963 until March 1965. Unlike all the Grunts down at Bldg # 58, I was one of the people who actually lived in the old barracks (I also had billing space at the old barracks, although I lived off post, as I was married) and observed the detailed work being done constantly.
I was a PFC when I got there and it was the Spring so I was on weekly work details to help out the H & S guys. I really remember working quite a bit to improve those little flower gardens by the Generals' houses. It was the first time I'd done gardening type work, but when we got done we were all very proud of the jobs we'd done to improve those gardens. They looked terrific! Today, I didn't move far away, I live in Silver Spring, MD, about 12 miles North of the barracks. Every 2 or 3 months we go down to take in Eastern Market area, and/or, the 8th St. restaurants and pubs. It's not like the1960's now! There is a mixture of people and it's a nice up-scale area to live in that whole neighborhood (I lived in the DC area for 7 years, as I finished Ben Franklin University after the Corps, but returned back to my home in South Carolina).
I was in Aviation Ordinance, 6500 series, and my squadron had spent the previous summer & part of the winter in the area of Key West, Gitmo Bay, and Puerto Rico. The next summer we, VMA-533, were slated to go on a Med Cruise for 6-8 months. I was very disappointed to get orders for MCI Co, but I adjusted and soon loved living on Capitol Hill. Anyway, about 4 years ago, I finally got to take that Med Cruise on a Princess Cruise Ship for 2 weeks. Finally!
Did you know Tom Redding in H & S Co? He was there when I arrived and we became good friends. Later we worked together in Maryland for 26-28 years. Today, for family reasons, he's moved to Pennsylvania.
Oh, yes, if you see those Generals' flower gardens, again, you'll notice they still look terrific (if we should ever return to the barracks (as we probably will), my wife and I shall certainly take notice). Outstanding! Semper Fi
8th & I Marine Thomas Leonard, MCI Company, 1963-1965, Silver Spring, MD
General Leonard F. Chapman,
Commandant Of The Marine Corps, 1968-1972; 8th & I
Marines Visit The Commandant's Home
http://en.wikipedia.org/wiki/Leonard_F._Chapman,_Jr
12-15-12 ... Hey Guys, remember when General Chapman became CMC? He and Mrs. Chapman lived else where for nearly an entire year while the Commandant's House was refinished from top to bottom and central A/C was installed. During this time the Guard had to walk through the residence nightly to insure it's security. One night very late two your LCpl's of the guard were walking through the home and were on the 3rd deck when they both saw what they described as a "ghost"! They took off running and one of them literally ran over the other one going down the steps (they could actually see the footprint of the other LCpl on the back of blue overcoat of the one who had been run over) in their haste to get out of the place. But once the home was ready and the Chapman's moved in and got settled in Mrs. Chapman had overheard a couple of the Barracks Marines working there mention that it was the first time they had ever seen the inside even though they lived on the post. So, being the very gracious lady that she was, she called up the Barracks Colonel and invited every single Marine stationed at the Barracks and down at Bld. #58 to tour the home. Several dates were set up to accomplish this. On the designated date for H&HS Co, to which the Drum & Bugle Corps was assigned, we all assembled in the arcade in our dress greens and then "casually" strolled into the south entrance of the home and were broken up into small groups and given a tour by the ladies (officers wives) who normally do this for visiting dignitaries just as if we actually were such. The "ladies" were all dressed to the nines and very gracious to each and every Marine there that day. Then we ended up in the Dining Room with the long dining table. At each end sat a "Lady" at a silver tea and coffee service. Each of us were asked which we preferred, tea or coffee, and then if we would like cream or sugar and how many sugars. This was served to us on the finest china and silverware with fine white linen napkins. So there we were with most of the SNCO's and NCO's standing on one side of the room and the enlisted Marines on the other each closely watching the others side hoping to see someone who understood all this and knew how to do all of this in the socially proper and correct manner. All of us were sweating "bullets" over this crisis! We were gingerly holding our fine china cups on dainty saucers in one hand and a small china plate in the other on which we had been given small cakes and cookies. The delimma was how to get either of these to our mouths to consume their contents without embarrassing ourselves, or our company. Then to add to this highly charged atmosphere along came Mrs. Chapman insisting that we each try her famous "Bar-B-Qued" peanuts from and old southern recipe that had come down to her through her family. Dutifully each of us presented our "plates" and she shoveled several large spoon fulls onto them all the while chatting gaily to us. Finally one of the young PFC's, who apparently was accustomed to all of this high society stuff, began to eat from his plate while drinking his coffee. All of us watcher very carefully how he accomplished this amazing feat and then carefully began to emulate him. To this day I don't know what we would have done had we not had that socially bright young PFC there to show us the way!
But in all seriousness every single Marine that I spoke with was thrilled to have finally seen the inside of the Commandant's Home and the very gracious manner in which all the "Ladies" and especially Mrs. Chapman made us feel welcome. That parade season the D&B learned the tune "Emily", which was Mrs. Chapman's first name, and played it during every parade especially for her and she was thoroughly delighted by it.
Back when then Colonel Chapman was first assigned as the Barracks CO one of the many things that he was displeased with was the then D&B and it's leadership. So he sent to the Marine Barracks in Japan and had then Gunnery Sergeant Chris Stergiou ordered to the Barracks to assume leadership of the D&B. Gunny Stergiou brought along a few of his key SNCO's including Gene Belschner, "Red" Toole & Bob Wrenn. In a short time Gunny Stergiou became Master Sergeant and later WO-1 under Colonel Chapman. After the Colonel moved on and became a general officer he and Mr. Stergiou remained in close contact and once the General became CMC he was often invited up to CMC's home for coffee & tea. Mr. Steriou had the private phone number for General Chapman and I recall on one trip when we were confronted with a Colonel who was commander of that particular recruiting district and our POC for the detail we had flown in for. He had supposed to have provided busses for us and instead had 6 byes for us. He was really showing us pretty boys from 8th & I the real Corps and his high position. Mr. Steriou asked if he could use the Col's phone and then dialed a number and asked to speak with "Lenny". He had a short conversation with "Lenny" and then handed the phone to the gloating Colonel who took it and demanded to who he was speaking. His next body movement was to jump upright and slam to attention and issue a series of "Yes Sir's and No Sir's" very emphatically. He handed the phone back to Mr. Stergiou who thanked "Lenny" and said he didn't believe he would have any further problems with the Colonel, nor need to call him again but promised to do so if he needed to. We got the busses as requested and the Colonel was always present making sure we had everything we might possibly need, or desire, for the rest of our time there.
It was also Mr. Stergiou went to Colonel Chapman to arrange with CMC for the D&B to wear a "Fouragere" type of shoulder cord that was scarlet and gold in color around their right shoulder on all their blouses. When I was a member of the D&B 65-70 we carried a laminated card quoting the USMC Regulation authorizing the wearing of this cord to present whenever challenged to it's wearing.
Semper Fi
Dave "DB" Wright, 8th & I, Drum & Bugle Corps, 1965-1974, Alpharetta, GA
DAVE "DB" WRIGHT'S MEMORIES OF "THE PRESIDENT'S OWN"
2-27-13 ... Hey 8th & I Marine Mike Redfern, 1974-1976,
I read with interest your e-mail to our Association concerning the member of the United States Marine Band, "The President's Own" being brought directly into the Band from civilian life with the rank of Staff Sergeant. I can recall having somewhat similar feelings when I first arrived at the Barracks as a single hash mark Corporal with well over 20 months in grade and reporting into the United State marine Drum & Bugle Corps, "The Commandant's Own" and quickly learning about the ranks of the members of the Marine Band. You see I first joined the USMCR's 81st Special Infantry Company, Springfield, Illinois in August of 1959 and began drilling with them. At the first dress green inspection I was astounded to see every single SNCO had served in WWII & Korea by their ribbons and every NCO had served in Korea. There were two Navy Crosses amongst them, several Silver Stars, quit a few Bronze Stars with "V" for Valor devices and numerous Purple Hearts, several with multiply awards of that medal. Yes, in my experience 59-74 in our Corps this was without a doubt the most combat veteran unit I ever served in. In 1960 when I went to Parris Island my Chief DI had served in WWII & Korea and was still a Staff Sergeant. Upon graduating from boot camp I was sent to Aviation Schools because of my test scores and was trained as an Aviation Structural Mechanic and while there it was discovered that I had pretty good typing skills as well as administrative skills so I was assigned up graduation from school as the "clerk" for a MSgt E-8 (we still had dual grades of enlisted ranks from E-3 to E-7 back then) who was the Marine Liaison to the Navy Mechanical Occupational Skills Schools. Yep, you guessed right, he had served at the end of WWII and in Korea as did most of the NCO's and Chief Petty Officers assigned there. Then I was transferred out to HMM-261, MAG-26 at MCAF New River, NC in early 1962 in the metal shop. We were actually a sub-unit as the real HMM-261 (Medium Helicopters) was over in WesPac completing their tour as we formed up to become the new HMM-261 when they stood down at the completion of their tour. I was one of the early ones to join the Squadron and was quickly promoted to Cpl with only 25 months of active duty, and yes I was a Pvt when I graduated from boot camp! Again my administrative skills were exposed and I was sent to Cherry Point to become an Aviation Engineering Clerk, another "A" School and a second critical MOS. We mounted out with the 2nd MarDiv for the Cuban Missile Crisis and then served on the Blockade. After that we were sent to NAS Memphis, Tn and the other half of the squadron to NAS Meridian, Mississippi during the enrollment crisis at the University of Mississippi with James Meredith supporting the US Marshals on the scene. Then it was off to sunny S. Viet-Nam landing in early June at DaNang where we lived in the old French Foreign Legion Compound and worked in their old hanger. We flew support for the S. Viet-Nam Army and Marine Corps and managed to complete our tour in Operation Shu-Fly (then highly classified) and went aboard the USS Iwo Jima serving as part of the BLT aboard that ship, an APA and a LSD comprising the Special Landing Force WesPac.
Well, when we completed our tour in WesPac and arrived back at MCAS El Toro, California I found out they were going to discharge me because I was returning to CONUS with less than 120 days left on my extended enlistment. I really wanted to get back into the infantry based on my experience in the reserves serving in the heavy .30 cal water cooled machine guns so I said if you will send me to Field Music School I will ship over for 6 more years. I figured when I graduated I would get sent to a Division Drum & Bugle Corps and from there it would be pretty easy to get back into the infantry. But when I graduated at the top of my class the San Diego Bandmaster, and old CWO sent me to 8th & I over my objections.
Sorry, for the long background, but I sort of wanted to give you my background and experiences in the Corps up until I reported into the Barracks, incidentally as the first one who had served in Viet-Nam! So I think you can easily see why I looked at the Marine Bandsmen SNCO's with an outlook similar to what you stated was yours. But, as I began to meet and talk with many of them I found the Band, at that time, to have a scattering of members who had auditioned while serving in various other Marine musical organizations and been accepted into the "President's Own" and promoted so SSgt from their former ranks, one I know had been a sergeant. As for the ones who had joined directly every single one had a BS Degree in Music and would have easily met the qualifications for becoming a Marine Officer Candidate but choose to continue in their chosen professional field, music! Marching alongside of them in evening parades and inauguration parades I also learned that individually, and collectively, they were just as proud of being a Marine as I was and they did their very best each and every time they performed. Yes, there were some who really weren't the picture perfect marching Marines of Ceremonial Guard Company, MIC Company and the D&B. It does seem to me that in recent video's I have seen there has been a marked increase in their parade deck appearance and marching skills which I lay at the feet of the Drum Majors they have. But I quickly grew to respect them and the unique function that the perform for our Corps and our nation as the oldest United States Military Musical Organization and "The President's Own!"
Then in 1970 I was encouraged by several senior SNCO's who were mentors to me. By then I was a SSgt so I applied. I was accepted and transferred over to the Marine Band as their PIO but still with my Field Music MOS. I worked in the office alongside of the two Assistant Directors and MSgt Operations Chief, all who later became Directors of the Band. In a very short time I came to appreciate the many hours and demands that duty as a Marine Bandsman requires. I also gained an even keener insight in the Band's history, how it is viewed by other symphonies, orchestras and bands and how it is envied by the other military bands of the Military District of DC. Every single one of those SSgt Bandsmen could easily have obtained a job in any of those civilian musical organizations because of their musical skills and training. The pay their own way to the Barracks to audition for vacant positions and back then were always told to book a return flight because the selection would not be made until all applicants had completed auditioning. Unlike you and I, when they reported in they only had to be shown how to put their uniform together because professionally they were ready to step in and begin functioning as a Marine Bandsmen at no expense to our Corps for their training, unlike you and I! We had to go to boot camp to learn our profession and then to MOS schooling or ITR to learn our job skills, all at our Corps expense.
A year after I was assigned to the Band I received orders to 3rd Force Service Regiment in Okinawa. The Director, Colonel Schoepper did not want to lose me and tried to get the orders cancelled unsuccessfully. So he placed me on a Marine Bandsman contract and I was discharged from the USMC for the Convenience of the Government and immediately re-enlisted as a Marine Bandsmen and assigned that MOS which is unique to that Band only. I continued in my job and in short order was promoted to Gunnery Sergeant, along with the Assistant Drum Major who had been a GySgt "hard strip" Marine and had also been placed on a Marine Bandsmen contract at the same time that I was and he was promoted to MSgt. Was I proud of those stripes? YOU DAMN RIGHT I WAS! I had worked hard my entire career in the Corps to be the best Marine I could be at everything that I was given to do. I had earned my way into the NCO & SNCO ranks in our Corps with the crossed rifles and had held my rank as crossed rifles SSgt for well over 3 years when I was promoted to GySgt as a Marine Bandsmen.
One of the older MGySgt section leaders in the Band at that time was a gentleman named Arthur Lehman. He looked like you grandfatherly sort of individual but he also was a real black belt in Karate. He could shake hands with anyone I ever saw and put them on their knees in extreme pain by rolling his thumb into the web of the other person's had between his thumb and first finger. He only ever did this to hard stripe SNCO's in the club who were putting him down, or looking down at him. Several really hard assed SNCO's learned the painful way about that old man's other talents. We had another GySgt in the band who was a legitimate long distance marathon runner. He ran from up around Hyattsville into work each morning, changed into his uniform, rehearsed and then ran back home several times a week. We used to "set him up" with a newly reported in hard charging SNCO who looked down on those SNCO Bandsmen and on every occasion when we next saw him in the SNCO Club he had a new respect for those SNCO Bandsmen!
The older bandsmen and the Director and Assistant Director's had all joined the Band under the previous Director, LtCol Santleman, Jr. who was the son of a previous Director himself. Band then all members of the Marine Band had to play their principle instrument (woodwind, brass or percussion) as well as a string instrument (violin, viola, bass fiddle or harp) no little feat! This was because of the limited size of the band at that time and to have an orchestra performing in the White House this was necessary.
I'm sure that you also wonder how much pride those SNCO's in the Band also have in our Corps as well as "The President's Own"! While I was in that organization a meeting of all the military band directors was held at the White House by the Chief Military Aide, then an USAF BGen. Once at the meeting our Director, then LtCol Dale Harpham was blindsided by them. We all know about the Army's Herald Trumpets. But what most Marines don't know is that since the time of President Thomas Jefferson only the Marine Band was permitted to perform inside the White House. So this was a "planned assault" on that privilege by the Army, Navy and USAF Bands at that time when the Chief Military Aide said, The President (then Nixon) wishes herald trumpets to play fanfares within the White House at functions. He then innocently said that since the Marine Band doesn't have any Herald Trumpets and the Navy doesn't (their Director quickly affirmed this) and the Air Force Band doesn't (their Director also quickly affirmed this) I supposed the Army Herald Trumpets will have to assume this duty. LtCol Harpham smiled and said, Oh but you are mistaken Sir! The United States Marine Band does have Herald Trumpets and will assume this duty along with their other White House musical duties as "The President's Own"! Of course the other Director's, nor the Military Aide could object to this, though they all knew the Marine Band had never revealed any herald trumpets before. Then the Senior White House Military Aide said that the first performance would be the following weekend (about 5 or 6 days time).
Upon LtCol Harpham's return to the Band's office he summoned Major Kline (Assistant Director and the next Director) 1stLt William Rusinak (Assistant Director), MGySgt John Bourgeois (Operations Chief and Director after Col Kline), MSgt Dale Forrest (Supply Chief) and myself into his office. Behind closed doors the problem was presented. MSgt Forrest was told to procure the necessary herald trumpet instruments ASAP. Then we discussed what the banners to hand under the herald trumpets should look like and it was decided to use the Band's Logo all done in color with metallic gold threat on a blue silk background and gold metallic fringe. Top Bourgeois called the Aide-de-Camp to CMC (the band's immediate next step up in our chain of command to the President) and asked his assistance with the Quartermaster General of the Corps still located in Philadelphia in producing the necessary banners in the short time span we had. He made the necessary phone call and we were given a POC there who understood the Commandant's immediate concern that this be accomplished on time. We faxed up the design and gave him the colors over the phone and then UPS'ed the color design that same day for delivery first thing the next morning in Philly. Then the arranger was called in and told to write several original fanfares for the occasion ASAP! Then the Director's choose the trumpet players who would perform this function and they were called and notified. The next morning they began rehearsing the first fanfare and so on until they had memorized all the original new fanfares. The herald trumpets arrived a couple of days later and they began to rehearse using them while MGySgt Bourgeois worked with them on how to raise and sweep the trumpets to begin a fanfare and then wave and return them to the carry position. The Supply Sgt's assistant was dispatched to Philly to pick up the completed banners on the day before the performance. All of the Director's of the other military bands in DC managed to wrangle invitations to the function to watch the Marine Band fall on it's face. But much to their dismay the Marine Band, "The President's Own" Herald Trumpets did appear, played several fanfares as requested by the President before hand much to the delight of President Nixon and the chagrin of defeat to the other Band Directors and the Senior White House Military Aide!
That was just one of many little fights that I watched our Marine Band fight to maintain it, and our Corps, reputation in support of our President's. During the Cuban Missile Crisis President John F. Kennedy had occasion to comment that the only troops that he commanded was the United States Marine Band, "The President's Own" and if necessary he and they would defend the White House! A little known comment and certainly probably when you were still in grade school, but significant when trying to explain about those Staff Sergeants in the Marine Band. Hopefully, after reading this (and I apologize for being so long) I hope that you will have gained a new insight and perhaps, just perhaps even gained a new found respect for those Marines as well!
Semper Fi,
Dave "DB" Wright, 8th & I, Drum & Bugle Corps and U.S. Marine Band, 1965-1974, Alpharetta, GA
"DB" WRIGHT'S MEMORIES OF 8TH & I IN THE MID - 1960'S
6-8-13 ... Hey Guys, Do you recall this incident. I believe it happened in the Fall of 65, but may have been 66.
I remember there was 2 good looking gals who had earlier purchased a town house at the south end of that block (2nd one up from I St SE) who were strippers at the Gold Rush down town. It was directly across from where I slept and because we were higher up, and they didn't have any curtains on the windows, we could see right into their living room and bedroom. The first thing we saw was one lunch time a cleaning truck pulled up and parked at their house and he carried damn near everything in it into their house. It was their clothes which they had cleaned. Of course you can imagine what that would have cost. It was lunch time and I had just come up from the messhall from eating and happened to look out my window as I was shining something and saw this. Next thing I saw was the two gals and the guy in the upstairs bedroom going at it big time. OF course I alerted my buddies and we watched a great sex show. Turns out that they worked the day shift and in the evenings they "entertained" so we got regular shows. They were so steamy some of our married guys were calling and telling their wives that they had gotten hit with standing Duty NCO so they could stay and watch the show. A couple of days later a bunch of us were watching in the evening when I heard somebody say, "Sgt Wright. I'm shocked you didn't let me in on this show!" I turned around to see who the wise ass was and it was the Barracks XO, LtCol Wilson We all jumped to attention and he said to carry on so I offered him the prized seat on my foot locker with me and the rest of the guys gave way for him to sit down. He stayed and watched for about an hour chatting with us as we all graded the gal's performance! About a week later on a Sunday morning the gals figured out what we were doing, when their boy friend, who rode a Harley and parked it in their living room came out drunk as a skunk one Sunday morning after a particularly wild 3 way show that lasted all night long with a table light on. Some of the guys were in such awe of his performance they made a sign, using a sheet, which said, "AND A NEW WORLD RECORD BY THE CHAMPION!" They hung it out the windows, against my sage advice, and when he looked up and saw it from his Harley, he stood up and clasped his hands together over his head and shook them in triumph. The gals saw that, the sign and all us watching. They filed a complaint with Headquarters Marine Corps a the Annex above the Pentagon which came down to our CO, Col Carney (a great Colonel and veteran of Iwo Jima, later a BGen). Of course he assigned a young officer to investigate and we got an order not to watch anymore and after the Colonel, himself, came up and looked out of our windows. When he met with the young ladies in his office and told them of his command he also commented to them that they really needed to put up curtains, shades or something on their own windows for privacy because a Barracks full of horny Marines couldn't be entirely prevented from zeroing in on a "target of opportunity"! The gals painted their windows black and thus ended the shows!
I'm enclosing a couple of pictures that I think you'll get a kick out of when I tell you the story. One Sunday I looked out my window and noticed smoke coming up from one of our busses parked behind the Barracks. I grabbed my camera and ran down and alerted the Guard House and then went out back to watch. The old firehouse that used to sit down 9th St south of the Barracks and where the freeway now runs was alerted. One of the firemen grabbed a portable fire extinguisher and ran up getting there ahead of the trucks from that firehouse and began fighting the now visibly burning fire. Of course the Sgt of the Guard and the Officer of the Day a young Lieutenant who was not liked at all by anyone, including the other officers came out to watch. They were in full dress blues. There was a guy there in civilian Khakis similar to what the firemen were wearing, but he had recently been discharged after a couple of hitches in the Corps and had been drinking down in the club and was pretty drunk. He was standing near one of the fire trucks watching when the OD says, "Shouldn't you be doing something to fight the fire?" He said, "What would you suggest?" and the Lt responded, "I don't know, break out the windows to ventilate the bus or something like that." He immediately turned around and there was an ax on the firetruck which he jerked off and went over and began swinging it to break out the windows. With every swing he would grin from ear to ear, and shout (while looking at the Lt) "There's another one for the Fucking Corps!" All the while the Lt stood there, feet spread, with his hands folded in front on him, complete with his saber in it's sheath, of which I took a pictures. The guy missed on one swing and actually put a gash through the metal side of the bus. There was a lot of damage from the fire down to the bus, but the Motor Pool guys were able to restore it and it was used for a few more years. Needless to say the OD had to report this in his Log Book and an investigating officer was assigned to determine what happened and how the fire started, later determined to have been accidental. Of course being a good Marine NCO I quietly provided the Captain doing the investigation with copies of my photographs along with a statement as to who the guy with the ax was, but for some strange reason I couldn't recall his name and the Captain didn't try real hard to find out either (he was one of the good officers). But the Lt who had been the OD that day was quietly transferred out of the Barracks and sent to Vietnam where he didn't do well at all we later heard.
Semper Fi, Your Ole Buds, David "DB" Wright, 8th & I, Drum & Bugle Corps and U.S. Marine Band, 1965-1974 / Vietnam veteran, Alpharetta, GA
ROBERT REED'S 1963 MEMORIES OF A SUICIDE IN THE BASEMENT OF THE CMC'S QUARTERS
7-13-13 ... John,
A short story from the memory bank. 1st Lt. Bill Hart and I checked into the Barracks on the same day during the summer of '63. John Donovan was the adjutant and seemed to be very busy. He politely told us that he and the Barracks were a bit "distracted" that morning, and to be patient. Seems the Commandant's gardener, a GySgt as I recall, had hung himself from the overhead water pipes in the basement of the Commandant's quarters the night before! Major Hank Conlin, my new CoCdr, Guard Co, was assigned as investigating officer, and later said when he was escorted into the poorly lighted basement, and turned a corner, the escort said, "This is Gy_____________". The Major's reflex was to hold out his hand to shake, before realizing that "Gy__________" was the one hanging from the pipe in the shadows.
John Donovan would remember the investigation results, or perhaps another of your readers may recall more of the circumstances. Parade season was upon us, and as the new Plt Ldr of the 3rd Herd, plus Camp David rotation, I had my hands full, and apparently never followed up.
Best regards. Bob Reed, 8th & I, Ceremonial Guard Company, 3rd Platoon And Drill Team; MB Adjutant, 1963-1966, Bigfork, MT
~~~~~~~~~~~~~~~~~~~~~~~~~~~~~~~~~~~~~~~~~~~~~~~~~~~~~~~~~~~~~~~~~~~~~~~~~
MAJ. GEN. GENE DEEGAN'S 1963 MEMORIES OF A SUICIDE IN THE BASEMENT OF THE CMC'S QUARTERS
7-14-13 ... Mine is a personal story about this incident.
I was newlywed (a few weeks) and was assigned as the XO of H&S Company. The Company Commander, Maj Don Robinson, was on leave at this time. The Gunny's name was Shiflett (SP?). Shortly before this incident, a cook from H&S Company had a fatal car accident in the middle of the night on the South Capitol Street Bridge. My phone rang at O Dark Thirty and I left my bride for the rest of the night to tend to the aftermath.
A few days later, I received a call during the night when the OOD discovered Gy. Shifflet's suicide in CMC's basement (the OOD need to periodically change the key on CMC's secure phone.). The investigation was complicated as the DC police had jurisdiction over the death - in CMC's basement. As I repeated the drill from a few nights earlier, my new bride was concerned about "whether this happened all of the time"!!! She received a quick introduction to our Corps.
Maj. Gen. Gene Deegan, 8th & I, CGC, H & S, and MCI, 1962-1965 / USMC 1958-1993 / Hall Of Valor, Tampa, FL
~~~~~~~~~~~~~~~~~~~~~~~~~~~~~~~~~~~~~~~~~~~~~~~~~~~~~~~~~~~~~~~~~~~~~~~~~
I remember clearly. I was sorry for the Gunny and his family, but very happy I wasn't the Officer of the Day.
John Donovan had many incidents with that Commandant. The CMC called Donovan to his quarters one fine, sunny day....maybe before the other incident...took him outside in front of a garden and demanded, "What is that?" John as I recalled the story went, stood at attention, mystified...seeing nothing but a beautiful garden...stunned, stammered, "What?" "That!" shouted the CMC, pointing. Finally John saw it...a single blade of grass in the garden. "The weeds!" shouted the CMC. John removed it, saluted, and was dismissed.
On another occasion, a 1stLt, the PltCmdr of the DT, was goaded happy hour evening into hitting a golf shot (6 iron) from the cannons area of the parade deck at the CMC's quarters. It was a beautiful, a high fade, hitting the second floor wall (thank goodness), and bounded down and out of the yard. The next day, the CO, Colonel Edwin Wheeler called the Lt to his office and returned the golf ball....without a word and a sly smile. The Lt said nothing...after all, he had hit a "flyer"...he was expecting it to land in the garden causing another incident.
Also, it was not uncommon for this particular CMC to sneak up on the Barrack's OOD (all Lt's) at midnight in his basement. The OOD had to go to the CMC quarters, enter the cellar, and change the code card in the KY-1 phone installation. The CMC at times would be down in the cellar (he had a collection of sake jars/bottles/cups), and would amble over behind the Lt, silently, while the Lt (In Blues with sword) was bent over changing the card. When arising,and turning around it would be one helleva-lot more than being startled. Fearless leaders!
Thanks......and I know the CMC stories go on and on...all good ones. I have more; first hand.
Semper Fi, Bill "Tracks" Lee
6-22-15 ... STEVE DEBOCK'S EARLY 1960'S MEMORIES OF DECEASED 8TH & I MARINE BRIAN BEILEN AND THE 3RD PLATOON, CEREMONIAL GUARD COMPANY
Recently received an email from Chuck Sciavone informing me that Brian P. (Pat) Beilen, 3dPlt, CGC, 1960-62, Fredonia, NY, passed away last year after an extended illness. He and his wife had been married 45 years. A number of fond memories attach themselves to Pat's name. Among them:
During our early tenure at 8th & I, CGC staged an intra-platoon competition, in which each 8-man squad had to develop its own silent drill. Henry Hannam was our leader, and if I recall correctly we performed in utilities with white gear on the Barracks parade ground. In the long line, Pat dropped his rifle and properly remained standing at attention. When the rest of us came to present arms, Pat snapped a salute. That got a note of approval from the reviewing officer. (Our squad won.)
Later that year, on the occasion of the USMC birthday, Third Platoon was at Camp David. Lt. Ryan reserved the Emmitsburg VFW hall for our celebration, procured some WACs from Fort Dietrich to join us ("I feel like a pimp!" he joked), and arranged to have our winning squad, dressed in blues, perform our silent drill.
Unfortunately, beer flowed beforehand, and although our somewhat alcohol-impaired squad didn't miss a beat or an exchange during the routine, I remember being in a diamond formation in which we had to pass our rifles to the man on our right. Pat's came to me with his gourd perched atop his chrome bayonet. (Had it been sharp, he might've lost an ear.)
Good times.
Semper fi,
Steve DeBock, 3rd Platoon, Ceremonial Guard Company, 1960-1962, Hershey, PA
5-16-14 ... Peter McCusker's Memories of a 2-19-63 White House Detail
Thanx for the Marine Barracks memories. I enjoy them very much.
The other day you sent one of Marines on the White House Oval Driveway. That brought back one of my worst memories. Did you ever stand a detail at the White House? I stood several. I will never forget this one particular bad memory. It is etched in my brain forever.
The day was February 19, 1963. It was blistery cold and raining. President Kennedy was hosting Venezuelan President Romulo Betancourt. Our "spit-shined" shoes and cover visors were ruined in the rain. We had to wait for the motorcade to arrive. We were cold and shivering. The staff sergeant (Ayers, I think) had us lined around the oval one foot out from the curb so that the heavy draining rain water would not run over our shoes. The Captain (Ryan, I think) noticed the unsymmetrical positioning of the Marines around the oval driveway and ordered us to step back and line our shoe heels against the curb for perfect symmetry. Now the cold rain water gushed over our shoes. Our legs were turning blue with the agonizing cold. It was a day from hell!
The attached pix you sent were taken in May 1962, a far warmer day. But the pix clearly show the curbs where rain water would drain in a heavy rainstorm. It is a wonder we didn't kill that Captain on the White House lawn in front of the Venezuelan President.
Anyway, I got my "short-timers" calendar out and punctured the square for February 19th. In other words, I didn't color in the square, I drove my ball point pen through that square as if it was the Captain's heart!
Thanx for all you do. Most of the pix you send make us proud to have served at Marine Barracks. But the White House Oval Driveway pix are "bummers" for me.
Cheers, Peter McCusker, MCI Co., 1st Plt., 1962-1964, Southbury, CT
7-30-15 ... Robert Reed's 1963 Memories of President John F. Kennedy's Funeral Detail
My memories of the WH driveway are quite different, but just as indelible.
During the JFK funeral, while he was lying in state in the WH East Room, for VIP's only, I was assigned by MDW as the OIC of the Joint Services Cordon, which started at Penn. Ave., ran up both sides of the driveway to the front steps, across the portico, through the entry, Red and Green Rooms, and stopped at the East Room, where Bill Lee and his SDP rotated through the Death Watch. The cordon members were instructed to come to att'n, then present arms, automatically, w/o command, when each VIP front bumper cut their field of vision across the driveway. 3rd Plt CGC Marines then opened the car doors for the likes of Presidents Hoover, Truman and Eisenhower, et. al.
Then, on the day of the parade and burial, as we marched in company mass, on my command the 3rd Plt. peeled off, marched up the driveway with all members of the JCS right behind us, all the way around to Penn. Ave., where we halted, came to the order and parade rest, to wait for The First Lady to enter a waiting limo for the drive to the cathedral and last rights. This was expected to take awhile, and I was instructed to watch for a head nod cue from the MDW Capt on the portico when the procession was seated and ready to go. But the head nod came almost immediately, and I paused, thinking surely that could not be my cue. Next came an exaggerated nod directly toward me, so thought to myself "Okay folks...hope that was my cue, cuz here we go", called the Plt to att'n, back to right shoulder and rejoined CGC on the street. Readers may remember that Mrs. Kennedy had decided she and the other family members, foreign Heads of State, and other VIP's would walk to the cathedral instead of ride.
What a privilege it was to be a participant, with the mighty men of the Third Herd! Special memories.
Best regards. Bob "Mustang" Reed, 8th & I, Ceremonial Guard Company and Barracks Adjutant, 1963-66, Vietnam veteran, Bigfork, MT
9-4-15 ... DB Wright's Mid-1960's Memories Of Chesty's (mascot) Article 15 Hearing
When I first checked into the Barracks (1965) they had just gotten a new Chesty and the puppy was kept in the Guard House. I often stood Duty Music of the Guard. Of course the Guards thought it was a hoot to put a waste paper basket over him and watch him run around trying to escape from it while they beat on it with their night sticks. There was a lot of other similar tricks pulled on the poor thing. After a few years I was a SSgt but still had close ties with the Guards and especially their NCOIC OF THE GUARD. Chesty often crapped on the "quarterdeck" of the guard house and once was even brought up on an article 15 over it. The NCOIC of the Guard at that time was an 18 year SSgt with a Bronze Stare with "V", Purple Heart and a lot of other ribbons, as well as a veteran of Korea and Viet-Nam. We were in the SNCO Club one evening when he marches in in his class "A" Greens obviously highly pissed off! Rare for him as he was always grinning and laughing. After a couple of beers we finally got the story out of him.
He says he got a call from the H&HS 1stSgt to bring Sgt Chesty in his Class "A" Greens, ribbons and badges and he was to personally "escort" him in the same uniform for an Article 15 Hearing! He said he had replied to the 1stSgt, "Are you Shitting me?" He said the 1stSgt let him know in no uncertain manner that he was deadly serious and he'd better take it seriously as well! So he had the Guards get Sgt Chesty into his greens with ribbons while he himself got squared away. At the appointed hour he marched into the Company Office and the 1stSgt and Co Gunny marched in with Sgt Chesty and the SSgt and halted in front of the young Captain's desk. The SSgt said, "There I was standing at Attention reporting for a damn stupid Bulldog that Sgt Chesty was present for an Article 15 Hearing, Sir!" He then described how this "Young Captain of Marines who was a graduate with Honors from Harvard looking sternly down at Sgt Chesty and began to read him the riot act for shitting on the Quarterdeck of the Guard House. He also kept glancing down at Sgt Chesty's Official Personnel File! And all the time there I am a Staff Sergeant of Marines trying to look professional without saying, Are you Shitting me Sir!" By this time we were all in tears and encouraging him to continue with the story. He went on explaining how he had always hated that damn stupid Bulldog! Then he said, "Finally this young Captain of Marines ordered that Sgt Chesty be reduced to the rank of Corporal immediately!" The SSgt then said, "Damned if the Company 1stSgt and Gunny didn't get down on their knees and using razor blades cut off Sgt Chesty's stripes!" He then said the "Young Captain of Marines ordered the SSgt to Carry on and march out Cpl Chesty! I took a step back, sounded off AYE, AYE SIR! And then I did an about face y anking as hard as I could that God Dammed Stupid Bulldog around and of course him getting tangled up in my feet and damn near tripping me as I started to march out pulling Cpl Chesty as hard as I could! That's the moment I fell in love with the God Damned Bulldog! Damned if he didn't stop dead and I couldn't budge him and the damn Bulldog looked back over his shoulder at the young Captain of Marines and cut the loudest fart and most stinkiest fart I've ever smelled anywhere in my entire life! Of course I was ordered to bring Cpl Chesty back immediately by that young Captain of Marines which I did. Then he chewed on that stupid bulldog for another full 5 minutes before dismissing us again. This time I managed to get the bulldog out of the office. I tell you I damned near died and both the 1stSgt and Gunny were turning green and trying to hold their breath as long as possible it stunk so bad in there from Chesty's fart! As soon as I got Chesty into the 1stSgt and Gunny's office I dropped down and kissed that damn bulldog!"
By the time he had finished his story the entire SNCO Club was in tears and about that time the H&HS Co 1stSgt and Gunny came into the club and we got them tell the story from their view. To the day I die I'll never forget that SSgt telling that story about Chesty!
The "Handler" of Chesty who marched him out on the Center Walk on Friday Night Parades had a huge right arm from having to physically pull Chesty up to make it appear he was jumping up on command!
Semper Fidelis ..... David "DB" Wright, D & B Corps and Band, 1965-74 / USMC 1959-74, Vietnam veteran, Las Vegas, NV
9-4-15 ... Frank Burke's Early-1960's Memories Of Chesty (Ret.) At Camp David
I was on desk duty in the guard shack at Camp David when Mrs. Kennedy called to report this grungy dog drooling and moping around Aspen. When I told her that was our Marine Corps retired Mascot she told me jokingly to get him corralled or she would have the secret service handle it.
Thank You, Frank Burke, Ceremonial Guard Company, 2nd Plt. & Drill Team, 1963-1965, Codta Mesa, CA
STEPHEN DEBOCK'S 1-20-61 MEMORIES OF PRESIDENT JOHN F. KENNEDY'S INAUGURATION
At liberty call on the day before the big day, someone in my platoon asked me to drive him across town to a garage that was working on his car. We picked up our liberty cards, and in my trusty 1954 DeSoto headed out into the steadily-falling snow. By "trusty," I mean that I could always trust the car to malfunction in some inconvenient manner, and today was no exception. By the time my platoon mate (his name is lost to me) disembarked, it was between six and seven PM, and traffic was progressing at two speeds: slow and stop. Snow was falling not in flakes now but in blankets, and DC was paralyzed. This was the time my trusty (remember?) DeSoto's heater decided it had had enough and quit. Of course, it didn't help matters that my window was open. And why was my window open? Because my trusty (remember?) DeSoto's driver's side windshield wiper had just died. Which meant I had to open my window and reach around to the wiper and move it manually. No gloves.
Meanwhile, barracks chow call had long since expired, and my grumbling stomach began to think my throat had been cut. Seven o'clock became eight, eight became … one o'clock the next morning, and I was still chilled to the core and snowed in somewhere on D.C.'s streets, navigating by keeping a visual on the Washington Monument. Finally, I found myself on Pennsylvania Avenue … behind a tank equipped with a snow plow, clearing the parade route for the next day. I muttered a prayer of thanks through chattering teeth. It was two AM when I finally crawled into the sack. And found myself so keyed up I couldn't sleep. Reveille came an hour early that day, so we could practice our parade formation and then be bussed to the Capitol staging area, the cold penetrating to our bones, so we could hurry up and wait for the parade to begin. After marching past the reviewing stand, we column-left-ed onto an unplowed street, with snow up to our knees ... and some NCO began bellowing at us to keep in step! In knee-high snow, he wanted us to keep in step?
That night, in fresh blues, we attended the inaugural ball at the armory, where with the other services' honor guards we formed two rope lines, between which the new cabinet members and their wives marched. Back again at the barracks, John Hettrick (died 3-1-10) and I got our liberty cards, changed into civvies, and liberated two "No Parking/Presidential Inauguration" signs from neighboring street lamps. And we headed to our New Jersey homes in my trusty (remember?) DeSoto. Fortunately, it wasn't snowing, as the wiper still wasn't working, but on the Baltimore-Washington Distressway we counted 64 vehicles that had slid off the road and gotten mired in snow. (Counting cars was how we kept awake.) Also fortunately, we managed to stay on the road all the way and were greeted by sunrise over Delaware Bay.
As civilians years later, John and I saw another "No Parking/Presidential Inauguration" sign, in the Smithsonian. From the date, we knew it was for the Carter inauguration. We figured ours were much more valuable. John's guarding heaven's streets now, and I don't know what happened to his sign. But mine is framed and hanging in the entrance hall of my home. Woe to the visitor who asks about it and doesn't have a couple of hours to spare as a captive audience.
Thanks to Les Gillenwater, C.G.C., 1958-1961, whose own memories have brought mine back. See you at the 8th & I reunion in July 2016!
Submitted by Stephen DeBock, Ceremonial Guard Company, 3rd Platoon, 1960-1962, Hershey, PA
2-8-2017 TOM RYAN'S EARLY 1960'S MEMORIES OF (2) 8TH & I PRODUCTIONS (MOVIE & PHOTO)
I am impressed with your endeavor to capture the film and photo's at 8th and I. It is a real pleasure to just sit back and browse with considerable memory and comparisons through the years. There are two productions you may not be aware that were major professional productions. Both productions were while I was Company commander of MCI Company in 1962. The first was a movie that took place on the Barracks parade ground. We performed multiple times just for this production at different dates at the same time in the evening. The production was not in parade season and they literally painted the grass so that it reflected the same background with water color paint that they washed away after each performance. They were not concerned about the leaves on the trees since it was in the dark under flood lights. There were many close-ups, specific requests, long standing positions in the production. I do not think anyone ever got the opportunity to see the completed production. I left in Feb of 1963 and it could have come out after I left. This reminds me of "Chesty the English Bull dog". Chesty was a beautiful animal and very responsive to the Marine handlers. However there were incidents and those incidents were handled in the most formal US Marine fashion. As I recall he had just lost his Lance Corporal rank for peeing on his handlers trousers and shoes. Since it happened during this production, Chesty was given temporary promotion for this production only. It shows you the power of "Hollywood".
The second production was done by Eastman Kodak Company and supported by the Leatherneck Magazine in 1962. It was a Photo of both the Guard Company and MCI Company with the Color Guard in between with the Parade commander in front. We were in front of the Iwo Jima Monument where the Drum and Bugle Corps and the Marine Corps bands were on the platform of the Monument with professional models acting as an audience. The camera for this shot was specially designed by Kodak to be able to incorporate all that it did in one photo shot. The size of the camera lense capability was approximately 30 inches X 14 inches. I was given the opportunity to see the camera lense during a break and it was really impressive. The photo was used at Grand Central Station where the physical size of one person was considerably larger than normal. Since it was published it became a very popular shot for billboards and magazine etc. It continued in promotion use into the 1970's because I saw it on Billboards in Columbus, Ohio. I would send you a copy of mine, however it is now quite old and hangs in a frame on my study's wall. I would be afraid of damage to take it to a reducing facility. I am sure you can get it from the Leatherneck Magazine since I believe they have reproduced it many times. Our uniform was dress white trousers for the photo shoot.
Semper Fi, Tom Ryan, 8th & I, C.G.C., 3rd Platoon Commander & MCI Company CO, 10-4-59 / 2-28-63, Columbus, OH
BILL DURAND'S 1962 MEMORIES OF THE "HOLLYWOOD" FILMING AT 8TH & I
2-9-17 ... Troops, Just some short elaborations on 8th & I Marine Tom Ryan's informative recollections, dated 2-8-17.
I recall that during the 1962 "Hollywood" filming it was the one time I exhausted my supply of white duck triple starched trousers. In the D&B we were issued 32 pairs. Half would be in the Quantico Laundry and half would be available for wearing. That week we went trough 18 pairs and ran out. We had to "recycle" a pair. Which was vaguely verboten.
Now concerning the Kodak Colorama Photo session. It was a hot tough one. They wanted the flag on the monument to flutter exactly right. Now days they would just photoShop it but not in 1962. It was particularly demoralizing for me. I came from Rochester and was in the D&B rank closest to the camera. But the bushes around the base of the monument blocked my view of the camera. I knew if I couldn't see the camera I was NOT in the final picture. I wasn't. Ha! Missed brush with greatness.
The D&B made a trip to NYC for the unveiling of the giant Kodak Colorama photo in Grand Central Station. The barrel ceiling made for horrific echoes when we attempted to play the hymn. We sounded so strange. And it was a surprise to us.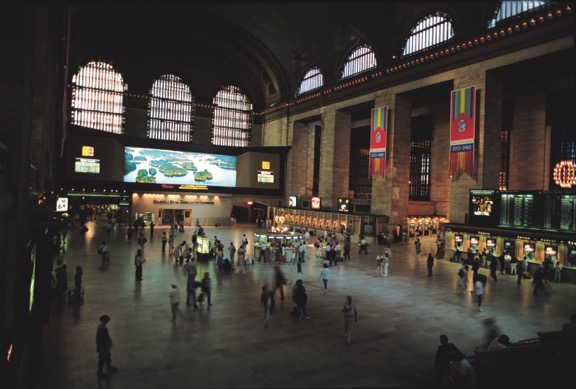 This image shows the Colorama transparncy on the far wall.
I haven't been able to find a decent image for it but here is a poor one.

Submitted by 8th & I Marine William "Old Dog" Durand, Drum & Bugle Corps, 1962-1963, Rochester, NY
What Really Happened in Vietnam in 6 Minutes...
A good history lesson. Click Below:
What Really Happened in Vietnam in 6 Minutes
Please click here to read the recollections from some of our Members of the
Cuban Missile Crisis.
3-29-17 ... WHY IWO JIMA ALWAYS REMINDS ME OF COLONEL CARNEY AND HIS FATHER, ADMIRAL CARNEY
I didn't get to read Col. Jim "Mustang" Bathurst's (USMC 1958-1993) Iwo Jima e-mail until last night and this morning noted that our Brother John Reim had forwarded it to the Members of our 8th & I Reunion Association. A great many of you on my mailing list are Brothers & Sisters who served at the Marine Barracks 8th & I Sts., S.E., Washington, DC, the Oldest Post of the Corps and hold that service in a very special place in our memories of our service in our Corps, be it peacetime or wartime.
When I reported into the Barracks in January of 1965 our Barracks was Commanded by Colonel Robert Carney, Jr. (who retired as BGen) ...
http://www.arlingtoncemetery.net/rbcarneyjr.htm
. He was at his finest and calmest in the eye of a storm and I've never seen a more gracious Gentleman of the Old School (and I have seen quite a few) than the Colonel.
Anytime I read, see or hear anything regarding Iwo Jima I always think of Col. Carney and his dad, Admiral Robert Carney ...
https://en.wikipedia.org/wiki/Robert_Carney
and many others of the Carney family who have served in our Navy from its earliest days. So let me set the table before I get to the the link to Iwo Jima.
I met my wife at a Catholic Church Youth dance held every Friday night at Xavier Catholic Church on Pennsylvania Ave., SE and we happened to both be Presbyterians. I was a Corporal on my 2nd hitch and she worked for a very distinguished Judge (one of 3 civilian judges) at the US Military Court of Appeals. Until I met her I never had a clue it even existed, nor did many others, officer or enlisted, I learned.
I pulled into the parking lot of the court to pick her up one Friday afternoon. I saw her open a window wave at me to come in. Her Judge wanted to meet me, size me up and pass judgment as he sort of looked at my wife as part of his family as a daughter. While making my manners, trying not to screw it up, another gentleman entered the chambers to have the Judge sign some papers. The Judge introduced me to him. It was the 2nd "Carney" I met, though I forget his first name now, I recall he had been a Captain in the Navy and was retired working at the Court as one of its attorneys.
After we were in the car I asked her about him. Sure enough, he was a cousin to "Our" Brks Commander Colonel Carney! She also explained that the Carney's had a very long and illustrious line of Naval Officers serving our Navy. Most of them graduating from the Annapolis Naval Academy, which Colonel Carney also attended and graduated.
I got to know our Colonel very well, his promoting me to Sgt and even making my manners when I requested his permission to marry. (Another story for another time)
I was in the rotation of Buglers from the Drum & Bugle Corps, who also served as Duty Music of the Guard. At the Barracks we played every Bugle Call still used in the Marines, as well as ringing the Ship's Bell, mounted on the Main Flag Pole at the Barracks at one end of Center Walk (then a nearly sacred place). We rang out Naval time - even numbers of bells on the hour in multiples of 2 rings and odd rings in multiples of 2 & the odd one on the half hours . Starting with 2 bells then 4 ,8,12, 2, 4, 8 & 12 each being the end of a 4 hour period of duty/watch. We rang the bell from early in the morning until 2200. After ringing out the 4 Bells of that time after which the Duty Music Locked up the clapper in the bell! We inserted a wooden, "Yoke-like" device which had been made by our Maintenance Shop Marines. It was hinged so we could put the stem of the "clapper" into it, then slid it above the ball, at the bottom of the clapper. It was securely fitted to the interior of the bell and we locked it with a very large and heavy security padlock. This prevented any jokesters (and in the Corps, we always know those geniuses are amongst us) from sneaking out in the wee hours of darkness and loudly ringing it and escaping. This ingenious device halted the unauthorized ringing in the wee hours waking up of our Commandant of the Corps, as we called that august person CMC. CMC was the only 4 star General in our Corps back in those days and his home was at the north end of the a Parade Deck while the homes on the east side of the Parade Deck were occupied by (and in danger of being awakened as well) the Ass't CMC (always a Naval Aviator back then and a LtGen 3 Stars), Chief of Staff of the Corps (another LtGen) and the Ass't Chief of Staff of the Corps (a MajGen 2 stars) and our Colonel! The entire Barracks compound occupies an entire city block.
The day before my next scheduled tour as Duty Music of the Guard, I had passed the Colonel walking down our arcade. He had been with an older gentleman who was dressed in a suit, white shirt and tie, overcoat and wearing a homburg hat. He was both distinguished looking and one of the most dapper gentlemen I had ever seen. Of course, I saluted and sounded off, "GOOD MORNING COLONEL CARNEY (& acknowledging the gentleman with him) AND SIR!" The Colonel stopped and said, "DAD I'D LIKE TO INTRODUCE CORPORAL WRIGHT OF THE DRUM & BUGLE CORPS TO YOU. CORPORAL WRIGHT I'D LIKE TO INTRODUCE MY FATHER, ADMIRAL CARNEY TO YOU!" I was instantly on my best 8th & I - by the numbers manners! I was immensely relieved when they continued on down the arcade!
Back topside in the D&B office I asked CWO-3 Stergiou (the Director of the Drum & Bugle Corps) a long-serving Marine, who the Admiral was who was our Colonel's Father? He told me to sit down. He explained that the Admiral had been a Rear Admiral and Chief of Staff to Admiral (later Fleet Admiral and 5 stars) William "Bull" Halsey during WWII in the Pacific. After the Korean War he had been promoted to Admiral (4 stars) and Chief of Naval Operations (boss of the entire Navy, and back then the Marine Corps as well).
Next morning I was looking out the window in the Guard House door up the Parade Deck. It was about 10 minutes before the Sergeant of the Guard and the Officer of the Day are to march out of the Guard House and down the Arcade, then up Officer's walk (running north-south on the west side of the Parade Deck lined with homes for the general's, Colonel's and bachelor Officers) to Center Walk and then onto Center Walk for Morning Colors. I noticed the old Admiral, dressed as the day before, come out of the Colonel's Quarters and stand back against the front of the Quarters (a large brick home). It was obvious to me he intended to observe Morning Colors.
I've always attributed what I did to "The Devil Made Me Do It!" The Sgt of the Guard that day was an easy, and often, "mark" for jokes. The Sgt had a little over 10 years in the Corps and had made it to Sgt, for the 2nd time in his career, and was a bit slow thinking things through. But we could always depend on his reaction to "Charge" first, then figure it was a joke, or mistake later.
I went in a great acting role of "horror and shock" with obvious agitation in my body language to hook the Sgt. I was gazing through the glass portion of the hatch (door for land-lubbers and non-Marines and Sailors) and uttered a "WHAT THE HELL?". Sure enough, the Sgt hit the bait! He charged up alongside of me asking "What's going on, Cpl?" I pointed a finger at the old Admiral . Before I could say my lines (I really had crafted them all out for maximum effect) the Sgt damn near knocked me down! He ripped open the hatch, passing me at a high rate of speed, and "charging out" and over to confront the "gentleman trespassing on Center Walk at Morning Colors!"
I saw the Sgt waving his arms, sort of leaning in towards the old Admiral. We Marine NCO's tend to do this often to add emphasis to what we wish those junior to us to accomplish to please us and our Corps! I saw the Sgt pointing to a spot off to the side of the house. The old Admiral nodded and moved over. Satisfied, the Sgt of the Guard marched back to the Guard House.
The Sgt came through the hatch and launched into a blow by blow description of how he had "educated that old man" as to where to stand and what to do during Morning Colors! (all Marines know civilians don't have a clue) I twisted my face into a questioning look and "you may have screwed up, face!" Again, he took the bait hard on the first strike!
Very reluctantly, but all the while assuring him I was confident nobody would say a word to HIM about what he had just done, I somehow managed to suddenly remember that I had met the old gentleman! Ever so gently and reluctantly, I explained to the Sgt that he had just "braced" our Colonel's father! OH! And he is a retired ADMIRAL & FORMER CNO!
The Sgt was knawing on his fingernails while wearing a small race track pattern in the deck. Out of his office came the Officer of the Day, one of Ceremonial Guard Company's 1stLt's. He managed to overhear the tail end of my mentioning the Colonel's father. I couldn't have rehearsed the 1stLt of a role in my joke and had him perform any better. Not having a clue at what had just transpired, while checking his uniform one final time in our full-length mirror, the 1st Lt began to explain that all about that old man's service in WWII and later as CNO. It was time for me to March to my position during Morning Colors so I missed the rest.
At the appropriate time, and with 8th & I precision, the Cpl of the Gd with his eye locked on the clock ensured everything commences precisely on time, literally to the second, blowing out whistle signals. At the precise time, out marched the OD & Sgt of the Gd from the Guard House.
It was a general joke throughout Guard Section of this "Sgt's" unique tilt of his head to the left as he marched. He could have passed as the twin brother to the old "B" movie actor who always played a bad guy, or slow straight guy for jokes, "Buzz Sawyer!" As they passed the old man the OD commanded, "Present Arms" and they both executed sharp salutes and then performed a Column Right March it was obvious to all the poor Sgt was rattled big time! But everyone tried their best to cover his mistake for him as much as they could, and we were very skilled at this technique at the Barracks.
After a flawless Morning Colors (at least by everyone else), the Sgt of the Gd stormed straight into the Guard House Head (restroom for landlubbers)! Everyone heard the violent retching sounds. The phone rang and the Cpl of the Gd answered saying a string of "YES SIR'S," obviously to some officer who was "concerned" about something. When he hung up, he banged on the closed door of the Head and announced, "SERGEANT (so and so) The H&HS Company Commander wants you in his office NOW! " Heavier and more rapid retching sounds emanated through the door, followed by the sound of a flush. Out came the Sgt wiping his face with wet paper towels. He checked his uniform in the mirror and left, looking as if he was going to a guillotine as the "headliner"!
He "visited" with the H&HS Co CO, a Captain! But only after "visiting" with the Company Gunny, and then the 1stSgt.
The Captain escorted him down to the Bks SgtMaj's Office and then the XO's Office with each "visit'" to a host, their wear and tear added to the already rapidly diminishing buttock "seat padding" until finally he was presented as the guest of Col Carney. YEP! There was the old Admiral sitting a club chair off to the side of the Colonel's desk. The Sgt had climbed the steps to the guillotine! Instead of being the "HEAD" for lopping off, In his kindly manner, Colonel Carney introduced the Sgt of the Guard to his father, the Admiral. The Colonel apologized to the Sgt for not having alerted him that his father enjoyed watching Morning Colors and would be doing so! The old Admiral joined in commending the Sgt for how he had performed his duty. That was the "classic" Carney gracious in full display!
But in the Guard House it was still a good joke!
Back to why I always link Iwo Jima to the Carneys. The Colonel's dad served in WWI, and was gunnery officer on one of our ships that sunk a German Submarine in a surface action. After WWI he served on several staff's, between serving on and/or commanding ships! He became famous throughout the Navy while serving on the staff of a notoriously difficult and demanding admiral. Finally the Colonel's Dad had enough! He stormed into that Admiral's cabin without knocking and told the shocked Admiral exactly what he thought of him and his methods and stormed out. He returned to his own cabin to consider what he could possibly do as a civilian. Suddenly the Admiral walked in and told him "Carney you've been working too hard we need to go ashore on liberty!" The Admiral took him ashore for drinks, though later when asked about it the Colonel's Dad admitted it was a tour of duty he would not like to repeat! Of course the story quickly made the rounds and he became well know for it.
After setting up the Navy's surface air force protection for convoys from the US and Canada to England, he was transferred to command of a cruiser, taking part in the Naval Battles around Guadalcanal and subsequently being noted, and decorated for Valor, by recently promoted Vice Admiral (3 Stars) William "Bull" Halsey!
VAdmr Halsey brought him onto his personal Staff, shortly promoting him to Rear Admiral. Together they participated and commanded the Naval Surface forces at many of the landings throughout the Pacific. During the Philippines when Adm Halsey famously took the Japanese Navy's bluffing feint and charged north with his battleships, heavy carriers and cruisers. This left a weakened and unsuspecting force comprised of only destroyers and small escort carriers covering a key passage. It was one of the few tactical decisions Halsey got wrong in the war!
He received a radio message from Admiral Nimitz (his boss) in Pearl Harbor. Unfortunately it had "Filler" (phases meaning nothing meant to confuse enemy intercept attempts and decoding) of "THE WORLD WONDERS," followed by the question of where was Halsey and his fleet?" It stung Halsey! He lost his temper and composure on the Flag Bridge of his Flag Ship, literally throwing his cover (hat for non-Marines) on the deck and stomping. All the while his staff attempted to pass through steel bulkheads (walls folks) as they backed away. RAdm Carney stomped up to Adm Halsey and forcibly ordered his superior, and boss, Admiral Halsey to quit it and act like an Admiral! Halsey did and they remained close friends!
Now comes Iwo Jima (finally I'm sure you saying)!
Then Captain Robert Carney, a former Para-Marine veteran of other landings, commanded a Company of the 3rd Bn, 28th Marines, 5th MarDiv on Iwo Jima. At one point in this battle the 28th Marines assaulted up Mount Suribachi, Col Carney was wounded, earning a Purple Heart and a Bronze Star with "V" for Valor.
During this the Colonel's father, Rear Admiral Carney, was watching the battle along with Admiral Halsey from their Flagship and knowing his son was in the thick of it. What has always struck me, especially after the birth of my own son, was what feelings had to have been going through the Admiral/father watching the carnage, dead and wounded lying all along the beach while aware of the heavy fighting the 28th was then involved in.
The old Admiral often visited the Barracks and his son. An Officer's Mess Night was once held in honor of the old Admiral in the John Philip Sousa Bandhall. I was one of the Buglers assigned to provide the traditional bugle calls and other music through various portions of the Mess Night. For those of you who have never been in the military, let me explain a bit. All branches have versions of the Corps' and Navy's Mess Nights. The Marine Corps Mess Night comes down from the British Royal Marines and the Navy's from the Royal Navy. Mess Night has relaxed periods before and afterwards, but a high degree of formality and tradition prevails once "Attention" followed by "Assembly" is sounded by the Duty Music. Everyone begins to form up for the March In. Whether an Officer's or a Staff NCO's (Staff Sergeants and above) Mess night, everyone lines up first by rank and then by precedence number assigned to each member upon promotion assigning their seniority within that particular rank.
This is the Order for the March in and they sit in the same manner.
The March In is to traditional music and is completed with all standing at Attention behind their assigned seat. Then the "Head Table" enters and the President Orders "SEATS" with everyone sitting.
Mess Night's always have a "President" who is appointed by the Commanding Officer of the unit holding the Mess Night, or if a SNCO Mess Night by the SgtMaj. The most junior ranking Officer, or SNCO, is automatically the "Vice-President of the Mess!" It is the Vice-President, when directed by the President, who must announce and give each of the required toasts to; Our Nation/Country, Our President, Our Commandant, Our Corps and several others.
Of course by the time of the latter toasts some always present attended who is full of good cheer, from the pre-Dinner social with drink (at least we used to have drinks) before the march in, then drinking "Port Wine," it's traditional (tastes like low grade gasoline to me but it kept for long months at seas in the days of sailing ships from this all comes) and you must "quaff" your glass only to be refilled for the next toast. So the "full of good cheer" individual can always be counted on for some off the wall toast. At a SNCO Mess Night I once heard a very happy Gunnery Sergeant rise and offer a toast; "TO MICKEY MOUSE! THE GREATEST MARINE WHO EVER LIVED!" Of course everyone had to rise, repeat the toast aloud and quaff their wine! I also recall he was quickly and gently assisted to a room to "recover!"
This particular Mess Night, seated at the Head Table was the Guest of Honor Adm Carney USN Ret., CMC Gen Green USMC (to the right of the Admiral), Col Carney USMC, (seated to the left of his father) and the Barracks XO Lt Col Wilson, Band Director LtCol Schoepper and Mess President. After the traditional"toasts" and untraditional spontaneous toasts were completed, cigars all lit with hard puffed great clouds of smoke filling the air, the Col (also the Emcee) rose. As tradition demands, he gave the biographical background of his father's professional service, inserting a bit of personal recollections that brought forth genuine laughter from all and which his father good naturally took.
Then the Admiral rose, and gave not a speech, but a talk, as if to friends - and that night every Marine within hearing became the Admiral's friend, I assure you! In winding up his comments the Admiral made a reference to his families long line of Naval Officers but that as every breed advances, sooner or later, it will produce a stray! The place busted up and the Colonel took it laughing as well. ! The Admiral sat down in obvious pleasure at "dinging" a Marine, and his son, in front of all those Marines. No easy feat to accomplish and escape with no harm! The Colonel rose to introduce the Commandant. But everyone saw the gleam hit his eyes as he suddenly interrupted his memorized introduction. He turned his head towards his father and said, "YOU KNOW YOUR RIGHT ABOUT THE BREED AS IT ADVANCES! BUT IT WAS NOT A STRAY. INSTEAD AS THE BREED GROWS OLDER IT IMPROVES!"
There was a "nano-second" of pause until the old Admiral busted out laughing so hard he had to literally pull out his handkerchief to wipe the tears from his eyes and cheeks! It was a good thing he did, as the whole place erupted (after the Admiral laughed of course) in pent-up laughter at that memorable zinger and honor saving for our Corps the Colonel had delivered off the cuff.
When Gen Green finally rose to speak he looked at the Col and the Admiral and said something about their unique relationship and that the Colonel's comments might well have been an act worthy of a medal for Valor!
I think we all left that Mess Night that evening understanding where our Colonel's gracious manners and leadership came from!
Semper Fi,
Submitted by 8th & I Marine David "DB" Wright, Drum & Bugle Corps and Band, 1965-74 / USMC 1959-74, Vietnam veteran, Las Vegas, NV
6-18-17 ... DB WRIGHT'S MEMORIES OF THE FRIDAY EVENING PARADE DURING INCLEMENT WEATHER
I read on Facebook an announcement that the Friday Evening Parade at our Barracks had been canceled due to a forecast of rain! It made me think back of the 10 years I served at the Barracks, with 5 seasons on the parade deck while in the D&B I never once recall an evening parade at the Barracks being canceled! I recall marching several in the rain and one, in particular, that was during the anti-war movement during Vietnam!
We were alerted that the parade was to be disrupted by demonstrators and Hippies so a lot of extra "critiquer's" were assigned to sit scattered through the bleachers in civvies just in case. All the troops were moved into the shelter of the arcades and band hall and the Band's concert before the parade was canceled, though the seats and music stands (with the music hastily removed) were sitting out as the rain began to fall heavily. In fact, the rain was falling about as heavy as I ever saw in DC, much like a deluge of biblical proportions to the point you could hardly see clearly across the parade deck. But the people kept coming in and umbrellas were all over the stands.
All of us had our fingers crossed hoping we weren't going to have to go out in that deluge in our squared away uniforms. The parade start time was even delayed and the band's seats and stands cleared out but not a single person left those stands. Instead, we had one of the largest crowds I recall that evening most dressed to the nines!
Then came the signal to commence the parade and I can still recall the sudden attitude that swept through all the troops that if they were going to sit in that rain we were going to put on the best damn parade they would ever see! On the Monday morning critique there weren't any negative comments from the Officer's, SNCO's, and NCO's who were assigned that duty. Instead, there was nothing but notes of how flawless and outstanding the parade had been from them and you will recall that was a very tough nitpicking crew who were assigned those duties!
We sloshed up and down the parade deck, the Drill Team never had a single slip, loose sling or flaw in that downpour. The climb we had to make up an old metal ladder from the 3rd deck to the top of the center battlement to perform the Rampart Bugler bit reminded me of the old WWII submarine movies of cracking the hatch, or not being able to seal the hatch surfacing or diving. We formed a line on that ladder clinging with one hand and passing up the bugles to a couple of us on the roof where we laid them down until we all got up and picked up our bugles and fell into ranks. There was around 12 of us with MGySgt Toole in charge giving the commands in a hiss as well as the downbeat to play that fanfare at the beginning of the parade and then we reversed the climb back down ending up in the Drum Major's small office and then we raced down through the barracks, out onto the arcade and quietly moved from the arcade out and fell into ranks at the rear of the Band for Sound Off during a darkened spot while spotlights were being shined on something on the Center Walk!
If didn't let up from beginning to end that night and we were all soaked. I was never ever any wetter in my life, even during monsoon season as I was that night! But that crowd was one of the most appreciative, respectful and patriotic I believe we ever hosted at the Barracks and the Washington Post wrote a huge story about the Monks of 8th & I the following morning.
On Saturday morning when the bleacher crew turned too, to disassemble the bleachers, they hadn't poured the later concrete strips they rested on, they sat on the grass then. They were amazed at the number of discarded Anti-War and Anti-Government and even Anti-Military/MARINES signs lying beneath the bleachers where they had quietly been cast down without a single one being raised or displayed! The word of those discarded signs swept like wildfire through the troops like lightening, even down through the Navy Yard and boy did we ever strut up and down the streets with our chest puffed up for quite a while after that parade.
Each of us who served back in those days will carry a pride that is truly "singularly unique" amongst those of us who served at 8th & I and I think we served during the last of the Old Corps/Barracks days of Squad Bays, shining brass and leather gear for real and with no air-conditioning with far more rigid discipline and expected conduct, and those frigging 10 pairs of white kakhi heavily starched white trousers!
Submitted by 8th & I Marine David "DB" Wright, Drum & Bugle Corps and Band, 1965-74 / USMC 1959-74, Vietnam veteran, Las Vegas, NV
Molly Schecter owned and operated Dobkins Pub on 8th Street, near the Barracks, from 1956 to 1966. During those years, she befriended many 8th & I Marines (the word is that some still owe her money). Many of her 8th & I "customers" had their mug (compliments of Molly) on display at the Dobkins Pub. She LOVED and is LOVED by many former 8th & I Marines. Sadly, Molly passed away on 12-10-11. She was a special lady!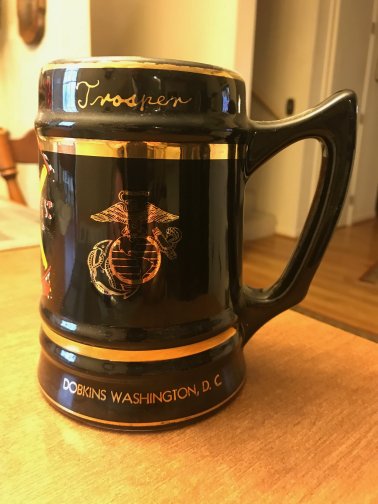 Submitted by 8th & I Marine Julian Trosper, Ceremonial Guard Company, 1st Platoon & Headquarters Section, 1959-1961, London, KY
I was a bugler in the Drum and Bugle Corps 1965 to 1967 and I recall and participated in an event that was one of the most significant receptions in Washington, D.C. during President Johnson's time in office. That guest was King Faisal, the ruler of Saudi Arabia.
One of our jobs in Washington was at the White House playing ruffles and flourishes, Hail to the Chief, and the National anthems for President Lyndon Johnson and for the arrivals and departures of foreign dignitaries. On June 21, 1966, United States Marine Corps Drum and Bugle Corps from 8th and I stood out with our dress reds and white trousers, on the southern façade of the White House portico.
King Faisal bin Abdulaziz Al Saud was ruler of Saudi Arabia from 1964 till 1975. He was received with great pomp and circumstance by all dignitaries. Washington D.C. had the day off to become the welcoming crowd. A massive parade passed beneath two firetruck ladders, with United States and Saudi flags fluttering all along Pennsylvania Avenue. The Marine band along with Marine Drill Team, and all other armed services marched the parade route to the White house. Attached to the firetruck ladders wrapped up like candy canes like and upside down "V" was the words "Welcome His Majesty King Faisal" with a very large Saudi flag hanging down just above the banner. At King Faisal's coronation he proclaimed not to be addressed as your majesty but that he was simply a servant to his people. It was probably not very insightful to have "His Majesty" on the banner.
In an open limousine similar to the same car as the one President Kennedy rode in Dallas Friday November 22, 1963. King Faisal, President Lyndon Johnson, Secretary of State Dean Rusk rode in the car with two secret service men riding on the rear bumper.I didn't realize at the time, King Faisal had just recently freed the slaves of Saudi Arabia in 1962 just 99 years after Abraham Lincoln freed our slaves January 1, 1863. The King was also known to have implemented social and financial reforms, improved women's rights, and modernization.
It's odd what one recalls of such a distant but historical event. I distinctly recall, more secret service personnel than I have ever seen at one time. In addition I saw the King's copious personal bodyguards everywhere. I noticed a lot of armed men dressed up in bulging coats closely watching each other.
King Faisal was convinced by President John Kennedy to totally abolish slavery in Saudi Arabia. Sadly, Abraham Lincoln, John Kennedy and King Faisal who were all committed to the betterment of their people were all assassinated with bullets to the head.
God bless the United States of America, the United States Marine Corps, and Drum and Bugle Corps and all other armed forces for their commitment and service. I wouldn't be where I am today if I hadn't joined the Marines when I was 17. I've just retired from medical practice of internal medicine after 40 years of service to my patients.
Semper Fidelis, Cpl Alan Thomas MD Wilmington, North Carolina, USMC 8th and I Marine barracks 1964-1969
MSGT POP STERLING - A Legend of the Old Corps & the Barracks.
I was a damn proud Member of H&HS Co during the time I was assigned the D&B Jan 65 through Spring of 70. H&HS Co was the unsung heroes of the Barracks who made the Barracks work. They did all the dirty lifting and hauling things that made the entire Barracks have the shine that visitor's always noted. Before the permanent bleachers they erected them every week for the parades and then tore them down.
Who can forget checking in and meeting "Pop" Sterling!!! I was a proud Vietnam hash mark Corporal with over 2 years in grade when I checked into the Barracks. I had to find MSgt Sterling in Maintenance to complete my check in form. I marched into the maintenance shop and noticed an older gray headed man wearing a nearly worn out old herringbone dungaree cap, a khaki shirt (with no rank insignia) and herringbone dungarees with boon dockers. He was sitting on a stool whittling on a stick. In my finest NCO manner I asked the old fellow, "Where can I find Master Sergeant Sterling?"
He never looked up, but asked "Who wants to see him?" I gave him my rank and name and he asked "Why do you need to see him?"
I was beginning to get a bit irritated at being interrogated by some old civilian maintenance employee loafing and whittling a stick. But I did need to check so I told him, "To have MSgt Sterling sign my check in sheet."
Then he asked me where I was coming from? Now I was being given the 3rd degree wasting my valuable time so I began to get a little testy in my replies. As I answered each of his questions he only asked another until finally I got pissed off!
I am a Corporal of Marines checking into H&HS Co and I don't have time to stand around answering some civilian employee of the Corps questions. Direct me to MSgt Sterling NOW!"
The old fellow, by now had a twinkle in his eyes and he sort of grinned and asked to see my sign in sheet. I allowed him to have it and damned if he didn't sign the block in a scrawl. Well, I was happy to have a signature, even though he was obviously no "MSgt of Marines", and marched out to turn with the final block signed off on my "Check in Sheet."
While in S-1 turning in the sheet I got to talking with the Gunny Admin Chief. I told him about that signature in the Maintenance Chief's block and my incident with some "old civilian" down in MSgt Sterling Maintenance Shop. The Gunny quit writing, leaned back in his chair with a smile from ear to ear to appearing on his face. Even any half bright Cpl would instantly have realized he had just said something funny and of special interest to the Gunny. It was also something I obviously was ignorant of. Was I ever embarrassed, to learn that I had indeed met the really famous MSgt Pop Sterling! Not only had I met him, but he had played me like a fiddle while I was inserting my foot and leg, up to at least my hip, into my mouth and had been chewing on it! Instantly I knew this story was going to be the "You Won't Believe" story of they throughout all the Clubs on the Post!
Back down to the Maintenance Shop I marched and there, still sitting on that same stool and whittling, was MSgt Pop Sterling. I apologized for my in-proper military behavior I had displayed towards him. While I was attempting to dig myself out of the deep hole I had dug myself down into the MSgt kicked a stool over and invited me to sit down. I gratefully slammed my posterior onto that wonderful throne like stool! During our getting acquainted chat so normal between Marines I began to like this colorful old MSgt becoming one of his many fans. I found myself in awe of being in the presence of one of the living legends of the Old Corps! It was a feeling that grew over time as I got to know Pop even better. I even have a couple of stories about Pop stored in my hip pocket of memories.
One of the often told stories about Pop was at some point all the blueprints for the electrical lines and plumbing, and other key things at the Barracks, including the Flag Officer's Quarters and CMC House disappeared! That wasn't a big problem because Pop had memorized all of them.
There was a push on to send troops to Vietnam so Pop received orders of transfer. That resulted in a conference between the Barracks CO and CMC at which the problem was resolved and policy upheld.
After CMC was taken to HQMC for a long day at his desk, his driver returned with the Limo to the Barracks and picked up MSgt Pop Sterling in his Dress Greens and a set of Orders from HQMC transferring him to the Barracks to Marine Corps Base Quantico, Virginia. The limo driver, a MGySgt, drove Pop down to Quantico directly to the Commanding General's Office where Pop had coffee and donuts with that Major General, his SgtMaj & Pop's driver, while a young Aide to the CG of Quantico, a Captain, hand carried Pop's Check In AND Check Out sheet to all the places that hid to sign those documents. In a little over an hour the Captain returned with the completed Sign In and Sing Out Sheets and a new set of orders transferring MSgt Sterling back to the Marine Barracks, Washington, DC. Pop missed lunch but was checked back in by early afternoon.
Another story I learned from several Marine Officers and Senior SNCO's who were there at the time involved CMC and Pop. One evening CMC got out of his limo after a long day at HQMC and there sitting on the front steps of CMC House, whittling, was Pop Sterling in his Plaid wool shirt and herring bone Dungeree trousers and cover, with boon dockers. Greetings were exchanged and CMC went into his house. A short time later CMC came out and asked Pop if he was aware there was no power in CMC House. Pop admitted he was and that he was trying to figure out what the problem was. Then he added that it really was a problem only a MSgt E8 would be able to figure out and he, POP, had not been on the last promotion list to MSgt E8 meaning he would remain an E7 but an E7 Gunnery Sergeant. CMC asked Pop to take another look and he'd check to see if a mistake had been made at HQMC as he was sure had occurred on Pop's promotion E-8 MSgt. In a short time the power was restored.
Next evening CMC's limo pulled up and there sat Pop again whittling. CMC got out of his limo and asked, "Pop is there power on in the house?" Pop responded with, "AM I a MSGT E8?" CMC handed Pop his promotion certificate to MSgt E8 and the power stayed on in the house!
Back in those days whenever the President decided to go to Camp David all of a sudden the Duty NCO's, at least in H&HS Co, would run through the squad bays taking names of Marines in them and assigning them to go up to Camp David to augment the guard there. It was not considered as good duty for H&HS troops, especially on weekends! So as soon as "the word" spread that the DUTY NCO was coming to snatch up Marines, we all fled via our escape routes. Mine was either out the sally port off the mess hall, or out the window down in the Maintenance shop and I always escaped successfully! That is except for the first time while I was still a new guy!
The Barracks squad bays had no air conditioning back then and "Parade Atmosphere" was set on parade nights around 1600 hrs. This meant all windows shut tightly and all blinds turned so the lower edge pointed out. We took showers and talcum powdered down and laid as quietly as we could on our racks with all the fans turned up on high to try to keep from sweating. Our Brass was polished with polish but was not wiped off until we dressed just before parade time. The D&B Formed up in the central 3rd deck tower. The Rampart Buglers who played a fanfare at the beginning of the parade climbed wooden stairs to a platform in the Drum Major's Office and they one bugler climbed up through a trap door onto the roof, while another climbed up into the attic. Then we formed a line and passed up all the bugles to the roof and then each bugler climbed up onto the roof out of sight. When it came time to play our fanfare we marched forward three steps and immediately spot lights would hit our eyes and we would play our fanfare during a quarter turn from the waist to the left as we ended the fanfare and them smartly brought out bugles down and froze. Then the lights went off and we reversed the procedure to get back down off the roof. The first time I did this standing on the front row of the buglers and the lights hit my eyes I felt like I was going to fall over the rampart! It really was a hell of a shock to your vertigo system the first time. Then we hurried down through MCI's squad bays and down the ladder well adjacent to the CO's Office and out onto the arcade hidden by the bushes and parade activities at the center of the parade field and we quickly and quietly joined the rest of the D&B already on the parade field. Very few members of the audience noticed this movement.
After the D&B's concert at the center walk most of the soprano buglers changed from a "G-D" bugle to a B flat- F Bugler and rejoined the rear of the Marine Band, while the rest of us quietly sent up the MCI ladder well and then through the squad bays down to the D&B Squad Bay at the other end of the Barracks (south end), where we changed and left via the Maintenance back door and went on liberty while the parade was passing in review. One evening while going through the H&HS pool/recreation room Cpl Carroll "RIP" Carson (now deceased) noticed one of the venetian blinds was ajar and not at proper parade atmosphere. He tried to correct it and discovered the trouble was with the top of the mechanism. Good old RIP climbed up onto the radiator's wooden cover and reached up to free the mechanism. The Silent Drill Team was just finishing their performance and the lights were coming up when the whole blind came lose and crashing down just as the lights lit up the entire Barracks front. Yes there stood good old RIP, legs spread wide and arms spread wide with a look of pure horror on his face in his skivvies drawers and T-Shirt returning the look of the startled crowd! The incident did make the after parade critique! Of course RIP explained what had happened profusely to one and all and a great many of the Barracks Officers including our Company Command then 1stLt Ron Christmas! As RIP was well known to all of them as a good Marine that was the end of it, except of course for all our ribbing of him!
Nothing happened at the Barracks that did not involve H&HS Co troops in some manner to make it happen and every H&HS troop that I knew through those years was damn proud of what they did to make the Barracks, Center House, Building 58, the Officer's Row and the Commandant's House run!
Semper Fi
Submitted by David "DB" Wright, Drum & Bugle Corps and U.S. Marine Band, 1965-74 / USMC, 1959-74, Vietnam veteran, retired police officer, Las Vegas, NV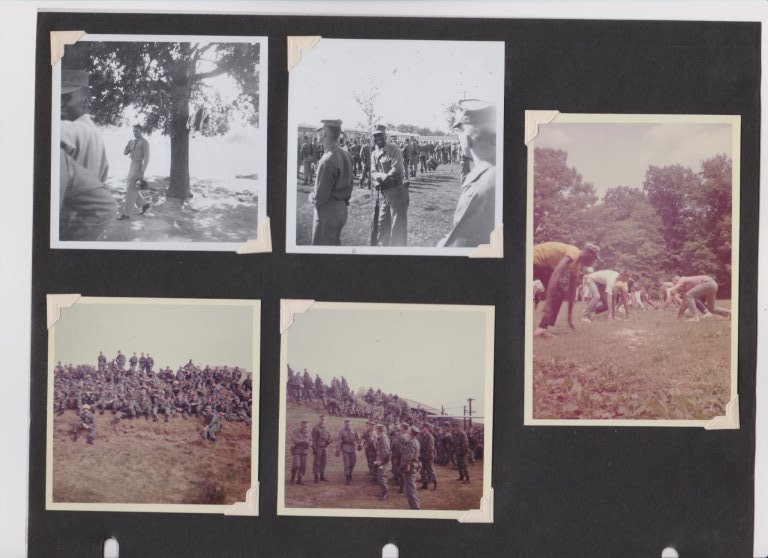 . The football shot is in the park in front of Bldg. 58. The others are at Quantico getting ready to deploy for Cuba as H 2/22
Submitted by George Navadel
1960 ... PRESIDENT DWIGHT D. EISENHOWER PRESENTED THE BELOW COIN TO 8TH & I MARINE JULIAN TROSPER,
CEREMONIAL GUARD COMPANY, 1ST PLATOON & HEADQUARTERS SECTION, 1959-1961, LONDON, KY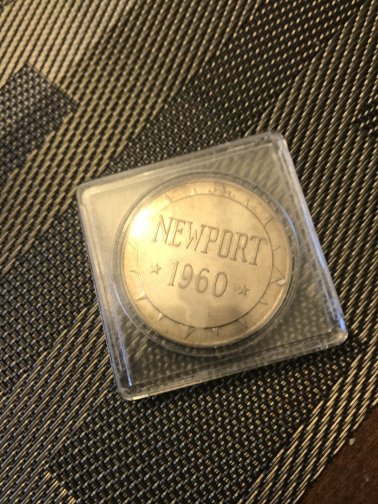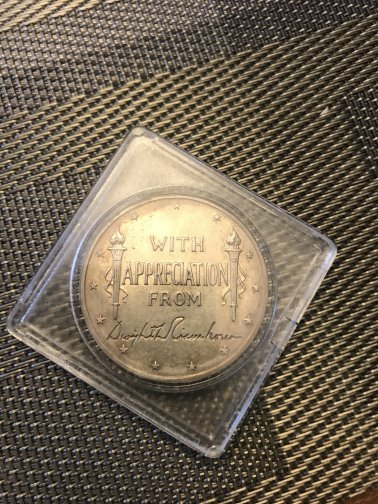 Click here to see
I. John Berrios' memories of George H.W. Bush.
Click here to see
ART MARCOTTE'S LATE 1960'S MEMORIES OF 8TH & I AND VIETNAM
Anyone having additional submissions for this page should send them to: webmaster @ 8thandI.com
Contact us at: cgccontact @ 8thandI.com - 8th&I Reunion Association
Return to top of page
©Copyright - All Rights Reserved - October 2019
8th & I Reunion Association



Design and Layout

by BT Productions