A 1992 photo of Commandant of the Marine Corps General Carl E. Mundy with the Drill Team of 1992-1993
(Identification by Steven Tomlinson)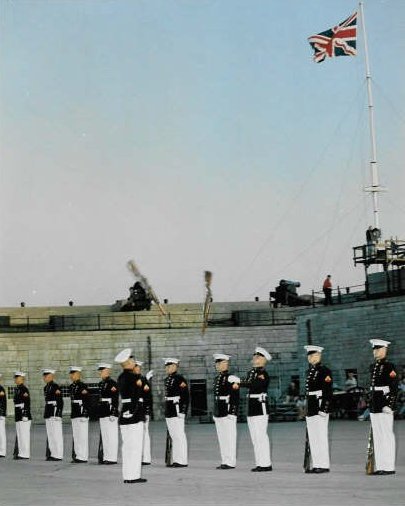 The 1993 SDT in Ottaw Canada with the Fort Henry Guard.
The inspection team shown is Cpl Todd Carswell, Lcpl Scott, and Cpl Tim Benzinger.
(Above items submitted by Tim Benzinger)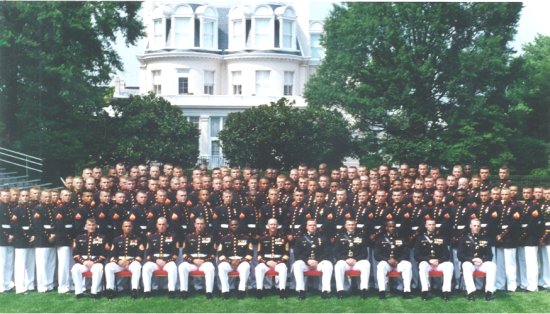 B Company - 1993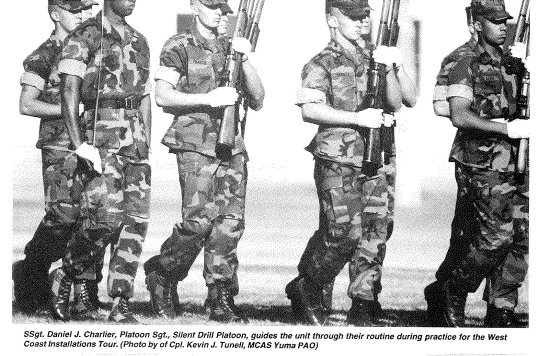 Silent Drill Team Rehearsal - 1994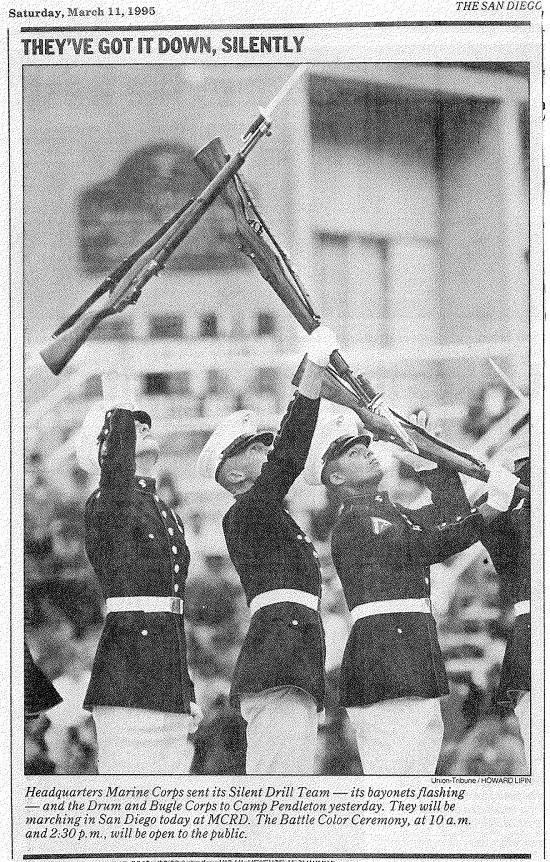 1994 Drill Team (San Diego Times Article)
(Photos submitted by Manny Salazar)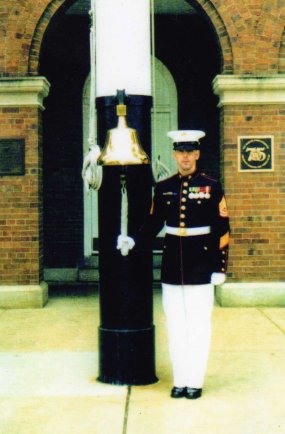 This is a picture while I was stationed at 8th & I, June 1995 to July 1997
(Submitted by Robert Perez, MCI Co., 1995-1997)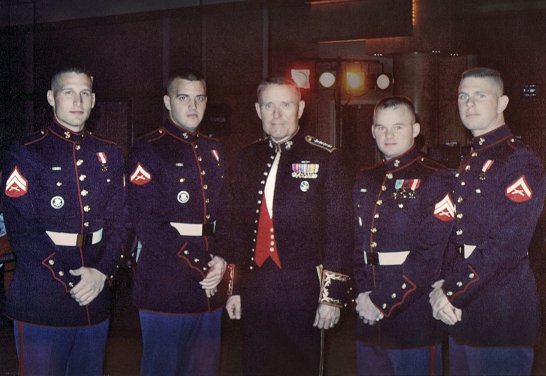 1992 USMC Birthday Ball in Washington DC. From left to right in the picture (looking at picture) 8th & I Guard Detachment - WHCA Guard Members
Far left, Me(Brad Griffin), Ben Martin, General Mundy, To the Right of General Mundy, Tom Ellis, Brian Bishop
Semper Fi, Brad Griffin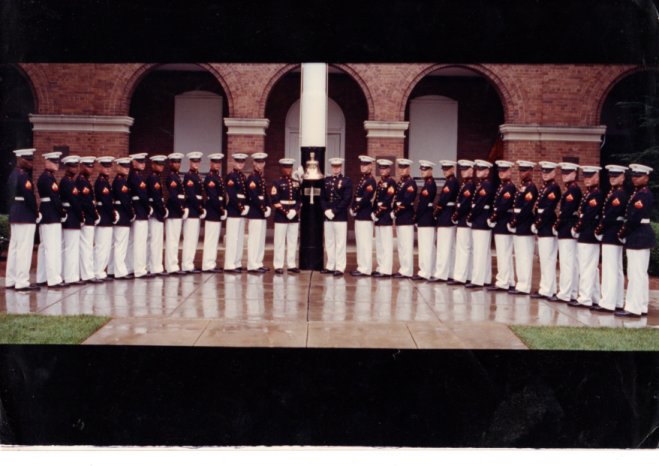 1992 B Company, 2nd Platoon
Submitted by Cpl Kevin Metcalf yrs 1990 - 1992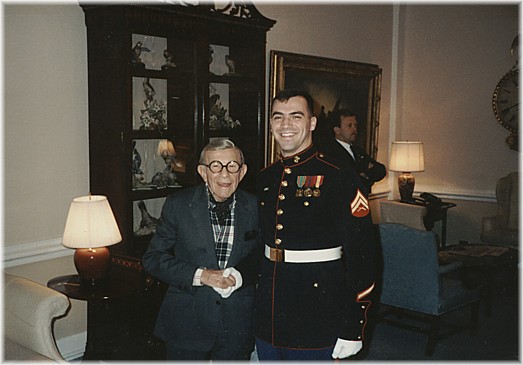 While working as a West Wing Sentry at the White House from 90-91 I had this picture taken with George Burns.
Submitted by Donald A. Szarmach, 8th & I, MCI Company and West Wing Sentry at the White House (90-91) 1988-1992, Somerset, Pa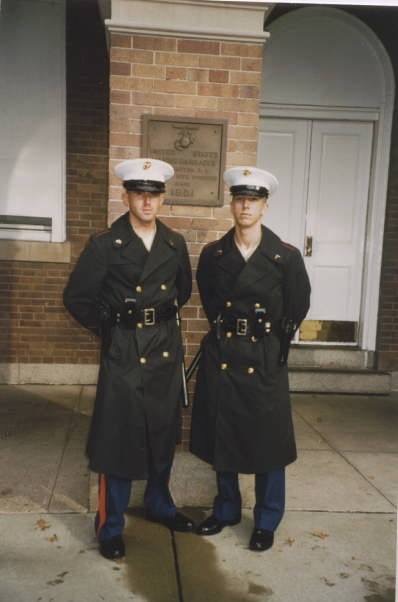 Was taken near the flag pole in the fall of 1997. I'm on the right standing with Sgt. Gray. We were giving a tour at the time.
Todd White, Guard Company & MSC Camp David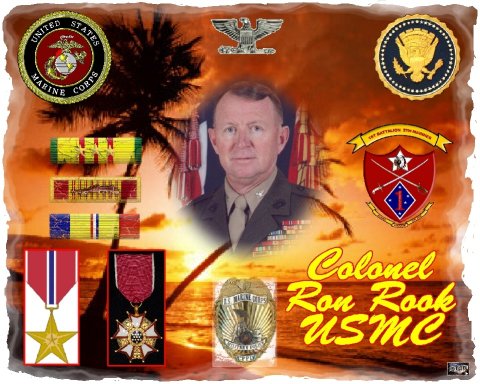 Colonel Ron Rook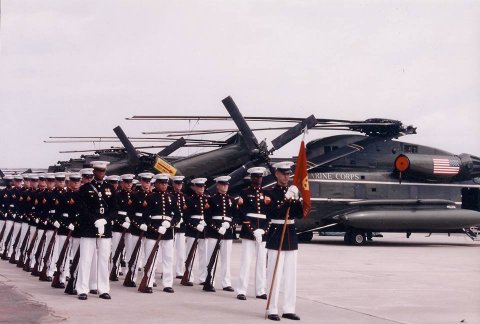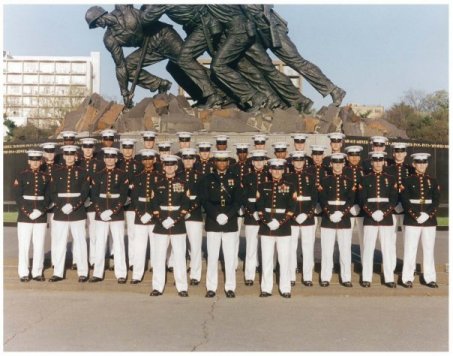 L to R: 1994: Co. B 3rd Plt at Quantico for Weapons Expo and 1994: Co. B 3rd Plt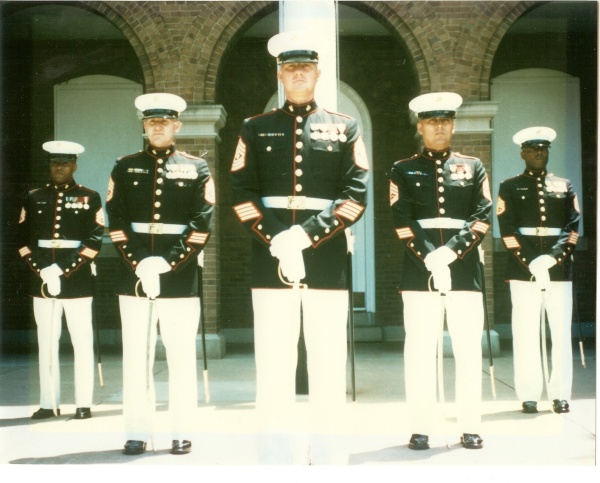 1994 Bn Parade Staff
L to R: Darryl Self. If you remember the other men please let us know.
Anyone having additional submissions for this page should send them to: webmaster @ 8thandi.com
Contact us at: cgccontact @ 8thandI.com 8th&I Reunion Association
Return to top of page
©Copyright - All Rights Reserved - November 2017
8th & I Reunion Association




Design and Layout

by BT Productions