The 8th & I Reunion Association
An organization of Marines
who served at
Marine Barracks
8th & I Streets, S.E.,
Washington D.C.
Historical Events of the 1960's




The End of the Pre-WW II "Squads Drill"
In 1953-54, 8th&I adopted the old (Pre-WW II) "squads drill" (8-man squads, standing 4-abreast, 2 deep), replacing the pre-WWII Landing Party Manual drill (squad of 13 men, all abreast).

The squads drill was ideal for ceremonies, was very precise in its movements, and a favorite with the troops and the crowds. In passing in review, each platoon formation consisted of 2 ranks of 12 men abreast (much more impressive than three ranks of 8 jammed together).

An excellent photo of the overall effect of the squads drill during the pass in review can be seen in the 1955 Leatherneck page entitled "Post in the Corps" at the top of the "History of the 1950's" page.

Much to the chagrin of the ceremonial troops, the squads drill ended in 1961. For Steve DeBock's interesting history of the demise of the squads drill, click here.
Other significant events in the 1960's not shown below can be found in the wonderful collection of photos submitted by 1st Lt/Capt Bill Lee, which can be viewed by clicking here.


John F. Kennedy Inaugural Parade
(over 2,000 Marines marched)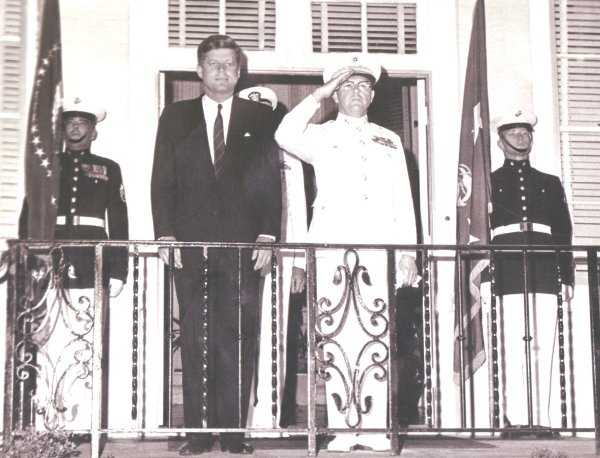 President Kennedy visits the Barracks, here pictured with
Commandant David M. Shoup.
Bearing the Presidential Colors is SSgt Lou Blank, who retired as a 1stSgt
and lives in Dayton Ohio. Bearing the Marine Colors is Leo Marcum, who is
an attorney and lives in eastern Kentucky.
(Photo submitted by Barry Siegel)
(Identifications by Bob Neal)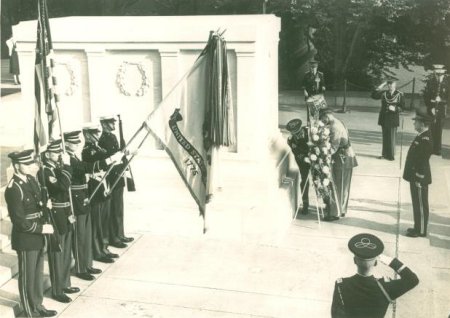 Crown Prince (later King) Harald of Norway at the Tomb of the Unknowns, September, 1960
Kenny Arp with USMC Colors, Herb Muller, Rifleman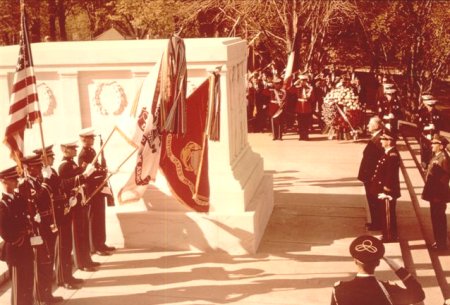 President Charles De Gaulle at the Tomb of the unknowns
Kenny Arp with USMC Colors, Herb Muller Rifleman
(Item submitted by Herb Muller)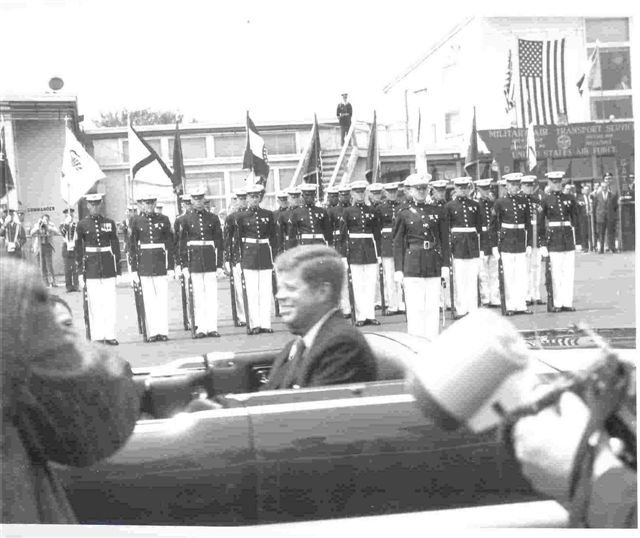 President Kennedy arrives at the Military Air Transport Service Terminal
at Reagan (then Washington National) Airport - with 2nd plt., CGC in 1962.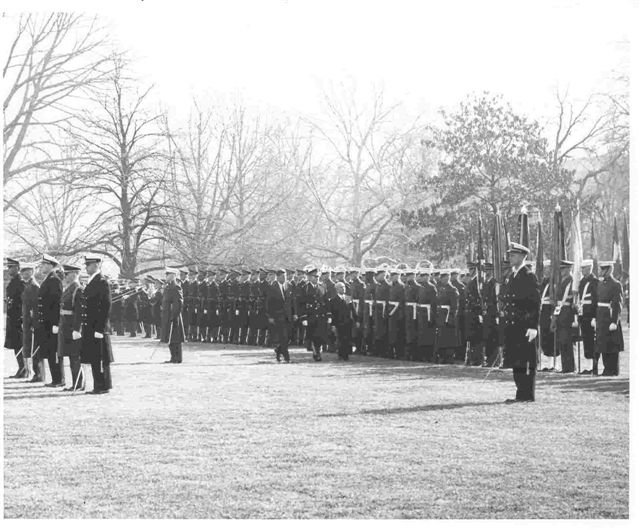 President Kennedy, with Italian Prime Minister, troops the line
on the White House Lawn (inspecting 2nd plt., CGC - 1962)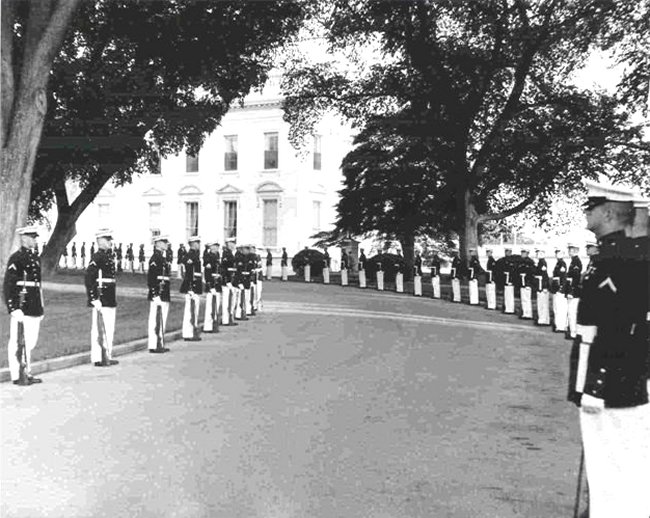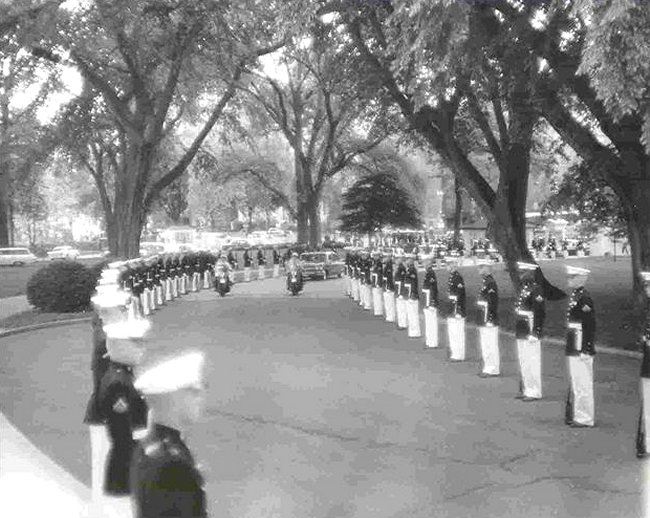 2nd platoon participation in the the arrival ceremony for the Shah of Iran at the White House (May, 1962)
(Above photos submitted by George Navadel)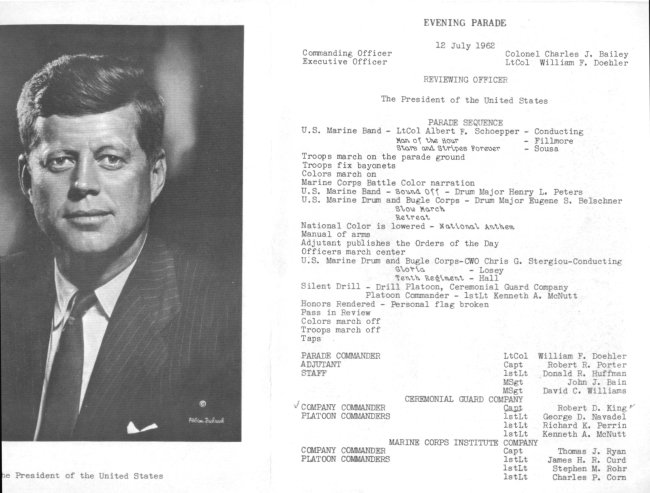 Parade program on the occasion of President Kennedy's visit to the Barracks
Submitted by Col. Robert King, USMC (Ret.)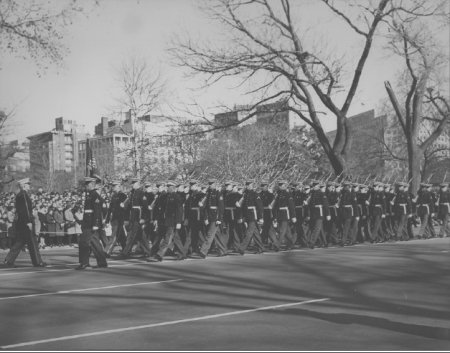 All CGC plts & Drill Team march in Kennedy funeral parade Nov 25 1963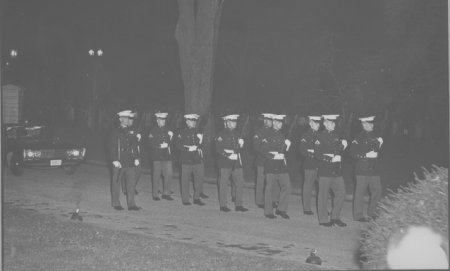 At the north portico of the White House, the 3rd squad of the Drill Team
escorts the Presidential hearse home
(Official US Army photos)
(Items submitted by Terry Slack)
Security at my church found this article on Kennedy's Body Bearers. Quite a story and not long after we got out. Whitey
8th & I Marine Whitey Leines, Ceremonial Guard Company, Color Guard, 1958-1961, Alpharetta, GA
Gil, This is from William Manchester's book, Death of a President. It refers to Sam Bird, the man I spoke of yesterday, who led the President Kennedy's casket team.
"His team still had to bring the coffin back down the Capitol steps. The prospect had them petrified. Ordinarily, six men could lift a casket with ease. Today [November 24, 1963], Bird had added a Marine and a sailor, yet they had barely made it, and the descent was bound to be more difficult than the ascent, for they wouldn't have him [Lt. Bird] bracing them from the rear.
"One young Army specialist had worked himself into a state of semi-hysteria; he was convinced that they were going to drop their precious burden on the marble and split it open before the eyes of a hundred million Americans. ....
"[Lieutenant Bird] himself, he confessed later, was "near panic." Therefore, he decided upon a drastic measure: they would spend the night rehearsing.
"The ensuing scene was perhaps the most bizarre of all those played out in the small hours of November 24-25. Borrowing a regulation Army casket from Fort Myer's honor guard company, the team drove it to the Tomb of the Unknown Soldiers at midnight, filled it with sandbags, and slowly carried it up and down, up and down the tomb's steps.
"After sundown, the Unknown Soldiers' guard doesn't have to walk back and forth, so Bird ordered him to sit atop the coffin. Up, down, up and down the team trudged with the man straddling the lid.
"Finally, the Lieutenant stopped them, told the guard to make room, and HE got on, too. Lugging a sand-filled casket and two bodies, the eight bearers made the trip again, again, again, again. It was cruel, but absolutely necessary; his men had been demoralized, and now, sweating in the dark, they felt a flicker of hope." -- Page 561
=======================
"Lieutenant Sam Bird had drawn the casket team around him in a tight circle. "Bow your heads," he said. He closed his eyes. "Dear God," he prayed, "please give us strength to do this last thing for the President." ....
"To the hymn "O God of Loveliness," casket team and casket came down the thirty-six steps. But today there was no strain. The fantastic weight of yesterday was gone. The coffin seemed incredibly light, and since it seemed that way to each of the eight bearers, who could neither speak to one another nor even exchange glances until it had been lashed to the gun carriage, the power of suggestion must be ruled out.
"Last night's lockstep torture at the Tomb of the Unknown Soldiers had been a success. It had broken their dreadful spell of fear, and they withdrew in wonder." -- Pages 576-577
Submitted by Russ Plyler
http://www.ranger25.com/B%202%2012%20Kennedy%2011%2025%2063.htm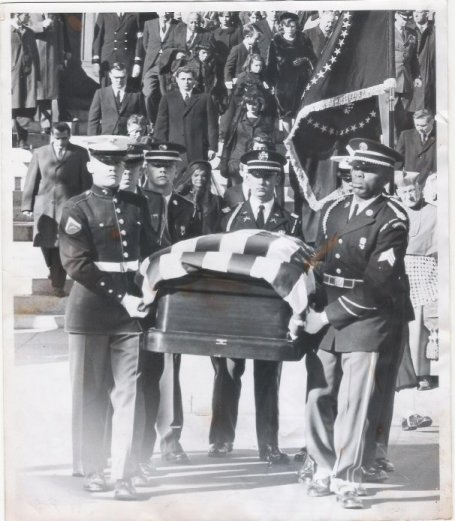 (submitted by Bill McClements)
Burying Kennedy: President's funeral detail looks back at November 1963 - 2013 Ceremony honoring JFK
Article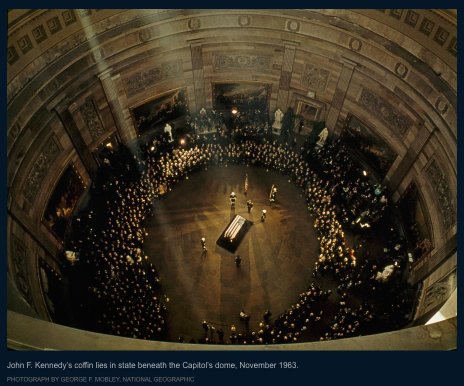 (submitted by David Melchior, 8th & I, Ceremonial Guard Company, 1958-1960, San Diego, CA)
8th & I Marine who worked closely with JFK and family recalls memories - Dallas News | myFOXdfw.com The two social aides during the time the Kennedy's time when they were receiving State guests at the White House were Captain McClendon "Mac" Morris and myself, a lieutenant at the time. Lt. Dwaine Wills was a social aide with Mac for the first social event that was held at Mount Vernon and then I came on. When Jackie became pregnant, social events tailed off in the spring of 1963. I was in invited to the honorary citizenship event in the Rose Garden for Winston Churchill as I was leaving the Barracks for Sea Duty. That may have been the last social event. Unfortunately Mac is deceased. Lt. Dave Lafave followed me as a social aide. He dated Linda. He may be able to provide details of any social activities prior to the tragedy in Dallas. Somewhere in my memorabilia stash I have a list of all White House social events and will look them up if there is an interest.
~~~~~~~~~~~~~~~~~~~~~~~~~~~~~~~~~~~~~~~~~~~~~~~~~~~~~~~~~~
After a couple of hours searching, I came up with my records of ceremonies we participated in during my time at the Barracks - December '60 to April '63. There may be others as I concentrated on the 2nd Platoon but it is pretty good. Unfortunately, I do not have dates. Others may be able to fill in any I may have missed.
Presidential Receptions:
Mount Vernon 11 July '61 President of Pakistan Barracks Marines provided the Honor Guard
White House - Congressional Reception
- Shaw of Iran - State Diner
- Nobel Prize Winners
- Miss Porter's School - Jackie enrolled Caroline.
- Military Reception - Guard Company provided a cordon from the White House front gate to the front door.
- President of Tunisia - State Diner - Drill Team, Drum and Bugle Corps and Color Guard performed on back yard of White House at night.
- President of Italy - Military Honors on back lawn of the White House - daytime..
- Presidential Visits: Most involved arrival and departure ceremonies.
Ivory Coast, Ceylon, Panama, Venezuela, Chile, Peru, Mali, Republic of China, Japan, Togo, Cameroon, Nigeria, Finland,
England, Norway, Rwanda, Venezuela, Laos - Guest - Conrad Adenaurer, - Honorary Citizenship - Winston Churchill
Street Parades for:
Kennedy Inauguration.
Presidents of: Peru,Tunisia, Pakistan,Venezuela, Morocco (included an arrival ceremony at Union Station - The King did not like to fly.
Guard Company provided Marines for security on the ship bringing him to the United States. Isaiah Prophet of 2nd Platoon was the one
who told an overbearing reporter,"You are not going in there!" ending the confrontation and making the news.
George Washington's Birthday Day in Alexandria Virginia.
Here is a bit more on details while I was at The Barracks:
Blair House Security Details: Presidents of Italy, Venezuela, Laos, Finland
Sec Defense Arrivals at Pentagon: France, Norway, CinC Allied Forces Europe, Libya, Japan, West Germany, Italy, Shaw of Iran
Sec Navy Arrivals at Naval Gun Factory: Thailand, Yugoslavia, France, Finland, Allied Command Europe, President of the US, Greece, Japan, Australia
Wreath Laying at The Tomb of the Unknown: Philippians, Laos, Venezuela, Columbia,Ivory Coast, Norway, Togo, Cameroon, Finland, Nigeria, Republic of China, Congo, Tunisia
CMC Arrivals: Argentina, Republic of China, South Korea, Thailand, British Marine Corps
Other Events:
Presidential Arrival at the Naval Academy
Cordon at Watergate for Marine Band Concert
Daughters of the American Revolution Street Parade
Lincoln's Birthday Cordon on steps of the Memorial - All Three Years
USS Ault - Medal of Honor
American Legion Memorial Service
Eastman Kodak Picture at the Iwo Jima Memorial
Sons of the American Legion Commemorative
Commissioning of the USS Keller - Destroyer Escort
Flaming Sword Memorial Dedication
Netherlands Carillon
The two social aides during the time the Kennedy's time when they were receiving State guests at the White House were Captain McClendon "Mac" Morris and myself, a lieutenant at the time. Lt. Dwaine Wills was a social aide with Mac for the first social event that was held at Mount Vernon and then I came on. When Jackie became pregnant, social events tailed off in the spring of 1963. I was in invited to the honorary citizenship event in the Rose Garden for Winston Churchill as I was leaving the Barracks for Sea Duty. That may have been the last social event. Unfortunately Mac is deceased. Lt. Dave Lafave followed me as a social aide. He dated Linda. He may be able to provide details of any social activities prior to the tragedy in Dallas.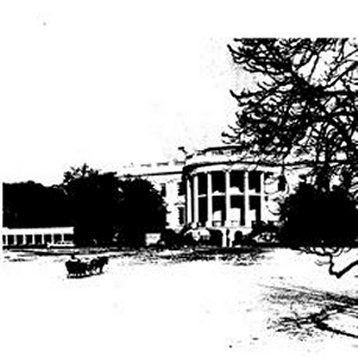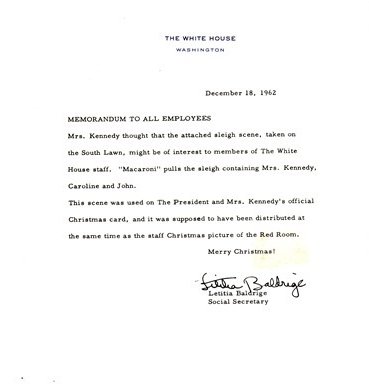 Miss Julie Gipson was the headliner at the Casino Royal before going to NYC and The Latin Quarters in 1962. (That entails another story.) I received a challenge from one of the officers at Center House to see if I had the "presence" to get Julie to come to a dinner with the bachelor officers. I had never met Julie but took in her performance and sent my calling card back stage and was surprised when she came to my table and accepted an invitation on the only date she had available before heading to NYC. It was the day she was unveiling the new 1963 Buick at the DC dealership. She thought she could make it by 1800. She did not make it until close to 1930 and I was about to be thoroughly roasted by my fellow mess mates when she came through the door. Now to the troopers of the Barracks Guard. Julie's arrival was "noticed" by the sentry at the gate and complied with his General Orders and notified the Corporal of the Guard. During after dinner cocktails, Corporal Chesty was paraded through the Center House bar no less than two times by the off-going and in-coming Corporal of the Guard. Upon Julie's departure, both the on duty and off duty sections of the Guard paraded in the Barracks parking area, forming a cordon to get real good looks of Julie (and she was dressed to kill) as I escorted her to her car. I am not too sure about what my fellow mess mates thought of me, but I believe I was the favorite officer of the day for the Guard. When I returned to my desk at the Gun Factory Monday morning, my platoon had a stack of Julie's pin ups on my desk with a note, "We can't cut the lieutenant's girl." Now that was a terrific assumption on their part that I was in no hurry to dispel.
That is the unvarnished account of the visitation . Lots of happenings followed but did not carry to the troops.
I do have a photo Julie used as a post card. It was the pose that appeared daily on the entertainment section of the Washington Post.
What a terrific tour I had at the Post of the Corps!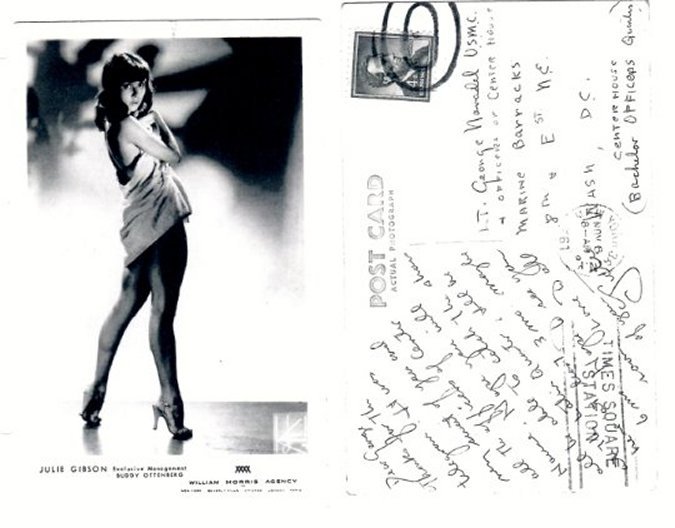 (submitted by Col Navadel, 8th & I, Ceremonial Guard Company, 1960-1963 / Silver Star - Vietnam / USMC, Ret.)
*Just a footnote to Col. Navadel's recollections re the state visit, I believe Halle Salasi of Morocco, who was indeed afraid to fly. I was one of the guard members flown to Rabat along with Isaiah Prophet, Michael Jenkins, and Cpl Smith. I believe there were 9 or 10 total. We all came down with strep throat on the MATS flight over in the uninsulated plane, which included stops in Newfoundland or Iceland, and Scotland. One of us went to sick bay in Rabat and in a very short time we all were ordered to sick bay for treatment. The trip included an ocean voyage aboard the SS Constitution from which we docked in New York. My first meal was pheasant under glass. I've had Pheasant many times before so I wondered what was so special. Our duty stations included two posts inside at both ends of his stateroom and the deck outside.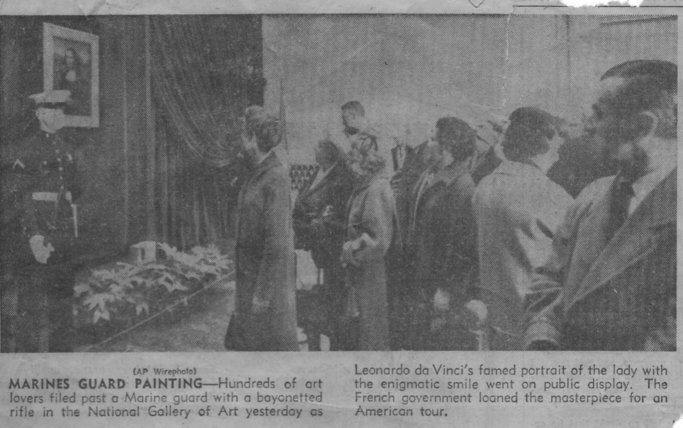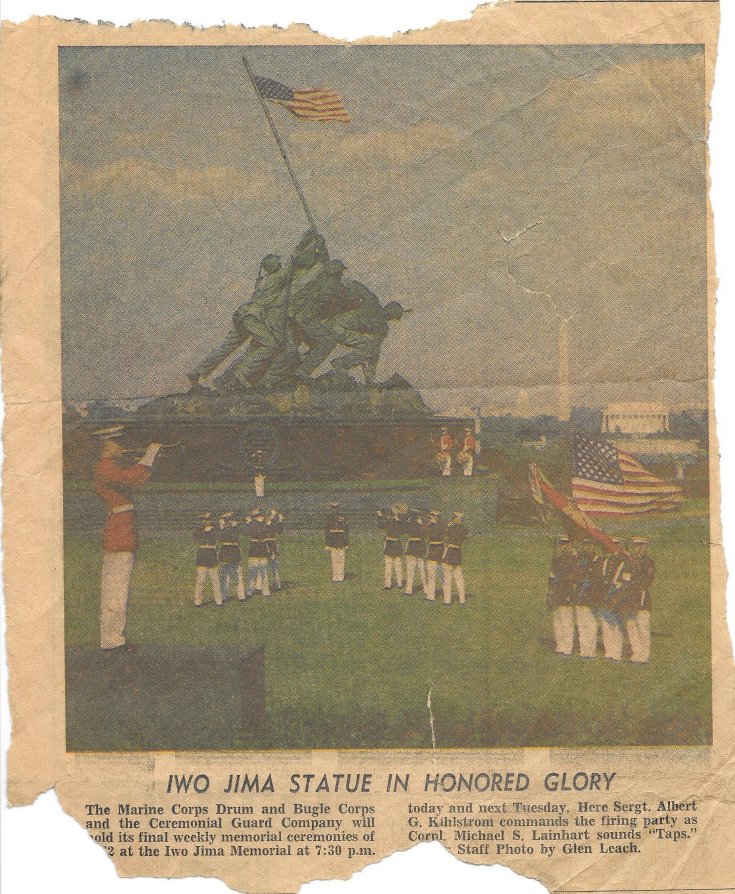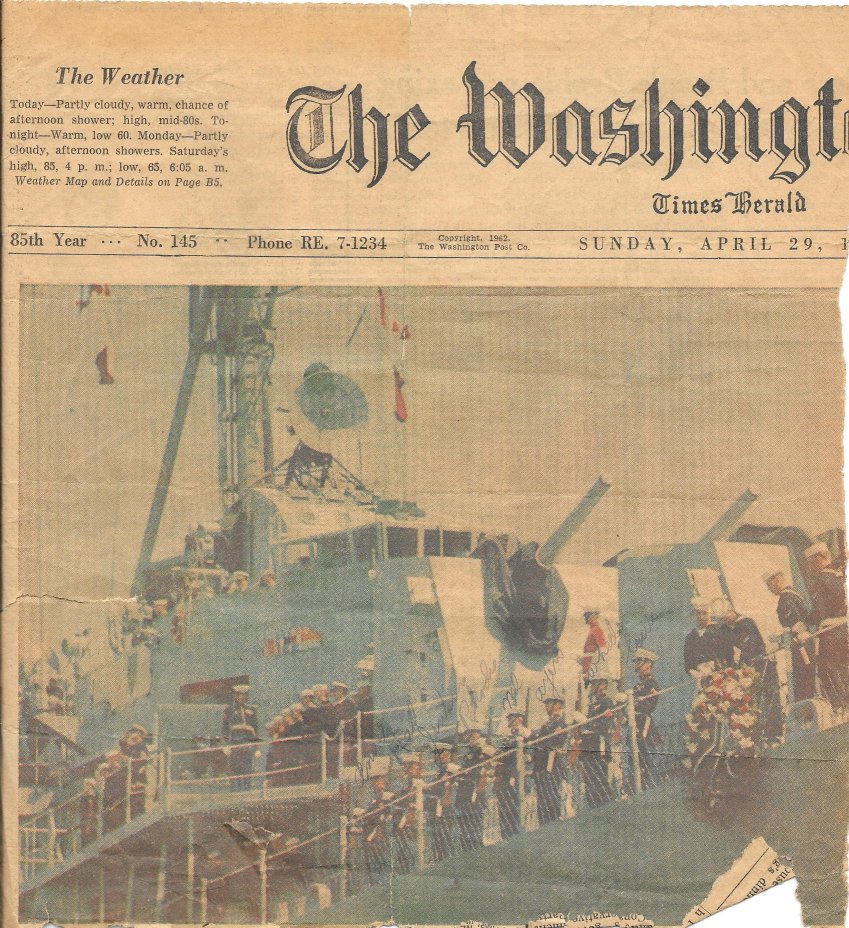 I found these pictures the other day and want to forward them to you. The first is of me with the Mona Lisa, The second is at the memorial and mentions a couple guys so they might like to see it. I probably was in the firing party but I'm not sure but that's the only reason I would keep the picture. The Third is of a firing party for a wreath laying aboard a DE in the Potomac in April of 62. Col Navadel might have some memory of this too. At the time I did write in the names of we who were in the firing party, I believe the Commander is Cpl. Smith. The rest are from left to right, Davilla, Hall, Jenkins, Rhodes, Me, Ayers, Wheeler, and Lewis.
Semper Fi.
Jim Benson 61-63
Submitted by Jim Bens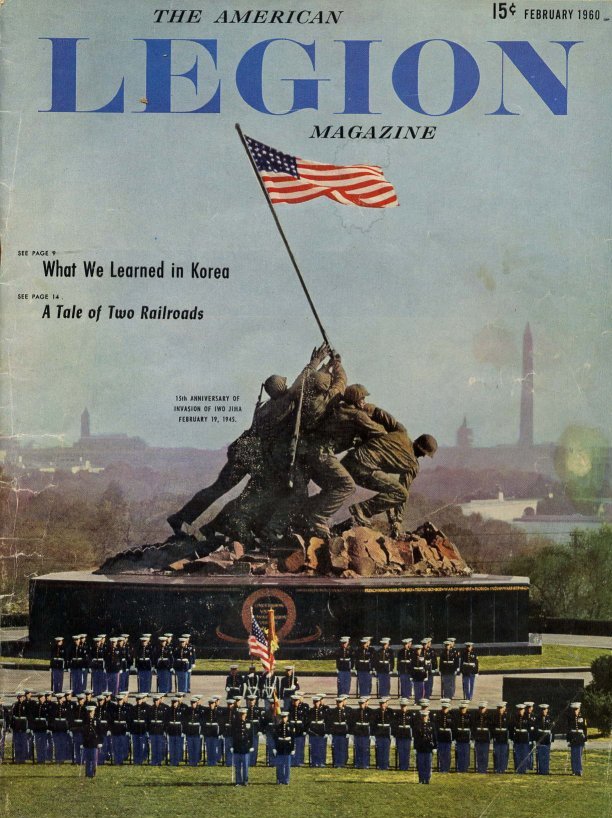 Notice the price in the upper right corner!
(submitted by Bob Rowe)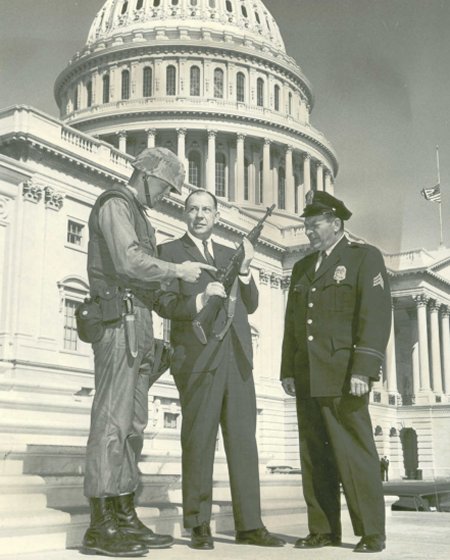 During the Barracks participation in restoring order to DC in the 1968 riots
following the assassination of Rev. Martin Luther King, Jr. —
Don Maurer on the US Capitol steps with his Congressman, Bill Ayers and US Capitol
Policeman Frank Scalzo (now deceased) from Don's hometown of Akron, Ohio
(submitted by Don Maurer)
~~~~~~~~~~~~~~~~~~~~~~~~~~~~~~~~~~~~~~~~~~~~~~~~~~~~~~~~~~~~~~~~~~~~~~~~~~~~~~
12-3-14 ...... 1968 RIOTS IN WASHINGTON, DC
I look at photos (2014 riots in Ferguson, MO) and it instantly reminded me of the 1968 Martin Luther King riots in DC. We were held within the walls and fences of the Barracks until around 2330 hours when Military District of DC finally committed us and the 3rd Infantry Troops from Ft Myers into the streets. I was a SSgt and in charge of the Immediate Reaction Force for the Main Gate. We stayed on the band hall porch across from the main gate and just inside it. So we got to watch it all go down. My wife had been in Hecht's store down town when the first brick was thrown through one of their windows. She and a couple of attorney's (they all worked at the US Court of Military Appeals just down the street) took off running for the court house and reported what they had seen to the Chief Judge. He immediately ordered everyone to go home. My wife called me at the D&B and told me about the riots and I told her to get home to Waldorf. I grabbed binoculars and climbed up the ladder to the top most roof of the center of the Barracks and didn't need them. I could see the smoke rising up from downtown DC and it instantly reminded me of some of the things I had seen in the Far East but couldn't believe was happening in my own country. I ran down to Col Feagan's office and told him what was happening. As I was doing so and he was issuing alert orders the phone rang and it was the Military District of DC ordering full preparations for anti riot work but to remain in the Barracks and Navy Yard.
We watched the cleaners where our uniforms were cleaned looted and clothes carried away in mass. A furniture store across the street had it's glass front door broken out when a nice console 25" TV was thrown through it by two black men. They then pushed it down the sidewalk on it's wooden top. A Black lady came out holding a nice coffee table with marble inlays. The inlays fell out onto the sidewalk and broke. She dropped the table, went back in and got another one just like it and walked away with it holding it upright so they wouldn't fall out and break like the first ones did. Later on in the evening a 2 1/2 ton stake bed truck pulled up and a group of black men went into the store and loaded that truck up, even taking stuff away from other looting blacks.
Then the uniform shop that did all our tailoring was set on fire. A group of very senior, older, SNCO's had been designated as fire party. So they grabbed up the 2" water hose and "ran" dragging it behind them until they reached it's maximum stretch and then turned on the fire hydrant in the Barracks. They were all braced against the expected heavy water pressure and intended to shoot a stream of water through the fence across the street and into the burning uniform shop. There were so many fires in the city that the water came out with barely enough strength to span the sidewalk alongside out side of the street.
The police were at normal strength and had put out a full recall but in the meantime they were ordered not to make any arrests unless it was a murder in progress. So the police cars would roar from one looting to another chasing the people away. Didn't take them long to figure out they weren't getting arrested and adjusted their looting accordingly.
At one point Col Feagan and LtCol Wilson with a guard with a radio in their dress greens strolled around the outside perimeter of the Barracks. At one point some street thug ran up to big Joe Feagan and told him they were going to burn us Marines out! Col Feagan gave him his I'm going to war face and told him to get out of his way before he reached into his chest cavity and extracted his heart! The guy ran for his life. Col Feagan was a tall lean hard looking Marine Officer and showed it that night on his "stroll". Not long after his stroll the Oxon Hill VFD engine rolled up to fight the uniform shop fire aiding DCFD. A lot of Md. VFD came into the city during this long period of riots.
Finally at around 2330 hrs. the orders came down to move out to the Capitol Power Plant and secure it as well as the Capitol itself while the 3rd Infantry secured the White House and went up into NE where they were burning down whole blocks. It was also reported that the police would begin making arrests and holding them at the Redskins practice field to the south of RFK Stadium as they were up to full strength. When we opened up the front gates and out came our Riot Control Company with sheath fixed bayonets and files at the port in double time, all you could hear up and down the streets were people screaming, "HERE COME THE MARINES! RUN!" And it was like Shazam the streets were clear. At the same time Guard Company came out the old gate at the end of the street in the same manner. Much later one of the troops who had been at the power plant told me about after they arrived several older black ladies came out of their nearby homes and brought freshly baked cookies thanking the Marines for protecting them and their homes!
Quantico sent up enough Marines to form a Battalion complete with a LtCol who apparently thought himself a combination of Patton and Chesty! He was putting Marines on report for failing to have the lace over each other properly, not having spit shined boots, etc., etc., etc.. They had opened up sections below the Capitol that had not been used since the Civil War for them to use as billets. When Col Feagan went down to check on "his" Marines and the LtCol handed him a tall stack of report slips he tore them up in front of the LtCol and explained his theory on handling Marines and what he expected of that LtCol when dealing with "HIS" Marines!
Col Feagan ordered our mess hall to stay up 24 hours a day and we feed any policeman or fireman who came through our gates. I got to know a lot of them being on the main gate throughout the whole incident. They really appreciated it immensely because all the businesses were closed, or burnt down. Also early on the first evening Col Feagan arranged for groups of us to go out and drive our vehicles down into the Navy Yard and park them there. Then we would board one of the Barracks vans "Like a bread truck" back to the Barracks until we all had our vehicles out of reach of the rioters!
I remember Easter Sunday came nearly at the end of the riots. The street in front of the Barracks looked like one of the movies about the "Easter Parade" as everyone had brand new clothes in all kinds of colors!!!!!!!
I'm sure that many of the rest of you have memories of these riots. I know they have stuck with me vividly to this very day. I still have difficulty understanding how something like Ferguson can happen and even am further amazed that a single person would try to justify everything that has occurred since the shooting! Guess I'm just getting to be an old man.
Submitted by 8th & I Marine David "DB" Wright, Drum & Bugle Corps and Band, 1965-1974, Vietnam veteran, Las Vegas, NV "Semper Fi"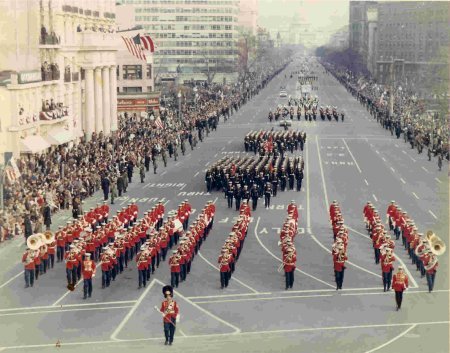 1969 Inaugural Parade of President Richard M. Nixon
(Submitted by Pete Heiss and Bill Coleman)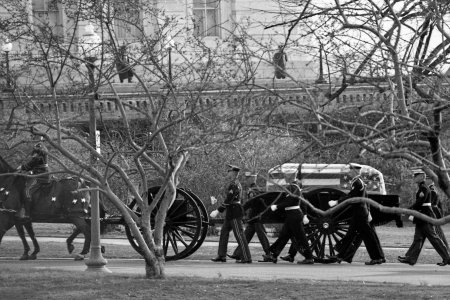 The funneral procession of President Dwight D. Eisenhower in 1969.
Cpl. Jim Shope is on the front right of the caisson, and Cpl. Roger Albrecht is
at the left rear (nearest the field of stars).
(Photo submitted by Bob Rowe, and Marines identified by Skip Quant)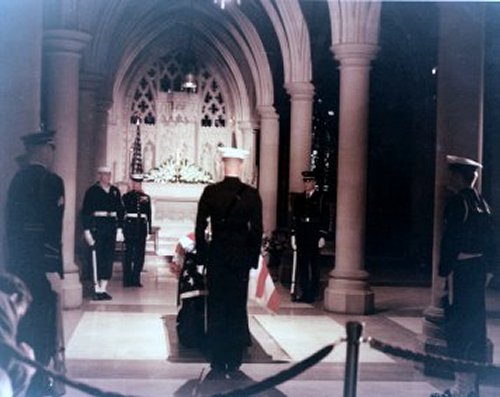 President Eisenhower lies in State at the National Cathedral
March, 1969
The Marine officer with his back to the camera is the late Frank M. Izenour, Jr., 2nd platoon. Skip Quant is the Marine Sgt. facing the camera next to the flag. In May of 2004, Skip went to West Point and pinned gold Lt's. bars on Chris, Lt. (later Lt. Col.) Izenhour's son, as shown below.



(Items submitted by Skip Quant)



1961, 8th & I Yearbook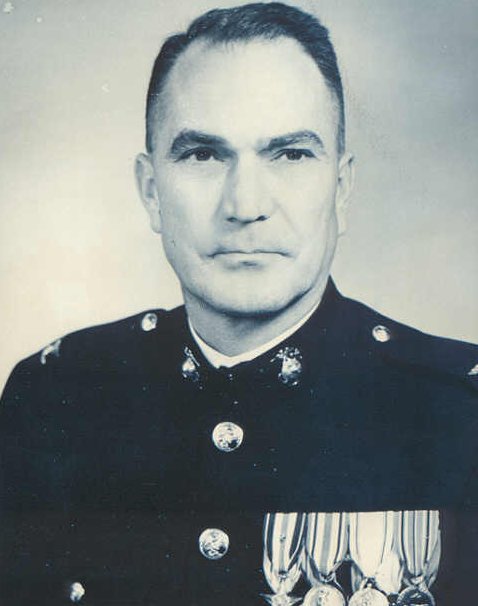 Colonel Charles J. Bailey Jr., Barracks CO - August 1960 - August 1962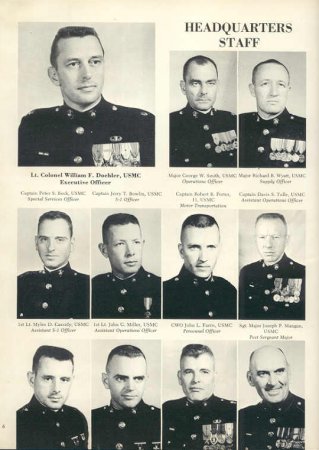 Barracks Headquarters and Staff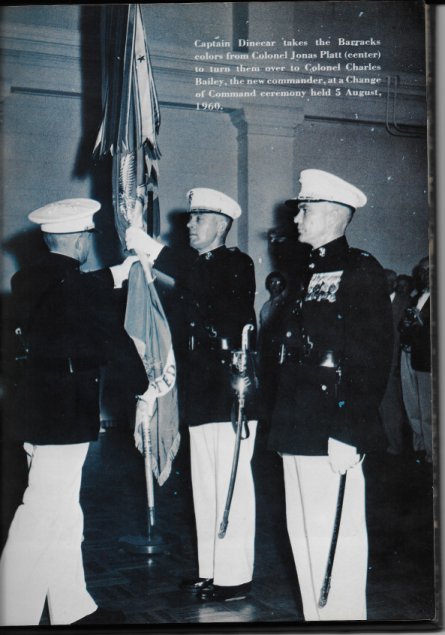 8-5-60, Change Of Command Ceremony; Col. Platt / Col. Bailey
Submitted by John Reim Ceremonial Guard Company, Silent Drill Platoon, 1958-1961, Franklinville, NJ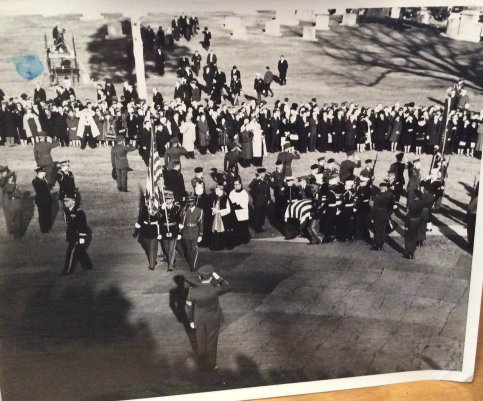 November 1963, President John F. Kennedy's Funeral Detail
Left to Right: T. Cheek, front, J. Diamond, rear. I think H. Moffett, CG rifleman.
Submitted by 8th & I Marine R. Nelson Whipkey, Ceremonial Guard Company, Body Bearers Section, 1963-1965, Moundsville, WV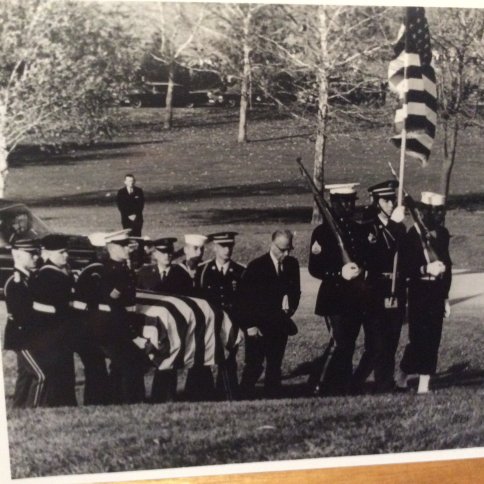 October 1964, Funeral for President Herbert C. Hoover, West Branch, Iowa

LEFT to RIGHT: L. Pittman, rifleman, R. Nelson Whipkey , front of casket, J. Dockeral hidden in rear.
For more information about President Herbert C. Hoover, click on this link, http://hoover.archives.gov/ .
Submitted by 8th & I Marine R. Nelson Whipkey, Ceremonial Guard Company, Body Bearers Section, 1963-1965, Moundsville, WV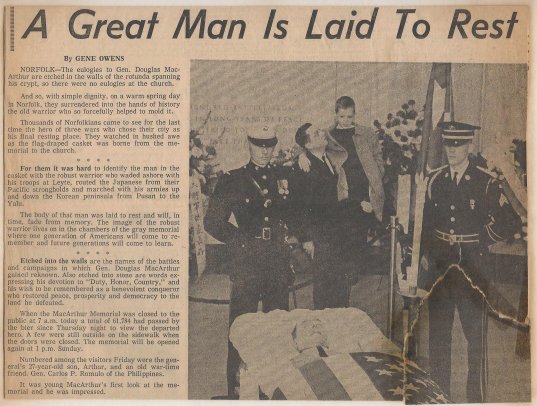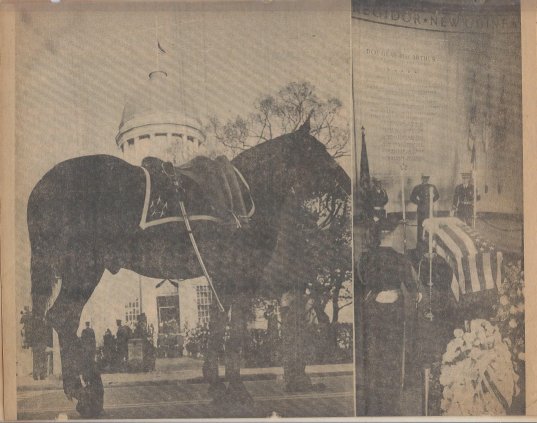 April 1964, Death Watch for Gen. Douglas Macarthur


These pictures of the MacArthur state funeral death watch were taken at the place of burial for him, and eventually his wife, Norfolk, VA. The Drill Team and I first flew to NYC, where he died and his remains were prepared. He lay in state initially in the funeral home which prepared him, then in the 7th Army Armory, downtown Manhattan.

He was then loaded aboard the caisson, taken to Pennsylvania Station, and by rail to Washington, D.C., where he lay in state for several more days in the Capital Rotunda. Meantime, the Drill Team and I flew to Norfolk, ready for the final phase in the memorial, which had just been completed with memorabilia from his entire life and career. The troops were the very first to be able to tour the memorial, as it had not opened to the public yet. Total time above ground was two weeks.

Click on this link for more information about Gen. Douglas MacArthur, U.S. Army .... https://en.wikipedia.org/wiki/Douglas_MacArthur

Submitted by 8th & I Marine Robert "Mustang" Reed, Ceremonial Guard Company, Silent Drill Platoon & Barracks Adjutant, 1963-1966, Vietnam veteran, Bigfork, MT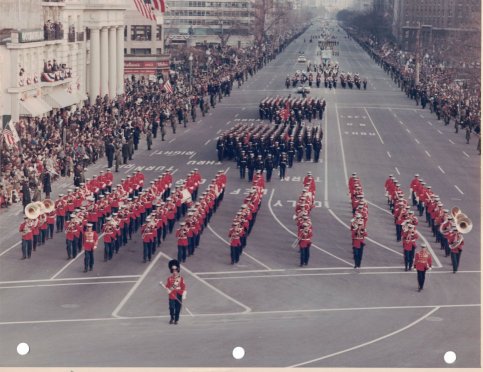 DAVID "DB" WRIGHT'S MEMORIES OF PRESIDENT LYNDON BAINES JOHNSON'S INAUGURATION PARADE ON JANUARY 20, 1965

2-12-17 ... The below LBJ inauguration parade photo was taken on 1-20-65 in Washington, DC.

The Drum Major of the Band is MGySgt "Hank" Peters. Note; the Brass faceplate Crest of the Band on the front of his Bearskin Cover. For those of you who have never seen the inside of these monsters they have a bamboo (like) frame over which is stretched and attached the Bearskin. When it gets wet in rain it stinks quite a bit until it dries fully.

The US Marine Band, "The President's Own" is marching on a 10 wide front with the two Assistant Directors behind and to the flanks of the Drum Major. The last 4 Ranks of the formation is filled by the US Marine Drum and Bugle Corps, "The Commandant's Own." Their Bugles (no Contra Bass Bugles being used) just Soprano, Baritone, Bass and French Horn Bugles all pitched in key of B flat -F in order to play in same key as band's instruments.

Directly behind the Band is Colonel Carney, Barracks Commander and his Staff and Brks SgtMaj. They are followed by the Commander of Ceremonial Guard Company, Capt "Tracks" Lee, (Bldg. #58 Navy Yard) his Company 1stSgt and Co Gunny with Guidon and Ceremonial Guard Company. Next in line of march is the Color Guard of the Corps with our National Colors and Battle Colors of the Corps followed by the CO, 1stSgt and Co Gunny of MCI Company and MCI Company

. There is a car carrying a Marine Dignitary followed by the Quantico Base Marine Band and smaller Marine Unites following them.

I had only checked into the Drum and Bugle Corps a day earlier so had no Dress Reds yet and was still in the process checking in and not yet met CWO Stergiou. Just a few of the troops in the squad bay so I spent that day squaring away my uniform to meet Mr. Stergiou the next day. I recall it was really cold and I had watched all the troops putting on their thermal underwear and made a mental note to purchase myself a couple of sets ASAP (if I had to stay, and that was not in my plan of action at that point in time) because after 4 years of duty mostly in the south and after returning to states at El Toro then to San Diego for Squeak School and the lingering thinning of my blood from warm sunny WesPac and Vietnam my blood, that winter in DC was brutal to me!

When they D&B returned they were all trying to warm up. As you will note in the photo none of the Marines are wearing overcoats. If they had they would have been the old "Horse Blanket" dress green overcoat as that was issue then, even at the Barracks. The Blue overcoat at the Barracks didn't come into service until the late 60's as I recall. The horse blanket greens itched all the time but they were really, really warm and weighed a ton compared to the gaberdine greens we later went to.

I took an extra horse blanket green over coat across the street to the uniform shop and got them to cut it shorter turning it into a nice car coat that just covered my trouser pockets down to around my crotch. Then I had it died black and changed the buttons to Pea Jacket sized black buttons and was constantly getting questions from SNCO's and Officers where I had managed to find such a nice coat! I never fessed up as I was leery if they found out I had cut up a uniform like that. Things were far tighter back in those days about stuff like that.

Most of the "Lifers" with service in the Far East had their horse blanket trouser legs lined with silk to escape the itching. You could easily spot a returning China/WesPac Barracks Marine by his custom made and tailored uniforms, often complete with embroider ribbon, custom stripes and hash marks sewed in place. Really were sharp looking but state side were taboo!

Submitted by 8th & I Marine David "DB" Wright, Drum & Bugle Corps and Band 1965-74 / USMC 1959-74, Vietnam veteran, Las Vegas, NV





20 April 1964 ... First Lieutenant Robert M. Reed's Narrative Resume Of Participation By Barracks Marines
In The New York And Norfolk Phases Of The State Funeral For General Douglas MacArthur

Click here to read the: General MacArthur Funeral Detail Report

Submitted by 8th & I Marine Robert "Mustang" Reed, Ceremonial Guard Company and Barracks Adjutant,
1963-1966 / USMC 1953-56 (enlisted) & 1960-84 (officer), Vietnam veteran, Bigfork, MT





DB Wright's memories of the1968 DC Riots

Click here to read: King Riots in DC

Submitted by David "DB" Wright, Drum & Bugle Corps and Band, 1965-1974, USMC, 1959-1974, Vietnam veteran, retired police officer, Las Vegas, NV





ROBERT WILSON'S MEMORIES OF THE 1968 RIOTS IN WASHINGTON, DC

I was there as well as 8th & I Marine David "DB" Wright. Being assigned to Ceremonial Guard Company at the Navy Yard we didn't know what was going on at the 8th and I Barracks. I had just conducted a 21-gun burial ceremony at Arlington Cemetery with 7 other Marines. We were riding the Marine Bus back to the Navy Yard and could see many fires and smoke coming from downtown D.C. When we got back to the Navy Yard we were called into a room and briefed about the rioting and the reason for it. Even members of the FBI were present and contributed to the briefing. My platoon in Ceremonial Guard Co. was a ceremonial marching platoon and not the silent drill team. All the members of my platoon were Vietnam Veterans and many had been wounded in Vietnam. I was unaware of the contempt by an Officer from Quantico for 8th and I Marines.

The Ceremonial Guard Co. C.O. was a Capt. Sheehan. I, too, recall the Riot Control training we endured in the Navy Yard. Foot stomping at high Port Arms with sheathed bayonets. Being Marines at times it got pretty competitive between the mock demonstrators and Marines in formation. I also recall that while I was posted at the Senate Office Building (locked and loaded) Vice President Humphrey walked right past me one day. On another occasion, I had an Army General pull up to me while stationed at an intersection. I gave him a rifle salute and I doubt he had ever seen one of those, but he returned the salute and asked me how I was doing. The D.C. jail filled up pretty fast and prisoners were being taken to the D.C. stadium for processing.

By evening we had all been issued M-14's and 40 rounds of ammunition, a few had M-79 grenade launchers with gas grenades. I think we were committed to patrolling the nearby streets just after dark. Burning mattresses were being flung out of apartment windows. The local police responded to calls for service using 3 patrol cars with 4 Officers per car. and were often accompanied by Fire Trucks. We patrolled in squad size units wearing soft covers the first night of the rioting. Since we were considered Naval Infantry we were committed even before any Army units. It was a Show of Force and thankfully we didn't have to use any force. My platoon of all Vietnam Veterans had only been back in the states 6 or 8 months. The reason we were even in D.C. was that some Marine General wanted all Vietnam Veterans. Since we marched back and forth everyday between the Navy Yard and 8th and I for parade practice the local population was use to seeing us and I think that helped in our presence.

The first establishments to go up in flames were the liquor stores and the local Jewish businesses like the tailor shops and cleaners. After the first night of patrolling the local streets we were taken to the lower dungeons of the U.S. Capitol where we slept or tried to sleep on the concrete floor during the day. The only food we had was salami sandwiches provided by the Salvation Army. On the second night we started patrolling around the U.S. Capitol and things started to settle down with little foot traffic. By the second day Army units had been committed under Martial Law and cordon's were being set up around the District's most important locations. My girlfriend at the time and my future wife had been working downtown when the rioting started. All of the employees in her company were sent home and it was very scary for her taking mass transit. I believe we only slept on the concrete floor in the basement of the Capitol Building 3 days, but I could be wrong. By then the worst of the rioting had subsided and we returned to the Navy Yard.

Submitted by Robert Wilson, Ceremonial Guard Company and MCI Company, 1967-1969, Vietnam veteran, retired police officer, currently living in Arizona)





Please click here to read the recollections from some of our Members of the Cuban Missile Crisis.



Anyone having additional submissions for this page should send them to:
CGC Webmaster.
Contact us at:cgccontact@8thandI.com - 8th&I Reunion Association
Return to top of page
©Copyright - All Rights Reserved - March 2017
8th & I Reunion Association



Design and Layout

by BT Productions