Ceremonial Guard Company



The Ceremonial Guard Company (CGC) has changed its name over the years, but not its mission. During the past half-century, it was known as the "Barracks Detachment" until the winter of 1957-58, when it was renamed "Ceremonial Guard Company." In addition to changing names, it has lived in different places. Up until the late 1950's, it was quartered in the south half of the Barracks above the arcade walk. In early 1959, it moved to Building #58 at the Washington Navy Yard ("Naval Gun Factory"), Washington, DC. and in the late spring of 1975, it moved to the new barracks on I Street, next (south of) to the Barracks.

"Besides the wonderful history of "old Building 58", it was, IN ITS TIME, a magnificent environment to live and serve. Think of it (in that era), a company with its own community. Everything.
We had living quarters (good ole fashion squad bays); and a "gang" Head. (where else could Nate Emery drop a lit firecracker down a toilet....in his own 2-man room?).
We had the company and platoon offices in the building. Where else could young lieutenants get to know what barracks life is like. Not at Basic School.
We had our own barbershop. Right out on the Quarter-Deck; where everyone could see; and you could see almost everyone pass.
We had our own bowling alley. Admittedly just two lanes, but they were ours. (Actually they belonged to the "Barracks", but really????)
We had our own PX. (Same as above.)
We had our own mess hall.....a great chow, especially SOS!
We had our own Press Shop.
We had our own "Cotton White Trou" service....in a way;at least the delivery.
And we had our own "Slop Chute" (sp); naw, it was our own "Tavern". (For me I learned more there than anywhere....added to time in the barber chair!)
AND WE HAD OUR OWN LEUTZE PARK WITH IT'S CANNONS. (What else would Tom Griffin and Tom Tallick have to do after liberty other than tip the cannons over.)
And we had our own guard on the "M" Street gate...........nice to have for troops coming back from liberty....well, just in case!
And a last point; (except for all the fond memories)...that being, I lived in the apartment next to the gate. My wife and two children felt particularly safe because of those sentries. My four year old daughter and one-year old son loved to watch "Colors" each morning. And when out, in the area (like walking to the dispensary) they were cared for with "kid gloves" by our Marines. And my daughter, still to this day, remembers the late afternoon I brought her to the Tavern. The troops treated her to soda, and games on the pinball machine......while others bent my ear with tales of woe, glory, and advice....and 46 years later my wife still talks of living by the gate and the troops.
And 46 years later, I remember CGC and Bldg 58 like it were yesterday. A great era (the best); a great old building; and the finest troops ever....ever....EVER."
Semper Fi,
William (Bill) F. Lee, PltCmdr, Drill Team, 1963, XO, CGC & CO, CGC Parade Company, 1964, CO, CGC & CO, CGC Parade Company, 1965
"Tracks"

The Silent Drill Platoon was created in 1948 and, during the early 1950's, all three platoons in the CGC had silent drill routines; a fourth platoon was added in 1957, which also adopted a silent drill routine. These platoons alternated at the Friday Evening Parades and elsewhere. The multiple silent drill platoons added a great deal of flexibility in scheduling events and out-of-town appearances. In early 1959, the CGC transitioned from four silent drill platoons to just one silent drill platoon.

On 17 March 1978, as part of a reorganization at the Marine Barracks, 8th & I Streets, Washington, DC, and in accordance with CMC letter MPC-53-bpm 5320, the Ceremonial Guard Company was redesignated Company A. Refer to page 8 of the Marine Barracks, 8th & I Command Chronology, 1 January 1978 - 30 June 1978.






In addition, because the company was responsible for keeping a platoon at Camp David for guard duty and security purposes, it allowed three platoons to be available at the Barracks for parades and other Ceremonial purposes.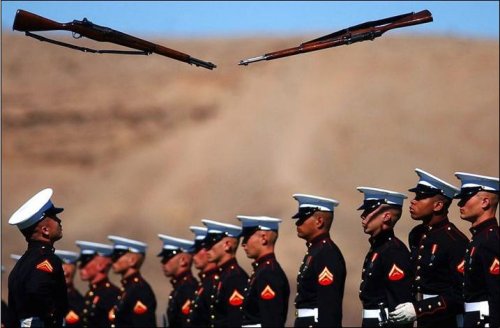 Perfection in the rifle inspection return - March, 2004
Cpl Jason Cruce - rifle inspector. From right to left, Lcpl Daniel Leininger,
Lcpl Jamar Bailey (# 2 Rifle Inspector), Lcpl Macartheney, Cpl Roberto Cruz,
Lcpl Stanley, Lcpl Parker, Lcpl Peters, Lcpl Laska, Lcpl John Reese, and Lcpl Josh Sheilds.
The company is responsible for participation in all types of official ceremonies in the Washington, D.C. area, and on occasion, throughout the United States or other parts of the World.

Because the Barracks is the oldest post in the Marine Corps, it is responsible for the maintenance of the Marine Corps Battle Flag, with ribbons and stars representing every battle the Corps has fought in from the Revolutionary War to the present.





Ceremonial Guard Company provides security and presents the Colors at White House functions, as well as participation in funerals for deceased Marines at Arlington National Cemetery, which includes a marching escort, body bearers and firing parties.

It participates in weekly parades during the summer months at the Iwo Jima Marine War Memorial in Arlington, Virginia, as well as the full dress Evening Parade at the Barracks. In each event, its world famous "silent drill platoon" performs an intricate drill without benefit of oral commands.

This, and related pages, have been compiled by "Old Corps" who served in the past, and are part of the living tradition of Ceremonial Guard Company.






"The Old Corps"

Copied from the old "slopshute." The original is reported to have been painted sometime around 1955.

(Submitted by John Wellman)

________________________________________________________

A ceremonial platoon from the early 1900's

________________________________________________________

Marine Corps Historical Center (Building 58)

This three-story brick structure was built in the mid-nineteenth century. The Old Stores building, which was burned on 24 August 1814 to prevent its capture by the British, formerly occupied the site. The new building housed the Public Works offices in the 1920's and 1930's. In 1941 it was remodeled to serve as a barracks for the Marine Guard in the Yard. The building was opened to the public after complete renovation as the Marine Corps Historical Center in 1977. The Center maintains the archival, research, library, and museum facilities of the United States Marine Corps. The Marine Corps Museum, on the first floor, presents the history of the Marine Corps through its collection of historical objects and art works.

For the more recent members of the Association, the name

"The Marines of Building 58"

is not significant. However, "The Marines of Building 58" was the predecessor organization to the "8th & I Reunion Association." Building 58, located in the Naval Gun Factory, was the home of CGC from Spring of 1959 until it moved into the new quarters on I Street in the Spring of 1975. In August, 1988,

Leatherneck Magazine

ran a feature article on the group, which was saved by Joe Larkin, to whom we are thankful. To view the "The Marines of Building 58"

click here.

Photo by Craig Swain, July 21, 2008. Leutze Park/Marine Corps Historical Center Marker (Building 58)

Submitted by 8th and I Marine Don Maurer, Ceremonial Guard Company. 1967-1968, Canal Fulton, OH

________________________________________________________

8-21-19 ... STATUS OF BUILDING 58 AT THE WASHINGTON NAVY YARD My research assistant (wife) and me called the Washington Navy Yard Visitors Center and asked them about Building 58. The gentleman checked and told me that the building is still standing. The Navy has a great museum there and you might tell the powers to be that during the next reunion a bus to the museum would accomplish two things, seeing the museum and Building 58. The phone number for the Visitor's Center is 202-433-3787 or 0025 or 3017.

Submitted by Manuel "Manny" Pinto, Ceremonial Guard Company, Silent Drill Platoon, 1958-1961, Silver Spring, MD

________________________________________________________

1978 PHOTO OF BUILDING 58 AT THE NAVY YARD, WASHINGTON, DC

The above photo appeared in the October 2019 edition of Leatherneck, "Every Marine Has A Story To Tell," and was sent to me by 8th & I Marine Don Keelan, Ceremonial Guard Company, 1957-1960, Arlington, VT. In the Spring of 1975, the Ceremonial Guard Company vacated Building 58 and moved into its new quarters on I Street, across (south of) from "The Barracks." Later, in 1977, the USMC History Division - Museum, occupied Building 58 at the Navy Yard in DC and remained there until 2005 when it relocated to Quantico, VA. In 2006, the USMC History Division became an integral part of the National Museum of the Marine Corps, Quantico, VA. Those Marines who lived in Building 58 have many, wonderful memories of that barracks! Right?

Submitted by John T. Reim, Ceremonial Guard Company, Silent Drill Platoon, 1958-1961, NJ State Police, Ret., Franklinville, NJ

________________________________________________________

5-3-20 ... In 1983, 8th & I Marines who had been assigned to Building 58 at the Naval Gun Factory, held a 25-year reunion at that facility,

http://8thandi.com/pullo.html

. The below Building 58 sticker was distributed at that reunion (Merle Johnson just located some extra stickers while cleaning out a closet).

Submitted by Merle Johnson, Ceremonial Guard Company, Silent Drill Platoon, 1958-1961, Helena, AL

________________________________________________________

7-7-21, If you had been quartered in Building 58, that question would not have been asked. That building housed the Ceremonial Guard Company, which was made-up of the Silent Drill Team, the National USMC Color Guard, the Body Bearers and three Ceremonial Guard Platoons (of which one would be at the U.S. NavyYard Administrative Annex, Camp #3, Catoctin Mountain Park, Thurmont, MD for one week. The other two platoons would remain in DC to do ceremonial details. These platoons rotated one week in the mountains and two weeks in DC. The duties of Silent Drill Team, Color Guard and Body Bearers are self explanatory.

The building was self-contained and included a mess hall, bowling ally, a small heath-and-comfort store, a club/bar, a barber shop, an admin section, an armory with complete 782 and riot-gear for the whole company, washer and dryers, a press shop and two telephone booths (which seemed to be busy most of the time!). You could live in Building 58 with absolutely NO contact with the outside world; except to perform ceremonial details and as duty may dictate. There was a camaraderie and brotherhood that is hard to understand for those who did NOT "live" in Building 58 . . . .

"Semper Fi!

Jim Hales

James H. Hales, Jr.

Captain, (0-3E), USMC (Ret.)

Marine Barracks 8th & I, CGC (Bldg. 58), 2nd Plt. (1965-'66) .....................................................

7-7-21, Thanks Jim Hales for standing up for Bldg 58 where I spent three years of my life and the club where I met my wife and we'll celebrate our 57th this year. 8th & I is where we performed. Building 58 is where we lived, ate, got haircuts, practiced our manual of arms in front of the big mirror and drank and watched TV on the big TV given to us by Halie Salasee for saving his life at Blair House. The Club was the place to be on Friday night after a parade as bus loads of ladies would come to dance and meet Marines. As I said, many Marines, like me, met their wives there. Building 58 was a very special barracks and those of us who lived there have many good memories. Ed "Mac" McCloskey, CGC Silent Drill Team, 62-65 Building 58 ________________________________________________________

Contact us at: cgccontact at 8thandi.com

Return to top of page

Return to 8th & I Reunion Association Home page

Copyright - All Rights Reserved - ©
CGC Association
July 2021



Design and Layout by BT Productions