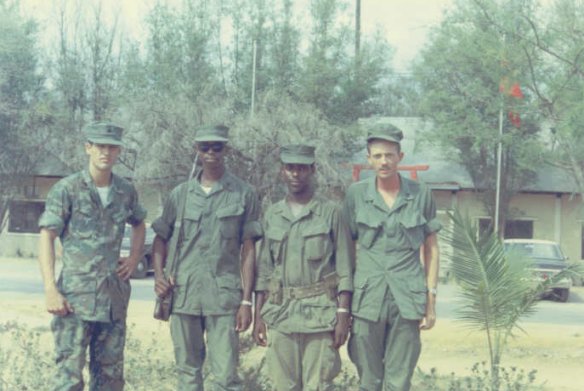 Don "Mau Mau" Maurer with fellow 8th & I Marines
in Viet Nam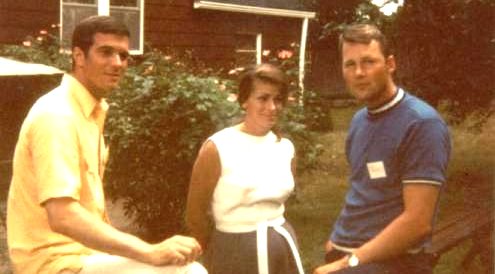 (left to right) Paul Towey, Fran Jacques (Dick Jacques' wife),
and Dick Jacques (deceased 1991)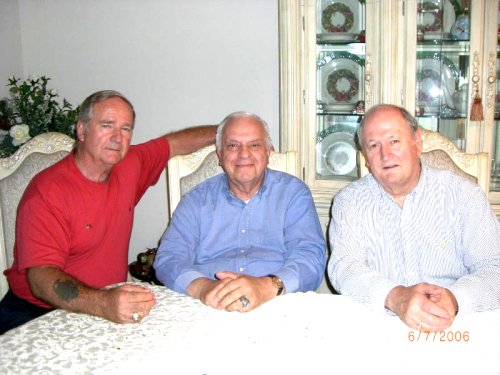 (L-R): John Reim, Drill Team, 1958-61; Joe Laudisio, Drill Team, 1959-61 and Tom McHale,
C.G.C., 3rd Plt. & Body Bearers; H & S Co., Guard Section, 1960-62
NOTE: Joe and John had not seen Tom since 1961.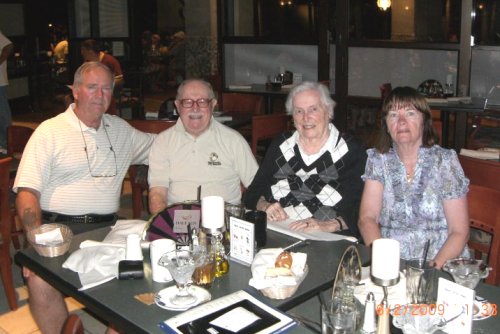 (L to R): John Reim, John Diaz (MCI & H & S Cos., 1961-1963),
Barbara Diaz, and Mary Lou Reim at dinner in the Hale Koa Hotel, Honolulu/Waikiki in June of 2009.
(Submitted by John Reim)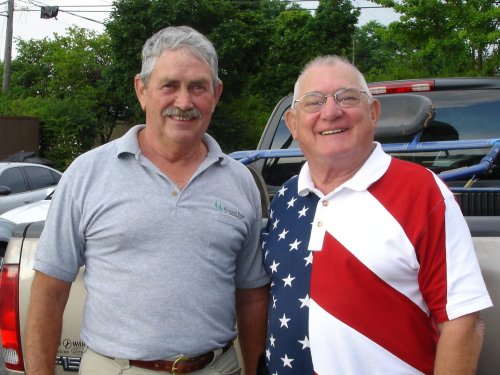 Tom Shenhan and Dave Zeferjohn in Lexington, KY in June of 2009.
The last time these two were together was 1962, when Tom and Dave
were members of 3rd Platoon MCI Company, 1960-63.
(Submitted by Dave Zeferjohn)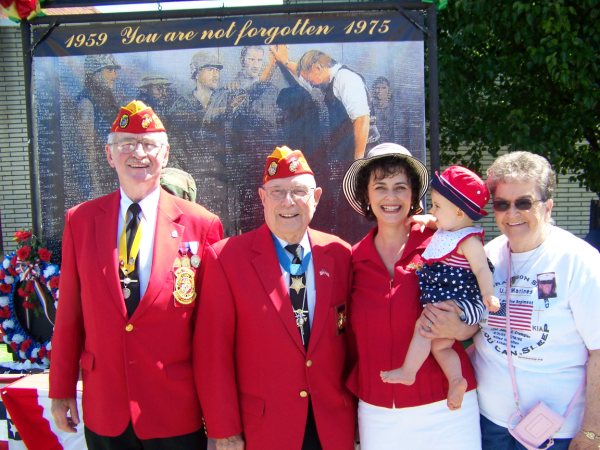 Group Picture, Taken May 15, 2010, Includes (L to R):
Richard "Rick" Given, Silent Drill Platoon, 1960-63, Charleston, WV, Hershel W. "Woody" Williams, USMC, D.O.B. 10-2-23, Medal of Honor recipient, Iwo Jima, 1945 (the last surviving Medal of Honor recipient from Iwo Jima), Elizabeth Given (Rick's wife), Mary Lynn Given (daughter of Rick & Elizabeth), and Emma Johnson, Gold Star Mother (her grandson, L/Cpl. Adam Crumpler, USMC, KIA, Iraq)
(Submitted by Elizabeth, wife of Richard "Rick" Given, Silent Drill Platoon, 1960-63, Charleston, WV)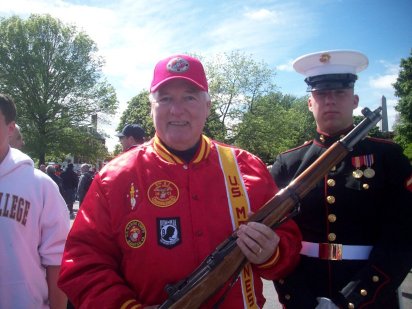 Marine Week Boston was held the week of May 3rd thru May 9th 2010. On the final day the silent drill platoon
performed at a Rededication Ceremony of the Marine Barracks at the Boston Navy Yard.
Dave Pullo SDT 59-61 was asked by a Drill Team L/Cpl if I could still handle the M1.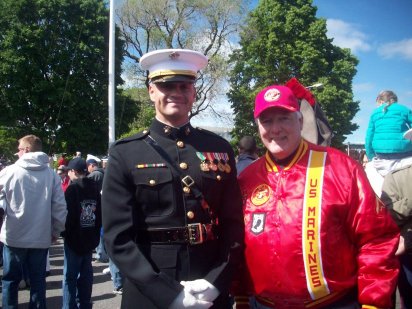 After the Drill Team performed, Dave Pullo introduced himself
to the Platoon Commander, Capt. John McLaughlin.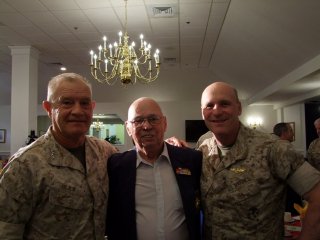 2 June 2010, George Barrows, Marine Corps Institute Company, 1959-1962, attended a luncheon at Camp Lejeune honoring Lt. Gen. Dennis Hejlik (on right), CG of the llMEF. To the left of George is Maj. Gen. Carl Jensen, CG of the MC Installations East, also headquartered at Camp Lejeune.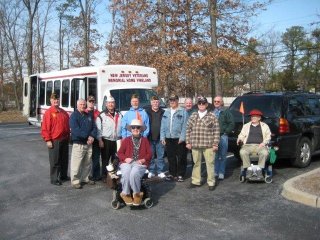 This picture was sent by 8th & I Marine MARIO SILVESTRINI, 1956-60 & 1962-69 / USMC 1955-79, Drum & Bugle Corps, Brigantine, NJ.
This picture was taken February 2011. About 45 residents of the Vineland (NJ) Veterans' Facility, including some of their spouses, boarded three buses and enjoyed a wonderful breakfast at a nearby restaurant. Mario Silvestrini assisted in organizing this breakfast for our veterans. He is standing on the left in the red jacket. Well done, Mario!!!!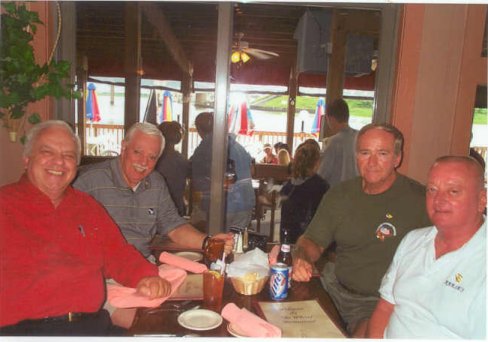 This picture was taken on 8-5-04 and includes, L to R: Joe Laudisio, Drill Team, 1959-61, Vinny Amato, Body Bearers, 1958-61, John Reim, Drill Team, 1958-61, Howie Dickson, Body Bearers, 1958-61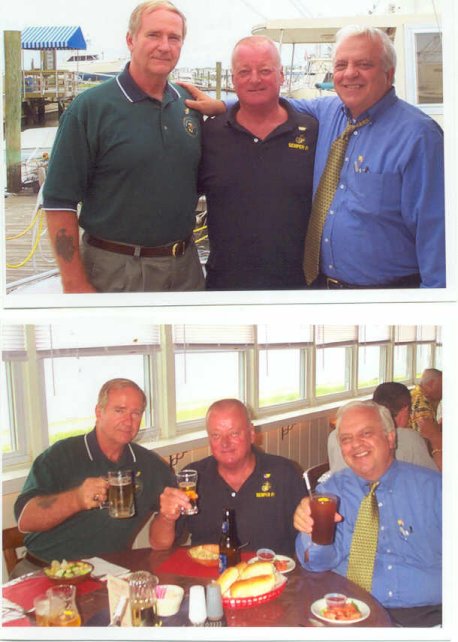 These pictures were taken on 7-1-04 and include, L to R: John Reim, Drill Team, 1958-61, Howie Dickson, Body Bearers, 1958-61, Joe Laudisio, Drill Team, 1959-61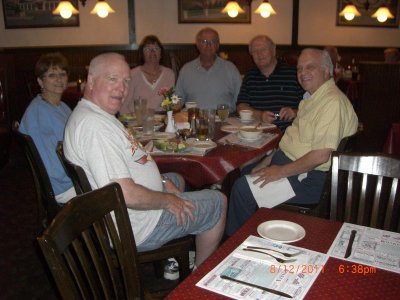 (8-12-11, group picture at dinner in Mays Landing, NJ) ...
Clockwise: Dave Pullo, Drill Team, 1959-61 (white shirt), Josephine ("Jo") Pullo, Mary Lou Reim, John T. Reim, Drill Team, 1958-61, Tom McHale, Body Bearers and H & S Co., Guard Section, 1960-62, Joe Laudisio, Drill Team, 1959-61 (yellow shirt)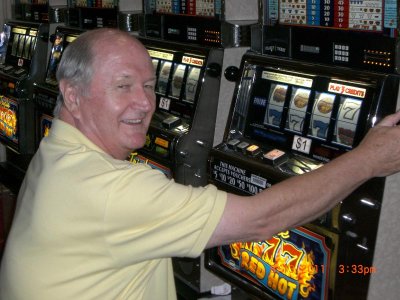 Tom McHale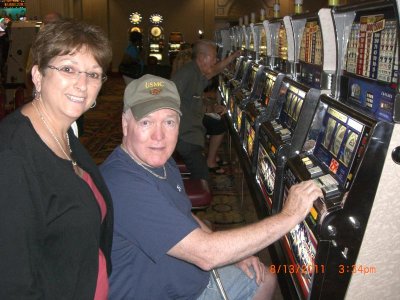 Dave & Jo Pullo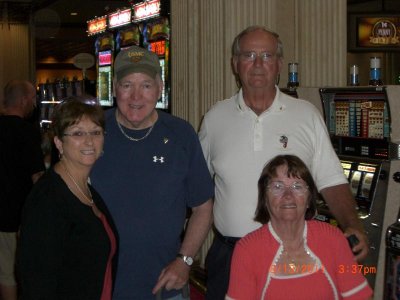 Jo & Dave Pullo and John & Mary Lou Reim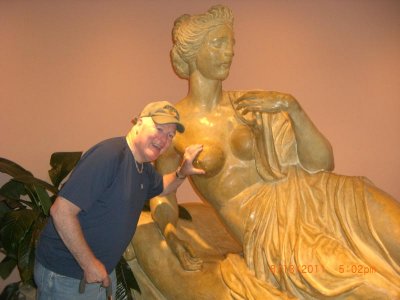 Dave Pullo
These pictures were taken at Caesars Hotel & Casino, Atlantic City, NJ on 8-13-11.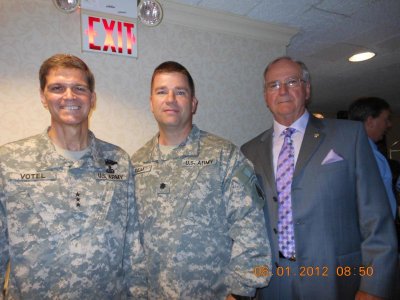 1 June 2012, John T. Reim, Jr., was promoted to the rank of colonel in the U.S. Army by Lt. Gen. Joseph L. Votel, West Point, Class of 1980, Commander, Joint Special Operations Command, Fort Bragg, NC. Colonel Reim, West Point, Class of 1990, will now serve as one of Lt. Gen. Votel's "Directors" in the Joint Special Operations Command at Fort Bragg. The newly promoted colonel is the son of 8th & I Marine John T. Reim (and his wife, Mary Lou), Ceremonial Guard Company, Silent Drill Platoon, 1958-1961, Franklinville, NJ.
PICTURE # 1 ... L - R
Lt. Gen. Joseph L. Votel, Commander, Joint Special Operations Command, Fort Bragg, NC;
Col. John T. Reim, Jr., Director, Joint Special Operations Command Fort Bragg, NC;
8th & I Marine John T. Reim, Ceremonial Guard Company, Silent Drill Platoon, 1958-1961, Franklinville, NJ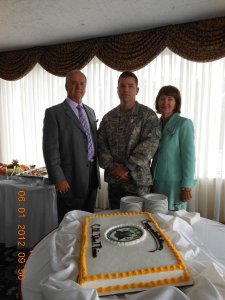 PICTURE # 2
Colonel John T. Reim, Jr., U.S. Army, and his parents, 8th & I Marine John T. Reim, Drill Team, 1958-1961, and Mary Lou.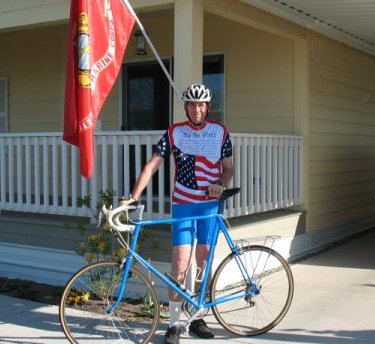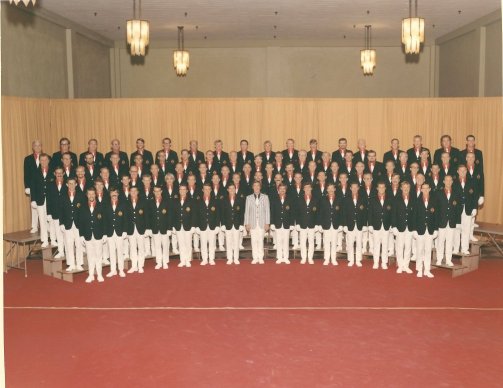 Just thought I would send some photo attachments to let you know that this old retired Marine is still movin and active. For my 80th birthday (25 Feb) I set a goal to ride my bike 80 miles. Had to wait (weather) until 14th of April to do that, and with two "Bikie" friends we made the ride in just over 6 hours. My next goal is to hike Mt Whitney (Sierra Nevada range) one more time. This mountain is the highest in the lower 48 at 14,496 ft., and a 22 mile hike round trip with over 6,000 ft elevation gain. Hope to accomplish this shortly after labor day.
Now the one photo with the big group was taken in 1971 just about a year before my retirement in the summer of 1972. This group was the "San Diego Sun Harbor Chorus" at the International competition in New Orleans where we came in 2nd place. Great experience.....I'm the guy top row far right.
(Submitted by Gene Hauet 1st Plt, 1st Sqd MCI Co. 1962-65)
Paul "Lefty" Keegan, Ceremonial Guard Company, Silent Drill Platoon, 1958-1961, Holland Township, NJ - died 8-15-2012
On the 28th of August, 1958, Lefty and I sat together as the train left Penn Station for Parris Island and Marine Recruit Training. We watched our fathers on the platform slide by and disappear. We looked at each other and without a word wondered "What the hell have we done?" We were together through basic training (Platoon 190), ITR (Infantry Training Regiment, Camp LeJuene) and almost three years at 8th & I.
During ITR we shared a "pup" tent (small two man tent) in December 1958 when a rare snow storm hit North Carolina. A large branch fell from the weight of the snow and crashed down between us and smashed the tent. It scared the crap out of both of us. But, we were Marines now so, of course, we laughed it off (after a change of skivvies).
During our tour at the barracks, we "swooped" to NJ almost every free week-end. Larry Hess had his fathers 1958 Chevy, Joe Laudisio, Charley Huha, Lefty, me and sometimes Whitey Leines would cruise to home and the "party". Sunday nights we usually met at Lefty's home in Mountainside to watch "Lawman" and then head back to Washington.
One morning I awoke and looked over to Lefty's rack and there was a stranger sleeping in it. No wait, that's not a stranger, that's Lefty! WTF! He is almost unrecognizable! Seems he was at Guy's (local bar across from the barracks) showing a little Marine "attitude" when someone took offense at his bravado. As he was in the head (men's room) he was sucker punched by some civilian who smashed a bottle across his forehead, thus the scars. (as I look at his latest picture, they seemed to have disappeared, his eyes, however, are as sharp and bright as ever) His attitude never changed but I think he quit going to Guy's.
I transferred in 1961 but still kept in contact until 1968 when I went to Vietnam. Lost contact after that but thanks to John Reim and his website we hooked up again a few years ago. We e- mailed a lot and I tried to help him get Chloe into the Air Force Academy. After that we kept in touch but not as much as before.
Today was a shock to me. Lefty was always on top of my list, he was a great friend and Marine. I am sure he was discharged as a Corporal or Sergeant, not a Lance Corporal as indicated in his obituary. Means nothing to a civilian, but Marines will understand.
So long, Lefty. I raise my glass of Jack Daniels to you. I'll see you on the other side. Find Hershiser and 'Bean and when I get there we will practice the "four man exchange"
If I'm allowed in.
submitted by 8th & I Marine Master Gunnery Sergeant Robert Job, Ceremonial Guard Company, Silent Drill Platoon, 1958-1961 / USMC 1958-1982, Murrieta, CA
30 September 2012, the Silent Drill Platoon performed at the Mercer County Italian-American Festival, West Windsor, NJ. The following Silent Drill Platoon members from the 1958-1961 era, were in attendance: Larry Hess, John Reim, and Jerry Weiss. These pictures were taken at that event: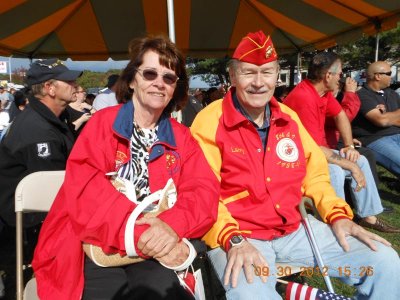 Larry Hess and Mary Lou Reim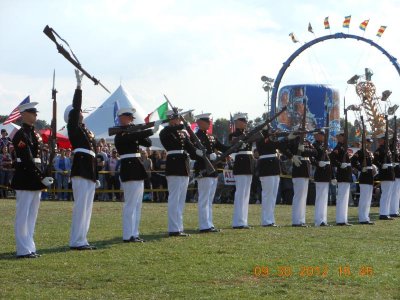 Drill Team/long line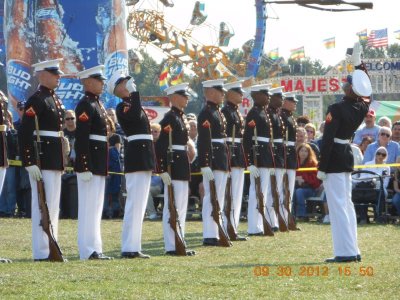 Drill Team/long line/rifle inspector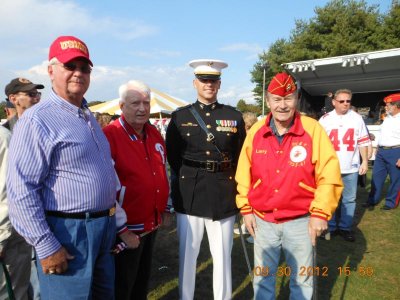 (L to R) John Reim, Jerry Weiss, Captain Hubbard (Drill Platoon Commander), and Larry Hess
(L to R) Larry Hess, John Reim, Corporal Williams (Rifle Inspector), and Jerry Weiss
(Submitted by John Reim)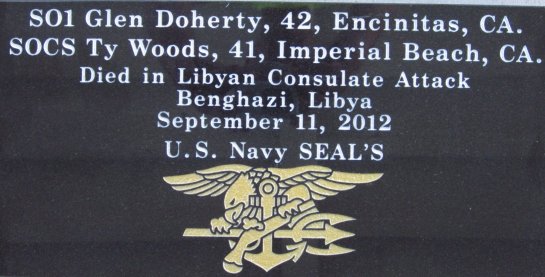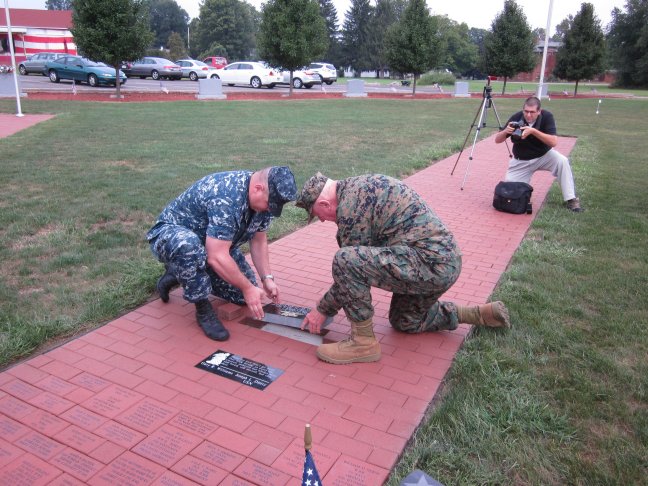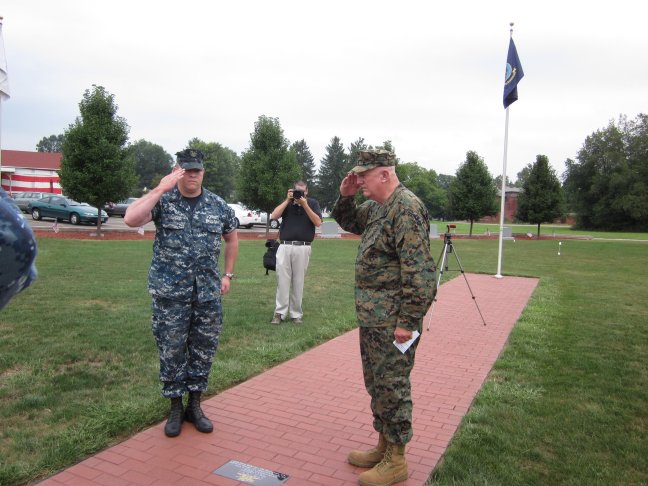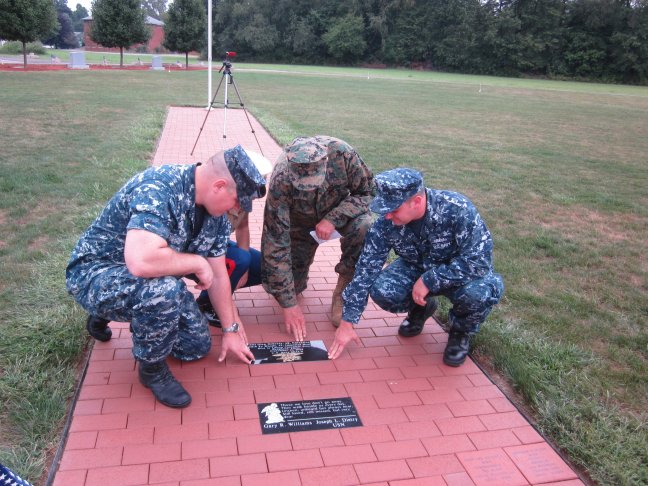 Just placed a black granite stone in the Navy Walkway at Ohio Veterans Memorial Park in Clinton,OH. Much gratitude for the two Navy SEAL's killed in Benghazi, Lybia. Marker measures 16" X 8" by pavement brick thickness.
Semper Fi, Mau
So good to hear from you. I just returned from our park ...Ohio Veterans Memorial Park.... www.ovmp.org
Here are the beginning pictures of the placement of the granite marker by Navy Recruiter Justin Orahhood and myself, Don Maurer.
I think the next was a slow hand salute from the 4 service members present. Then there is one of each of us touching the final resting place of the granite marker.
Feel free to distribute anywhere you wish. I will open several Navy SEAL members as well.
What a tribute to these two fine Americans, Ty Woods and Glen Doherty.
My short speech this am:
"A fitting tribute to two great Americans. Be it known that there are many who have served in the military. We as former military do care and what others have done in the past. Our government has let down to of the nations great warriors.
Glen Doherty and Ty Woods, their last deeds were to extinguish as many of the enemy as they could. They didn't bother to think that, that was going to be their final moment. They carried on in that fine tradition that exemplifies a Navy SEAL.
May the sun always shine on their faces and the wind at their back.
We must not forget Ambassador J. Christopher Stevens and Sean Smith, Information Management officer, a former Air Force member in our prayers as well. Those four Americans died in a senseless attack from terrorists on September 11, 2012.
May God cradle their souls in the palm of his hands.
Thank you !"
(Submitted by 8th & I Marine Don Maurer, Ceremonial Guard Company, 1967-1968 / Vietnam veteran.... wearing the Marine camo uniform)
12-17-14 .............. MID-60'S / EARLY-70'S MEMORIES OF 8TH & I
MARINE BARRACKS
8TH AND I STS., S.E.
WASHINGTON, D.C.
OLDEST POST OF THE CORPS!
The Barracks was established in 1801 after a Sunday afternoon carriage ride by President Thomas Jefferson and then then Commandant of the Marine Corps (CMC), LtCol William Ward Burroughs during which they were scouting for a site that would be within close marching distance to the Capitol Building, White House and Navy Yard. They selected it's current site on the corner of 8th & I Streets, S.E., DC. This makes it the "Oldest Post of the Corps" and all Marines who serve there are hand selected via personal interviews and must meet certain height, weight and general "ceremonial" appearance in their bearing. The Barracks Marines are known as the "Sharpest of the Sharpest Marines"!
The Barracks occupies an entire block with the Home of the Commandant sitting on the norther end. It is the oldest continuously used public building in the City of Washington, D.C. During the War of 1812 the Marines of the Barracks and Sailors of the Navy Yard marched out to Bladensburg along with the Army and fought a brief battle against the invading British Army. It quickly became a route but the Marines and Sailors stood a high point on the battlefield which permitted the saved the Army and a great many civilians fleeing from being more badly butchered than they were. The Marines and Sailors withdrew in an orderly and controlled manner. The British Commanding General used the Commandant's Home as his home and Headquarters during their brief and arsonary stay burning down most of the other government buildings including our White House. It has often been said that the Commandant's Home was spared because of the respect for which the British held the Marines for their strong stand at the Battle of Bladensburg, and of course being Marines we claim that as the truth!
Originally Barracks row was along the west side and the Officers along the east side. When the current "old" Barracks were rebuilt in the early 1900's this was reversed to how you see it today. Along the west side 5 large brick 2 story homes. From north to south they are occupied by the Assistant CMC, Chief of Staff of USMC, Commanding Officer of MarBks, Assistant Chief of Staff USMC, and the house adjacent the Main Gate is the Bachelor Officer's Quarters and the Officer's Club. This house is called "Center House"! In the later 70's or early 80's a new Marine Barracks was constructed the the block south of the old Barracks and today houses most of the Barracks Marines.
When I arrived in January of 1965 the Marine Corps Institute Company was billeted in the Northern Half of the Barracks and Headquarters & Headquarters, Service Company (of which the Drum & Bugle Corps was then part of) was billeted in the south half. All these troops quarters were on the 2nd decks while the Barracks offices occupied the lower deck with the Mess Hall at the southern part of the Barracks. Underneath all this was shop space and the armory. Along the southern wing on the 1st deck (from east to west) was the Guard House, Steam Presses for pressing our uniforms, offices of the US Marine Band, "The President's Own" and one of the original occupants of the Barracks when it was formed, as well as the oldest Military Band in the Military District of Washington, DC, then their rehearsal hall. On the 2nd deck from east to west was a Gym (very small about a 3/4 basket ball court, Band Library and Band Recording Lab.
At this point in time Ceremonial Guard Company was billeted in Building #58 at the US Navy Yard on the SE side of the Navy Yard Parade Deck and Flag Pole. The old Latrobe Gate remains the oldest guarded gatehouse in the US military with Marine Guards manning it and performing Morning & Evening Colors at the Main Flag Pole! Buglers of the D&B served as Duty Music of the Guard playing all required bugle calls from 1st Call before Reveille in the morning and Taps in the evening, as well as any emergency calls and morning/evening colors. Once a Bugler proved to the Drum Major and CWO Commanding the D&B he was proficient at this they were then moved up to perform the same duties at the Barracks itself as well as performing funerals at Arlington for Marine burials. At both location the Duty Music of the Guard was required to ring the time out on the Ship's Bell attached to the main Flag Poles from 0630 hrs. in the morning through 2200 hrs in the evening, as well as also being the Duty Officer's Messenger if needed. While on duty (0700 hrs one day through 0700 hrs. the next) the Duty Music slept in the Guard House along with the Duty Section of the Guard constantly ready to leap out of your racks (beds) and into Dress Blues, shined and squared away, at a minutes notice!
While marching around during the duty hours the Duty Music of the Guard was in full Dress Blues with ribbons and carried his bugle to his right side, bell forward and only moved it to his left side to salute any officers he might meet. He even took it to meals with him!
Back then there was a small security detachment from the Barracks full time from Ceremonial Guard Company up at Camp David. When ever the President decided on a whim on weekends to go up to Camp David Marines would be grabbed from all the companies and bussed up to bring the security to full strength. For some years now there is a full strength detachment at Camp David at all times.
In 1965 there was no Air Conditioning in the Barracks, just fans. From May through September when we held the Friday Night Parades at the Barracks, "Parade Atmosphere" was set around 1800 hrs. (6:00PM). This meant that all hatches (doors) and windows facing the Parade Deck and were shut and the venetian blinds were all put down with the lower edge facing outboard from the Barracks. During the heat and humidity of Washington summers, especially in July, August and early September this was quit an ordeal for the troops.
We took cold showers, dried and then applied large amounts of talcum powder to our bodies, put our our skivvies shorts and laid quietly in our racks with the floor fans and any personal fas blowing full blast on as many of us as possible. Before that we had squared away our Dress Blues (Dress Reds for the D&B and Band), put all Medals (which we shined back then), shined all our brass uniform buttons, Eagle-Globe & Anchor emblems for our collars and cover (hat) and then wearing old white gloves attached them to our uniforms, put together a fresh white waste belt (we used a lot of blueing back then to get them super white which you no longer can find) and lastly put together our Barracks Cover (dress white hat with bill) that back then the bills/visors and their straps were all spit shined. Heavily starched dress white duck trousers were ironed to insure no hanger creases. When finally getting up to get dressed we put on a T Shirt and then a buddy would use 2" wide masking tape to tightly tape the stomach and back circling around you from just under the nipples to the lower waist. This was to provide support for the back while having to stand for long periods of time. Then we stood up on a foot locker while a buddy held open our starched white trousers and we inserted one leg and foot into a leg at a time, forcing the foot down, held 90 degrees to the leg and with a our socks already on, through the starched shut leg of the trousers.
A process called "Breaking Starch" until the leg of the trousers was completely open. Then we did the other leg and jumped down and put our feet into our spit shined dress shoes and hopped back up onto the foot locker while our buddy tied and double tied them up. We then put our suspenders on attaching them to our dress white trousers. We then did the same thing for our buddy without bending our the knees in our own trousers. Finally we put on, using white cloth gloves again, our dress blouses and fasted up the buttons and stiff upright neck (from which the term Leatherneck arrived from when in Colonial times they actually were leather to protect the neck from sword slashes and to keep the Marine's neck in a military posture. Even today new neck pieces on the dress blue and dress blouses are very stiff, especially when brand new and create a feeling, until broken in and the neck toughened up, like a sawing on your neck which is very uncomfortable!), then we (in the D&B) put on our white leather gauntlets and finally put our cover on our head. Then a buddy would use a loop of masking tape and blot off any possible hairs, lint or other alien things from our uniform and we would then do the same for them. Then, walking in a rocking back and forth sideways manner, so as not to break our starch legs anymore than absolutely necessary we went to our assigned positions for the parade and stood final inspection.
The following year window air conditioners were installed throughout the Barracks to the immense relief of all of us. We thought we had died and gone to heaven!!!!
This entire "dressing and preparation" process was done every time we got into our dress uniforms and each Marine wanted to be the sharpest of all. Even our normal day to day uniforms were pain stakedly prepared in the same manner and "freshened" up at every opportunity. Also the following year the Barracks had all the medals annozied along with all the other brass buttons, waist plates, sword hilts and anything else brass that we wore on our uniforms. This saved an immense amount of time in our preparations and the ribbons that attached the medals to our uniforms lasted much longer before having to be replaced, at our own expense!
Some bright young Marine in Ceremonial Guard Company found a rubberized paint that when painted, very carefully so as not leave any brush marks, onto a new pair of dress shoes and then using a pin gently pinning each bubble in the paint and gently moving it to the sole edges where it would then disappear. Finally, the shoes were placed in an oven at some temperature around 250 to 300 degrees (if I recall correctly) for a certain period of time (a few burnt up shoes in their wives ovens which was not welcomed) and they shined like a piece of glass.
I recall when we went to the New York World's Fair we bussed over from the Brooklyn Navy Yard to the Kodak Pavilion where we were given a large room in the back and we would change into our full Dress Uniforms, form up and then march out into formation in front of the Pavilion and be formed up along with the Silent Drill Team and the Color Guard of the Marine Corps (with all it's sterling silver bands commemorating battles of the Corps as well as all the ribbons for these battles attached to the top of the Corps flag staff. It was literally so heavy they used a metal pipe and taped it with black rubberized plumbing tape, of course very carefully and exacting in appearance. The Color Sgt of the Corps was selected very carefully for this honor and had to have exceptional strength in his right arm to be able to lift this very heavy Color with all those bands and ribbons on it in one single smooth movement into the harness hanging from his shoulders socket, which it rested in when at Shoulder Arms.) The Colors were last out and were formally received at the Present Arms while the Drum & Bugle Corps played the National Anthem. The Colors are always marched on and off at all ceremonies to The National Emblem March. After this they posted into position with music and halted. The D&B would then play a short concert. After this the entire detachment would march off with the Officer in Charge of the Silent Drill Team (usually a 2nd or 1st Lt) leading, followed by the Color Guard of the Corps, then the Drum Major and the D&B and finally the Silent Drill Team. We would march a circular route through one part of the Fair Grounds to the central plaza where we would form up for the "Battle Color Ceremony". After marching into formation the D&B marched to another position, halted and then stepped off in a marching and musical performance with a halt half way through in a concert formation front and center to the crown and perform usually two popular numbers and a Drum Only number and then step off into the second half of our marching and musical performance. When back in position we marched the Color Guard front and Center and over the PA System a Marine would read out a script explaining the significance of our Corps Colors, the battle bands and ribbons throughout the history of our Corps. While this was being down the color itself was lower to an anger of around 50 degrees so it could be better seen. It is also lower to this position anytime "honors" are rendered to our National Colors. Then we would march the colors back into their original position. At this point the Platoon Sergeant of the Silent Drill Team would step off and after a certain number of paces the Silent Drill Team would step off into their performance.
At the conclusion of their performance the Platoon Sergeant gave a Sword Salute to the Drill Team Commander who returned it, then did an about face at which time the Drill Team stepped off, along with the Platoon Sergeant, back into their original position and came to Parade Rest. Then the commands were given by the Lt, Right Face then Shoulder Arms and he would then he would command Pass In Review. With the Drum Major Leading the Drum & Bugle Corps, the Color Guard of the Corps and the Silent Drill Team would step off to the first note of the Marine's Hymn passing in review and back into it's original position, halting and then on command performing a Left Face. An announcement that this concluded the Battle Color Ceremony of the United States Marine Corps and we would step off to Semper Fidelis and march a circular route around the other half of the Fair Ground back to the Kodak Pavilion where we would formally March Off The Colors and then we would all march through the Pavilion and back into out resting area. Immediately every one would turn to squaring uniforms away for the next performance. We did this four times each day and all of us by then were wearing the rubberized shoes.
What we learned during the fours days we were there performing was that the shoes didn't breath and standing on blacktop in the brutal heat of Labor Day Weekend a great many of our Marines on the last day of performing were literally marching with blood in their shoes that when taken off could literally be poured out of them! That was the end of that experiment with shoes and most of us purchased the then new "Clarino" shoes which shined like glass and BREATHED!
Also at this time all Sgt's and below were sent to the Barracks on Temporary Orders. They were at the Barracks for 3 days during which they were stood on the parade sidewalks with the M1 Rifle and put through all the Manual of Arms for several hours at a time. This was to see if they could meet "our standards of bearing" as well as being able to stand for long periods of time in a single place at Attention or Parade Rest. Those that failed were sent onto another base on permanent orders. Nearly all the lower ranks came to us direct from Boot Camp since they were all ready conditioned both physically and mentally for marching. Later on it was decided it would be more cost effective to send out a "team" consisting of a Lt or Capt, a Staff Sergeant and a couple of Sgt's to various bases and put those troops we were interested in, or those who had requested duty at the Barracks, through this testing and then selecting them from this process and ordering them to the Barracks on permanent orders!
All inspections back then surpassed anything most Marines had ever seen anywhere else in their Corps experience. When we were out walking on the arcades we marched instead of walking to keep in practice. Before I arrived they used to actually have yellow stripes painted on the arcade on which every Marine "walking" on the arcade heels were supposed to land on.
The Drum & Bugle Corps, Silent Drill Team and Color Guard of the Corps from May through September paraded every Friday evening along with the rest of the Barracks and the Marine Band in the Friday Evening Parades (it is still the best free show in DC and one you'll remember for the rest of your life. Tickets can be obtained from the Barracks itself or via your Senator or Congressional Representative for free. This insures you a seat in the Bleachers facing the Parade Deck instead of those at the end.). Several times each year during this time period we also performed the Parade on a Thursday Night, one was always for the Corps General Officer's Conference when nearly all of the Corps General Officers and many retired are the audience, along with the Secretary of the Navy and even the Sec of Defense.
Every Tuesday evening from June through the end of August the Battle Color Ceremony was performed over at the famous Marine Corps Monument of the Flag Raising on Iwo Jima at Arlington, totally free and open to the public and the 2nd best show in DC. The the Battle Color Units would usually take off after the Friday Night Parades and fly to some other city in the country to perform in some parade, football game or patriotic openers for big conventions having to arrive back in time to practice on Tuesday mornings at Iwo Jima during those months we paraded there. We travelled from March through November and were generally granted leave in December with the stipulation that we called back each day in case we got a commitment for an appearance (usually at football games) during that time, in which case we had to return immediately!
The hardest trip we ever made was immediately after a Friday Night Parade we packed up out uniforms and equipment and loaded it onto trucks and bussed along with them out to Andrews AFB where we off loaded it all and loaded it onto a C-130 and took off. We landed in the early AM hours at a Canadian AFB in Trenton, Ontario unloaded and reloaded on busses and drove about an hour over to a Canadian Combined Services Base at Kingston, Ontario, Canada and unloaded into a Barracks. We got our undress uniforms ready, had a quick breakfast and bussed over to Old Fort Henry where we were met officially by the Ft. Henry Guard and together after formal welcoming ceremonies practiced a Tattoo we would perform that evening in the fort together. Our Commandant is the Honorary Commander of Ft. Henry and actually has a set of keys to the Fort. We then were given tours by members of the Ft Henry Guard. The Guard is comprised of Canadian College and University students in a fierce competition and work under the Canadian Park Service. They wear the uniform of the British Army of 1867 and perform all the drills of that period. They get extra pay if they grow a beard or mustache and I promise you they are some of the sharpest troops I've ever seen. So sharp that after being invited over to the Edinburg Tattoo one year and putting the other units there to sharp with their sharpness they had not been invited back (at least back then). We considered them a brother unit, even though they really weren't military. As for the fort it was built to protect Canada from invasion by the United States. After dinner we got in full dress and marched into the fort under lights along with the Ft Henry Guard and performed a military Tattoo. After that we were taken in busses out to a farm into a barn in the middle of no where for a beer bust which grew so loud it dress the Ontario Police to quiet us down.
We bussed back to Trenton in the early AM, loaded and boarded our C-130 and flew back to Andrews, AFB, unloaded and reloaded and bussed back to our Barracks for breakfast. We then packed all our used uniforms and packed new ones, loaded back up and bussed back to Andrews AFB where loaded and boarded a C-141 along with Members of the US Marine Band and flew to MCAS El Toro, Ca, off loaded and bussed to a former WWII POW camp at San Jose which was opened up especially for us, along with the US Army Band. The next morning we loaded up and went to 20th Century Plaza Hotel in Hollywood and rehearsed a patriotic opening for the President's (Nixon) Dinner Honoring the Astronauts who first landed on the moon. After that performance we packed up and reboarded the C-141 and flew home landing at Andrews AFB and bussing back to the Barracks in time for a quick breakfast, change of uniforms and bussed over for rehearsal at the Iwo Jima for the parade that night. The rest of that afternoon we spent on uniforms and snatching a nap before parading that evening. We were given the next day off to recover from that trip!
Duty was physically demanding as well as a toll on families for all. But it was one that each and every one of us felt "honored" to be able to participate in from the dirtiest jobs to the ceremonial ones and once you had completed your tour there and returned to the rest of the Corps you were always marked out as a former 8th & I Marine and a great deal more was expected of you!
~~~~~~~~~~~~~~~~~~~~~~~~~~~~~~~~~~~~~~~~~~~~~~~~~~~~~~~~~~~~~~~~~~~~~~~~~~~~~~~~~~~~~~~~~~~~~~~~~~~~~~~~~~~~~~~~
12-20-14 ...... David "DB" Wright's Memories Of 8th & I, Mid-1960's
I believe it was Christmas time of 1966 that I was let in on the opportunity for employment of military personnel down the DC Union Train Station working for the US Post Office. A whole lot of military troops from the Army, Marines, Navy and Air Force ceremonial units in DC were hired and put into large crews working at various duties. It was explained on the first night of work that though we were military there would be no rank recognized at this work! I remember several of us from the D&B and other units and companies at the Barracks working on this gig. I especially remember then GySgt (later Drum Major and then Director/CWO of the D&B) Gary Losey working on a detail that worked in a large area that had trap doors above it (about 15 to 20 feet high as I recall) and they were to grab the bags of mail as they dropped out of the various trip doors above. The doors would trip open and suddendly there would come crashing down a large (think larger than our Sea Bag (Duffle Bags) full of mail and they could weight quit a bit. Someone was to run out and grab ahold of the draw strings and pull the bag off the floor and then stack it into piles on tractor pulled wagons. The real trick was to listen very carefully as you ran out for the click of a trap door opening above you and moving aside to keep from getting hit by the falling mail bag. I remember that Gary seemed to not hear the clicks in time and was getting hit pretty often. Of course at first it was funny and we all laughed, including Gary, but after a few more times no one was laughing as others were getting "bombed" as well.
Thankfully I was quickly pulled off that crew and assigned to a conveyor belt junction sorting mail by zip codes. It was a neat job and really was not physically demanding but you quickly had to memorize where the various zip cods went and flip them onto another conveyor belt. I believe there were about 6 different belts that ran out of this junction.
There was several crews assigned to loading mail bags into box cars on trains. One of these crews had a Chief Master Sergeant from Bolling AFB that insisted that his rank be recognized and he was the senior man on that detail, mostly comprised of his troops, a few Marines from Ceremonial Guard Company and the Old Guard of the Army. I kept hearing them bitching up a storm about this SOB on breaks. When we were punching out that evening I noted that his crew was all there but he wasn't. They were all laughing to the point of tears. Finally, I got one of them to let me in on the joke. Seems this USAF CMSgt liked to give orders to the crew and then climb up into the box car on top of the mail bags and take a nap. Now we were all working either 3-11 or 11-7 AM shifts. Well they didn't disturb him and when the boxcar was fully loaded one of the Postal guys came by and locked it and then sealed the lock. No one woke the CMSgt up! The next night when some of the guys on that crew who were from Bolling AFB told us that the CMSgt had ended up in New York City and with only about 5 bucks in his pocket. His car wasn't opened up until late that morning, which by that time he was AWOL. He had finally gotten out and called his CO COLLECT and explained his problem. The Post Office terminated him to boot! The money was pretty good but I remember after about a week I quit and drove home to Chicago for Christmas Leave. A lot of guys worked right through New Years though.
Remember the Cannons by the main flag pole that had been captured during the Boxer Rebellion in China? I was standing Duty Music of the Guard at the Barracks and the Duty Sentry came into the Guard House and reported to the Cpl of the Gd that he had found one of the cannons in the MCI Company Recreation room! Seems some of the happy (perhaps even drunk) troops coming off liberty disassembled the cannon, lugged it up to the MCI Recreation Room and reassembled it. Of course it took a large working party to disassemble it and bring it back to it's assigned position. Immediately the H&HS Co Maintenance Section went to work and pour concrete pads for the cannon wheels to sit on with bolts embedded in them. Then the cannons were set on the dried concrete and metal straps were placed over the lower rims of the wheels between the spokes and bolted down to the concrete and then the nuts were pot wielded to insure they could not be easily removed!
Another problem that the always inventive H&HS Maintenance guys solved was machiveious Marines looking returning from liberty ringing the Ship's Bell attached to the main Flag Pole and the disappearing! (I used that term instead of fleeing as we all know that Marines never flee anything) The devised a wooden plug that was hinged to open up when removed from the bell. But when placed up inside the bell it locked the "clapper" tightly in place and a lock was placed on this wooden plug. It was the Duty Music of the Guard's duty to unlock the bell before he sounded First Call 5 minutes perior to 0600 hrs. Reveille and return it to the Guard House. When we sounded Reveille we stood on the landing of the 2nd deck between the D&B Squad Bays and the H&HS Squad Bays. We then went down and sounded it again on the landing of MCI Company. Since I had to sound this call I always wanted to insure that EVERYONE heard it. So prior to sounding it I would open up and lock open all the hatches and I was always know as being one of the loudest Musics of the Guard. It was hilarious to watch the poor troops just checked in, or being interviewed for duty there who had never realy heard bugle calls sounded other than over a PA system, suddenly fall, jump or role out of their racks in obvious confusion and dismay! I always enjoyed that! The Duty Music sounded a lot of calls never heard anywhere else, such as First Call for Chow, or as Field Music's (proper term for a Marine Bugler or Drummer) call it "CHOW BUMPS!" It is the shortest bugle call in the Field Music's Manual. Just 3 notes all the same! Another unusual call we sounded was Pay Call on pay days.
The Duty Music of the Guard was also responsible for ringing the Ship's Bell as if aboard a ship keeping the proper time. Each of us knew exactlyl how many seconds it took us to march out of the Guard House, down the Arcade and halt alongside of the Ship's Bell. Then reach up and loudly as possible ring out the time of day from 1 bell up to 8 bells. Odd numbers were on the half hour and even numbered bells on the hour and were a found hour watch from 1 to 8 bells and then repeated during the next 4 hours of a watch as if aboard a ship. The Duty Music of the Guards very quickly learned that the CO of H&HS Company and other officers of the Barracks sitting in their offices had better hear the bell being rung, or the Duty Music would be front and center explaining why the time had not been "properly rung out" for all to hear!!!! The same was done by the Duty Music of the Guard down at the Navy Yard!
During the summer time in the evenings when CMC would be hosting a garden party often he, and many of his guest (high powered government officials, congressional membes along with generals and admirals from our brother services) would come out through his garden gate onto the north end of the parade deck to observe "Retreat" of Evening Colors. Occasionally one of CMC's aides would either come down, or call, the Duty Officer of the Day in the Guard House and invite the DO, Sgt of Gd & Duty Music of the Guard up for a drink. On those occasions we would form up behind the DO with the Sgt of the Gd to the right and Duty Music of the Guard to his left and both one pace behind the DO on the Arcade and then step off marching down and into CMC's garden where we would be offered a drink (Occasionally even a real one) which we would drink, visit and then leave after our brief appearance forming back up in our formation and marching back to the Guard House.
I've written about SgtMaj Blackie, the little black American Curb Sitter dog, who was the unofficial Barracks Mascot. Chesty, the official mascot greatly feared SgtMaj Blackie as the SgtMaj made sure he knew who was the Senior Marine SNCO on Post! After the Guard had put Blackie into his uniform of the day (one day in Dress Blues with ribbons and the next in Dress Reds with MGySgt Chevrons, in honor of the Band and D&B, with ribbons. Both uniform had his hashmarks and rank insignia and several highly shined brass buttons) they had to keep SgtMaj Blackie in the Guard house during Formal Guard Mount outside. When SgtMaj Blackie managed to "escape" he would promptly roll over a few times in the shrub beds to "season" his uniform. Then he laid hiding and as soon as the oncoming Duty Officer of the Day would face in front of the first Member of the Guard being inspected Chesty would suddendly appear quietly and lie down directly next the the Duty Officer. Of course if it was a brand new Duty Officer conducting his first Formal Guard Mount at the Barracks it seemed the SgtMaj Blackie always managed to escape to pull this trick. When the Duty Officer would do his right face and then step off he would trip over SgtMaj Blackie and always the Sgt of the Gd was prepared to make sure the OD didn't fall, or hurt himself, while SgtMaj Blackie would howl as if he were dying!
All the Bugle Calls were also performed by the Duty Music of the Guard down in the Navy Yard. Only the Suprano Buglers of the Drum & Bugle Corps performed this duty. I always considered this to be a privilege and honor to stand this duty at both locations. My favorite calls were Call to Quarters, Tattor and finally Taps at the end of the official day. It was just you, by yourself, out there in the dark, performing what I always considered the three most beautiful of all the bugle calls we sounded.
I recall one evening not long after I had been assigned to the Bks I had drawn my Liberty Card from the Company Duty NCO and was departing via the main gate. The sentry on Post 1 stopped me and annouced, "Cpl you need to be wearing a jacket to go ashore!" Having never been confronted with something like this at first I looked at him as if he was crazy. I quickly determined he was dead serious and he informed me that the DO of the Day declared when jackets were required based on temperature. Back I marched to my wall locker and got a jacket and went out the gate, stopping to commend that young PFC for performing his duty so professionally!
I still would not trade a second of the nearly 10 years I served at the Barracks as I always considered being able to live and serve at "The Post of the Corps" a real honor, as I think all of us did deep down inside of us! It was much like being a monk at a monster back then.
Semper Fidelis
Submitted by David Wright, 8th & I, Drum & Bugle Corps and Band, 1965-1974, Vietnam veteran, Las Vegas, NV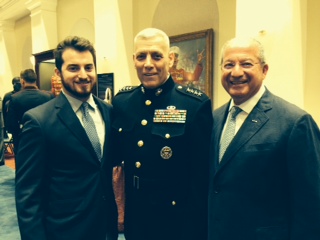 2014 ... Alan Millstein's Friday Night Parade With 8th & I Marine Gen. John M. Paxton, Jr.,Assistant Commandant Of The United States Marine Corps
7-28-15, having just read Gunny Fenwick's note re General Paxton I concur with the Gunny about how real and down to earth the General is. I have on numerous occasions met and spent time and conversation with the General. My younger brother, a Sgt Major was a host along with his General to an Evening Parade last year. We were invited to a cocktail party before the Parade. The enclosed picture is of the General, me on the right and my youngest son who works and lives in DC. The Assistant Commandant of the Marine Corps is a very nice man and true gentleman.
NOTE: 8TH & I Marine Fred Fenwick, B Company, 1977-80, retired from the Corps at the rank of SgtMaj.
Alan Millstein, 8th & I, H & S Co., 1964-66, Vietnam veteran / Hall of Valor, Vero Beach, FL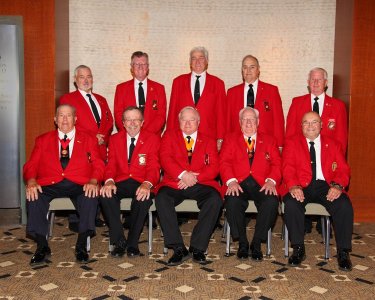 October 1-3, 2015, members of the Marine Corps League, Cape Atlantic Detachment (NJ), attended the Utilities Transportation Contractors Association Convention at the Borgato Casino, Atlantic City, NJ.
They are: Front Row, L to R...Ron Powell, Bill McCrudden (8th & I, MCI Company, 1965-1967, Little Egg Harbor, NJ), Phil Uecker, Joe Patrick, and Bob Moran. Back Row, L to R...Paul Robinson, Mo Loveland, Ed Link, Mario Silvestrini (8th & I, Drum & Bugle Corps, 1956-1960 & 1962-1969 / USMC, 1955-1979, Jeffersonville, PA), and Bill McGinley.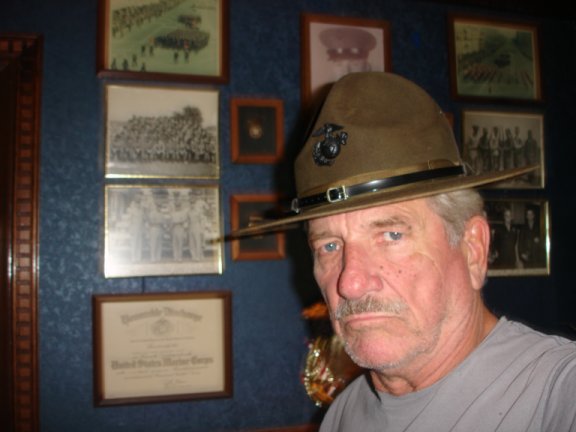 Joe Budzinski, USMC 236th Birthday, Nov 10, 2011
Friday, 12-9-16, 8th & I Marine Merle Johnson's grandson, Logan Blankenship, completed boot camp and graduated from Parris Island, SC (about 58 years after his grandfather). Well done, Logan! Welcome to the United States Marine Corps! Proud of you! Enjoy the following pictures: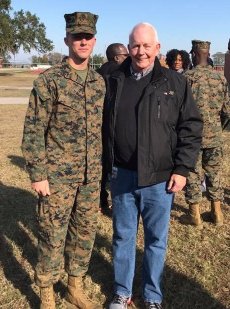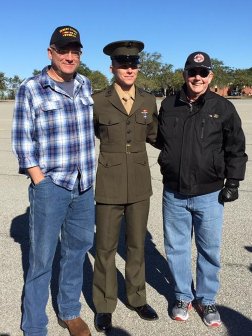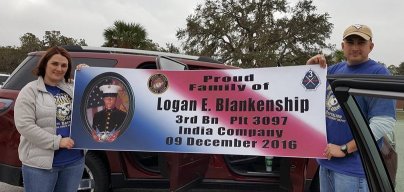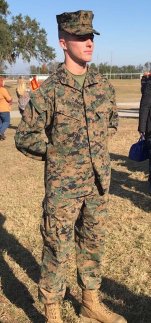 Picture #1 ... Logan Blankenship and Merle Johnson
Picture #2 ... L to R: Merle Johnson's son-in-law, David Thomas, USMC, Desert Storm veteran, Logan Blankenship, and Merle Johnson
Picture #3 ... Logan Blankenship's parents, PJ and Terri, holding banner
Picture #4 ... Logan Blankenship standing at parade rest
Submitted by 8th & I Marine Merle Johnson, Ceremonial Guard Company, Silent Drill Platoon, 1958-1961, Helena, AL
9-29-17 ... "EMBRACE A VETERAN" ... 8TH & I Marine Paul Grobski
This was on NBC. 8th and I was a feature.
http://www.wmbfnews.com/story/36481362/embrace-a-veteran-marine-and-wife-share-emotional-journey-and-honor#.Wdd-crb-62p.email
Submitted by 8th & I Marine Paul Grobski, Ceremonial Guard Company, 1st Platoon, 1960-1962, Conway, SC
Pictures of Dave Pullo's birthday party on 19 March 2011:
Dave Pullo Party.
11-18-17 ... Ed McCloskey's Memories of President John F. Kennedy's Funeral Detail in 1963
Burying Kennedy: President's funeral detail looks back at November 1963
Submitted by Ed "Mac" McCloskey, Ceremonial Guard Company, Silent Drill Platoon, 1962-1965, Scaly Mountain, NC
8-1-18 ... Steve DeBock's Life Experiences Prior To 8th &I, While At 8th & I, And After 8th & I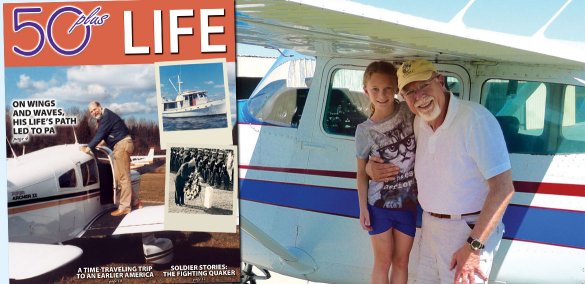 (Right) DeBock and his granddaughter, Adrienne, standing in the shadow of a Cessna Skyhawk's wing following her first light airplane ride.
'COVER STORY: On Wings and Waves, His Lifes Path Led to Pa.


Written by Jason Tabor

As he jumped from the plane and floated through the air, wind blasting his face and brown-and-green squares of New Jersey farmland rushing up to meet him, Stephen DeBock thought, "Wow, I'm finally flying like Superman!" DeBock is a natural storyteller, and he has quite a long list of stories to tell. Fifteen years into his retirement from teaching, DeBock stays busy as ever as a published author - writing fantasy, horror, and zombie literature. As a young man, he achieved his dream of flying like his boyhood hero after taking up the hobby of sport parachuting, and this same drive guided him through an exciting and unconventional path in life before he and his wife, Joy, settled in Central Pennsylvania in 2006. "I couldn't have known it at the time, but all roads eventually led me back to Hershey, Pa.," laughs DeBock, a New Jersey native.

At 76, DeBock's life stories weave a complicated tapestry of a well-lived life governed by an attitude of "have a goal, work hard, pursue it, and make it happen!"
Born outside of Newark, New Jersey, DeBock grew up with a passion for fishing and swimming; studied art, literature, and writing; and had a young man's desire for adventure, which led him to enlisting in the Marine Corps after his high school graduation. "I didn't know what I wanted to be when I grew up, but after meeting with the Marine recruiter, I thought that would be an avenue where I would mature and figure it out," he says.
After completing boot camp at Parris Island, DeBock was selected to serve in the President's Honor Guard, a prestigious Marine drill group where he would march in parades and ceremonial occasions in Washington, D.C., as well as military funerals at Arlington Cemetery. His unit also provided security for President Eisenhower at Camp David, and DeBock recounts the time when he was chosen to serve as a lifeguard for then-Vice President Nixon's daughters, who wished to use the pool while on vacation.
"They were 12 and 14 at the time," he says. "Very pleasant kids." DeBock remained in Washington long enough to march in President Kennedy's inaugural parade and to serve as sentry during one of his Camp David visits. His Washington tour over, he transferred to Camp Lejeune, North Carolina, and participated in the Cuban blockade in 1962. He was released from active duty in 1963 and returned to his parents' home in Toms River, New Jersey. "I didn't realize it at the time, of course, but had I reenlisted, I probably would have ended up in Vietnam two years later," he says. During his time at Camp Lejeune, DeBock would drive to Washington on the weekends, and one Saturday he went on a blind date with a young lady named Joy, whom he would marry in 1964. They took a winding road trip on their honeymoon, stopping in Hershey to tour the chocolate factory before reaching their destination of Niagara Falls. This long trip with many unexpected stops along the way would prove to be an overarching theme for their life together. Before the '60s came to a close, the couple had two children, and DeBock was enrolled at Trenton State College (now College of New Jersey), studying elementary education while working days as a lab technician at a chemical corporation. DeBock spent 33 years teaching fifth- to eighth-grade English, reading, and social studies.
During this time, he completed a master's degree in media studies and: taught night classes at a local community college; opened a video rental store with Joy; started a wedding video business; dabbled in sport parachuting; and, after earning his pilot's license, he became a 20-year member of the Jersey Aero Club.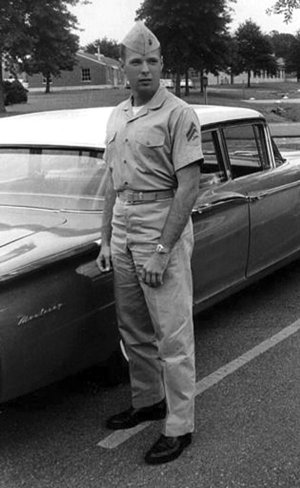 DeBock at Camp Lejeune in 1963, shortly before his release from active duty.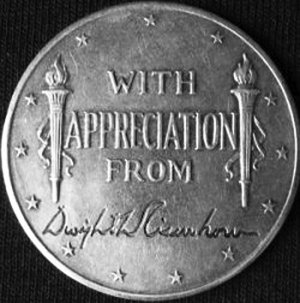 Following his summer vacation in Newport, 1960, President Eisenhower authorized this coin to be struck
for each of the Marines who formed his security detail (including then-Pfc. DeBock).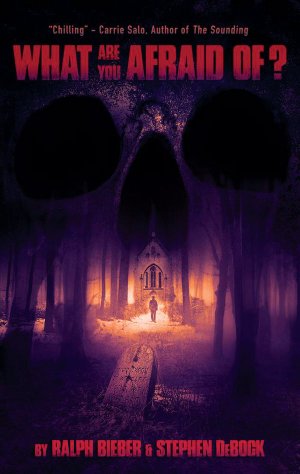 DeBock has co-authored a trilogy of zombie novels with award-winning horror writer Ralph W. Bieber.
DeBock recounts flying friends and family into the small airport adjoining Hersheypark to spend the day in Chocolatetown, as well as bringing groups of schoolchildren to the park on field trips during his teaching years. Then there was the time he sold most of his earthly belongings to move onto a 42-foot trawler yacht with Joy. "The kids were out of the house by this time, and we'd done a lot of research and just decided to try the live-aboard life," he says. Life on the yacht, which they named Homeroom, included summer cruises up and down the East Coast with friends and family. After three years as live-aboards, he and Joy sold the boat and designed and built a home on riverfront property in Toms River. DeBock retired from teaching in 2003, and not surprisingly, has stayed consistently busy ever since..
In 2006, he and Joy sold their New Jersey home and moved to Hershey to be closer to a new grandchild, and "after 33 years of reading and grading students' stories, I figured it was time for me to start writing in earnest as well." A lifelong horror fan, DeBock says his writing career began as a whim. "I just wanted to see if I could do it. And then my short story about werewolves turned into a novel, and that turned into the Pentacle Pendant trilogy, blending horror and historical fiction that stretches back to the time of King James," he says..
This trilogy was followed by fantasy and adventure novels, and his most recent work is a trilogy of zombie novels co-authored with award-winning horror writer Ralph W. Bieber. DeBock has also authored a media education plan published by the state of New Jersey and contributed to essays appearing in Time magazine and on ABC World News Tonight. He and Bieber will appear at the Scares that Care Charity Weekend in Williamsburg, Virginia, the first weekend in August, to display and sell their work..
In his limited free time, DeBock likes to stay active at the gym and remains in contact with more than 300 of his former students on social media. "I feel wealthy because of the friendships I've made throughout my life, especially the relationships forged with former students - it sets my heart aglow," he says. "My true passion was always the kids." DeBock and his wife are looking forward to celebrating their upcoming 54th wedding anniversary with a Viking ocean cruise through Scandinavian countries in Europe, having already crossed the U.S. by car in 2011. "Joy's encouragement on these adventures, and her participation in many, inspired me in too many ways to count. Our children and three grandchildren are continuing sources of pride and inspiration as well," he says. "The world has so much to offer, and we've seen so many families rooted to one job, one town, one address for most of their lives," DeBock says. "Roots are important, but then again, so are wings.".
.
On the cover, clockwise from left: During his teaching years, DeBock flew friends and family from New Jersey into the small airport adjoining Hersheypark..
The Homeroom, the 42-year trawler yacht on which the DeBocks lived for three years..
President Eisenhower lays a wreath at tomb of World War I Gen. John "Black Jack" Pershing, September 1960. DeBock is among the Marines in the second row. Photo credit: United Press International * Jason Tabor * On Wings and Waves * 'His Lifes Path Led to Pa

Submitted by 8th & I Marine Stephen DeBock, Ceremonial Guard Company, 3rd Platoon, 1960-1962, Hershey, PA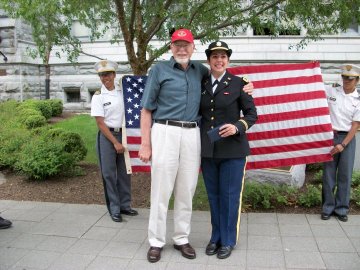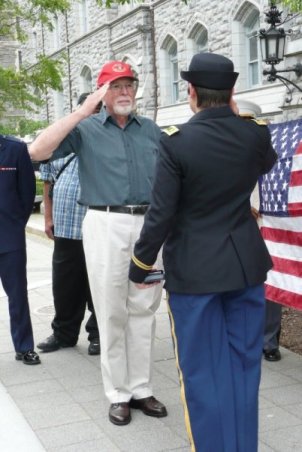 May 22, 2010, Steve DeBock, Ceremonial Guard Company, 3rd Platoon, 1960-1962, attended the United States Military Academy,
West Point, NY, Class of 2010 graduation. His niece, Alexandra Stamatiou, a member of the Class of 2010, was commissioned a
Second Lieutenant in the United States Army. Steve, with much pride, presented Alexandra with her first official salute as an officer.
It was an emotional experience!
5-27-19 ... STEVE DEBOCK'S MEMORIES OF THEN-CAPTAIN RICHARD L. HATCH, COMMANDING OFFICER, CEREMONIAL GUARD COMPANY, CA. 1958-1960 / KIA IN VIETNAM, 1968
IN MEMORIAM, LTCOL RICHARD LEE HATCH, KIA, VIETNAM, 1968
When I reported to Marine Barracks, Washington, DC, in early 1960, the Ceremonial Guard Company was commanded by then-Captain Richard L. Hatch. A Marine's Marine, the epitome in appearance of a member of the President's own, Captain Hatch stood over six feet tall, carried himself ramrod straight, and possessed movie-star good looks. The creases in his uniform trousers were sharp enough to cut you, and his leather, from shoes to chinstrap, was spit-shined to a mirror finish. (No such thing as patent leather gear in those days.) Captain Hatch set the example for all of us to emulate. But his appearance and his military bearing were not a façade. Richard Hatch was the real deal.
Rather than hold himself aloof, as some officers are wont to do, Captain Hatch treated us enlistees more as colleagues than subordinates. He commanded respect by being respectful-and his leadership was never in doubt. Everyone has his own stories to tell about him, but they all boil down to one basic truth: The man was an icon.
Time passed, and Captain Hatch rotated out of Ceremonial Guard Company to his next assignment, as eventually did we all. Most of us later returned to civilian life, but some went on to become senior enlisted or officers. Many served in Vietnam.
More time passed, and in 1987 a group of Marines from our company decided to convene a reunion in Washington. When I received my invitation, I learned that Lieutenant Colonel Hatch had been killed in Vietnam-and that part of our reunion costs would go toward bringing his widow and two daughters to Washington in order to receive our tributes to their fallen Marine.
The first evening of the reunion, a Friday, we attended the famed Marine Barracks Moonlight Parade, many for the first time as spectators rather than participants. Afterward, we gathered on the parade ground for a group photo with the reviewing officer, USMC Vietnam vet, currently Secretary of the Navy, and soon to be Senator from Virginia James Webb.
The following afternoon, we gathered near the Wall with a color guard from the Barracks for a memorial service led by one of our former members, now an ordained minister. After the closing prayer, a small contingent carried a wreath to the Wall, placed it beneath LtCol Hatch's name, and rendered a hand salute.
That night we met for a banquet in the Chamber of Commerce building. Following the meal, various people took the podium to pay homage to our former commanding officer. Afterward, a small combo played dance music, and Mrs. Hatch honored many of the men by accepting their invitations to dance.
Excusing myself from my group, I walked to where one of his daughters was sitting to pay my respects privately. These were her words, which I shall never forget: "I was only three when my father was killed, and I don't remember much about him. I do remember the thrill when he'd pick me up and hold me over his head-he was so strong and so tall-and I remember the smell of his after-shave when he lowered me to rest my head on his shoulder. I never got to know him, really know him, until tonight, listening to the men who served with him." Then she drew my attention to her mother on the dance floor. "She loved him so much. Do you know, this is the first time I've seen her dance since Dad died? The first time I've heard her laugh? The first time I've even seen her smile since then? I can't tell you what your generosity in bringing us here has meant to us."
Rest in peace, Richard Lee Hatch. And thank you.
Together We Served info on LtCol Hatch
Submitted by 8th & I Marine Steve DeBock, Ceremonial Guard Company, 3rd Platoon, 1960-1962, Hershey, PA
~~~~~~~~~~~~~~~~~~~~~~~~~~~~~~~~~~~~~~~~~~~~~~~~~~~~~~~~~~~~~~~~~~~
A very touching and appropriate tribute to the finest Marine Officer I ever served with. I never visit "The Wall" without touching his name and experiencing a deep sense of loss.
Semper Fi, Captain Ron Burton
~~~~~~~~~~~~~~~~~~~~~~~~~~~~~~~~~~~~~~~~~~~~~~~~~~~~~~~~~~~~~~~~~~~
Yeah, I remember Capt. Hatch very well. He and Lt. Noll (Sticks) and SSgt Larkin came to Camp Geiger to pick out the Marines they wanted for 8th&I. Capt. Hatch asked me if I would like to serve at 8th&I, Marine Barracks in Wash., D.C. I remember telling him, Sir, that would be my greatest desire. I didn't ,at the time, know what they did at 8th&I. I was headed to a line company in the 2nd MarDiv., so anywhere sounded better than that.:-). I thought at the time that Capt. Hatch looked like the Marine of Marines and should be on a poster. I have never seen to this day, a more squared away Marine. Outstanding Officer as far as I'm concerned.
Semper Fi, Merle Johnson
5-28-19 ... Denny Harris' Tribute To 8th & I Marine Captain Richard L. Hatch, Commanding Officer, Ceremonial Guard Company, Ca. 1958-1960 / KIA in Vietnam, 1968
I was Ceremonial Guard Company Clerk when Captain Hatch became the Company Commander in early 1958. He replaced a Captain that was one of the toughest, most demanding and quite frankly one of the grumpiest individuals I have ever dealt with. There was constant tension in the Company Office, especially between this Captain and the Company First Sergeant and in many cases I was caught in the middle. Then Captain Hatch arrived! Wow...about 6 foot 5 inches tall with a constant smile and how things changed! In those years each Company had a Company Clerk (0141) and depending upon the First Sergeant, almost ran the Company, at least in the administrative sense (all duty rosters, mess duty assignments, etc.). Under some circumstances, the relationship between the First Sergeant, The Company Commander and the Company Clerk becomes something quite special and that is how I would describe our relationship. I was in the Company office with Captain Hatch virtually all day everyday. Many times when the First Sergeant was out of the office, we had some interesting conversations. I eagerly sought his advise about my future, especially about my leaving the Corps, finishing my degree, joining the platoon Leaders Class and getting a commission and with his words ringing in my ears I did follow through on all these things. These many conversations would not have taken place with the previous Company Commander or any other person that comes to mind. Captain Hatch was seven years my senior and I was only a Corporal at the time but he had an amazing ability to treat everyone as an equal and in positions of absolute authority, that is not always easy to do. Many people can fake these sorts of relationships and get by, but Captain Hatch faked nothing....he was the real deal.
I learned of LTC Hatch's death shortly after the helicopter crash and as I said then.....and as I have said many times since...RIP my good friend!
U. S. Army
Submitted by 8th & I Marine Denny "Mustang" Harris, Ceremonial Guard Company, 1956 - 1958 / Col., U.S. Army Reserves, thirty years, retired in 1997, Lexington, KY
11-11-18 - 8th & I Marine Whitey Leines, Ceremonial Guard Company, Color Guard, 1958-1961, Alpharetta, GA, celebrated Veteran's Day in his community.
12-4-18 ... PETE MCCUSKER'S EARLY-1960'S MEMORIES OF THE FRIDAY NIGHT PARADE
The D&B and the MCI (Marine Corps Institute) platoons plus the silent drill team were all in the hallway against the barracks wall hidden behind the tall green hedges out of view of the public. When the D&B drums began behind that wall, the sound was so-o-o-o loud reverberating in that small hallway and we loved it. It was exciting and the extreme loudness awakened us to be as sharp as we could be. It was a "one-off" feeling we sensed and looked forward to each Friday night.
Platoons march out with chrome fixed bayonets: I was in the MCI first platoon on the right side of the center flag pole. There are three MCI platoons, first the tallest, second, medium tall, and third, shortest. After 56 years, I was looking closely at the three MCI platoons to see if they were still arranged by height.
After we all marched out perfectly, strutting to the beat of the D&B in front of the public, the Order: "FIX Bayonets" was given. This is where I rewound the video several times. I looked closely at everything! Always, some poor new barracks marine was so nervous under the lights and public eye that he fumbled his fix bayonet. We all knew it when it happened and we felt sorry for the marine, but at the same time we all made joking remarks under our breath that this marine would be shot at dawn tomorrow. LOL
The fix was even more comical. During the parade when the lights were lower or the band was playing, a hidden marine would come out from behind the hedges and pick up the chrome bayonet and disappear silently and quickly.
I did not see any mistakes on this video and I was really amazed that the "Fix Bayonets" sequence is still the same after 56 years. Of course, in 1963-64, my MCI platoons were the BEST ever!
So much more to tell, but you only asked for one precision. I hope you found this interesting. If you attend a Friday parade, look at it carefully analyzing every sequence. Enjoy it, but analyze it and judge it from different perspectives as a marine. It is really a masterpiece of showmanship for the Marine Corps. So much goes into it. I was proud to serve at Marine Barracks.
Submitted by 8th & I Marine Pete McCusker, MCI Company, 1962-1964, Southbury, CT
1-17-20 ... 8TH & I MARINE ROBERT "BOB" KOLB, CEREMONIAL GUARD COMPANY, SILENT DRILL PLATOON, EARLY 1960'S, STANDING ON THE STEPS OF THE WHITE HOUSE IN 1963 (PICTURE APPEARED IN EITHER LIFE OR LOOK MAGAZINE) AND AGAIN IN AUGUST 2018; BOB DIED 3-13-19
2010 .... Peter McCusker and his wife, Marie, visit 8th & I
Submitted by 8th & I Marine Peter McCusker, MCI Company, 1962-1964, Southbury, CT
Summer of 2014 ... Alan Millstein, his wife, Cindy, and his brother, Sgt Major Anthony Spadaro, visit 8th & I
Sgt Major Spadaro just retired after 35 years 11 months and 27 days in the Corps. His last post was as the Senior Enlisted for the Pacific Command. This picture was taken when he was the Sgt Major for the 9th Division and Reserve US Command. He and his General were guests of honor for the Friday Parade. Our highlight was sitting in the front row for VIPs. It was surreal from being a young Marine on guard duty at 8th & I to being a VIP.
Submitted by 8th & I Marine Alan Millstein, H & S Company, 1964-1966, Vietnam veteran, Hall of Valor, Vero Beach, FL